Four of Newport Cricket Club's exciting, young U11 players, received the news that they had been waiting for recently, when they were informed of their selection for their respective Welsh Teams.
Harry Hughes, Sam Protheroe and Ross Mohring were selected for the Wales U11 Squad, 
while Sophia Smale was selected for the Wales U12 Girls squad.


A winter of Weekly Indoor Net Sessions, Training Days during the school holidays, 
along with pre-season Trials all proved worthwhile as the quartet got the news 
their dedication deserved.
Harry, Sam and Ross will prepare for their International Programme, 
under the astute leadership of respected coach Graham Burgess, 
the former Somerset allrounder and 1st Class Umpire. 

The boys face a daunting programme of matches against many of the 1st Class County sides. 
Their first matches being on their North Wales Tour in June where they play 
Lancashire, Yorkshire and Cheshire.
Harry, who attends school in Monmouth is a wicket keeper/batsman.
Sam a product of Marshfield Junior School, is an opening batsman and left arm spin bowler,
while Ross attends Glasllwch Junior School and is a medium pace bowler and hard hitting batsman 
-  a genuine all rounder.



Newport Cricket Clubs' U11 Welsh Internationals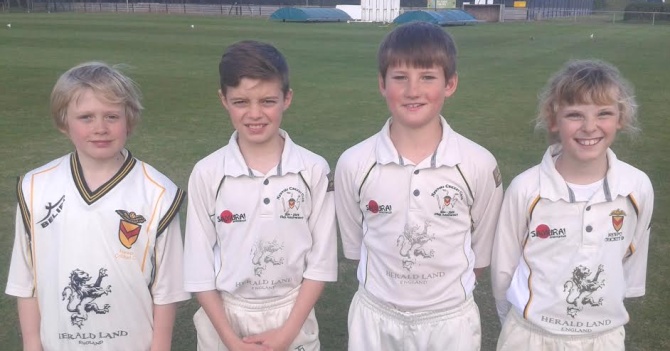 Sophia is the grand-daughter of eminent cricket coach Malcolm Price, who himself has been a major 
part of Newport Cricket Clubs' fine Junior set up for many years.
Sophia who attends Rougemont School is a top order batsman and highly promising left arm spinner.
She has been selected as captain of the Wales U12 team this year, and has already played against Shrophire,
and is eagerly looking forward to the next matches against Herefordshire and Gloucestershire.
Sophia is an outstanding talent, and at at just 9 years old,
she has also been selected in the Wales Girls U13 team to play Warwickshire.
 
Newport Cricket Club Head Coach Mike Knight remarked,
'Congratulations to the four players, they are an extremely talented group of players.
The hard work starts now, but all four of them are more than capable to excel at International level!
Best of luck to all four of them, for the season.'

The selection of the players again shows the commitment of Newport Cricket Club to develop top cricketers.
With the other Welsh Squads announcing their teams shortly, 
hopefully there will be a few more players added to the 2015 International List.