A SWPL season decimated by rain, finally came to an end as Newport and Cardiff both won their final matches away to Ynysygerwn and Penarth respectively, which meant Cardiff were the 2017 SWPL Champions.
It could have been different had the bad weather not interfered earlier in the season, Newport having won more games than Cardiff, lost less games than Cardiff and beaten them twice, home and away. It was tough on Newport as they had played 2 games fewer than Cardiff, due to bad weather. With 22 points up for grabs in each game cancelled, it was ironic that the title went to Cardiff by just 5 points.
The results of the final games of the season went as expected with Newport beating Ynysygerwn by 7 wickets. Josh Aston 5-28 bowled superbly, while Imran Hassan who has ended the season in fine form led Newport to victory with a fine 84not out.
Any outside hopes of a Newport title win were thwarted with the news that Cardiff had beaten Penarth by 126 runs.
After the match Callum Taylor was presented with the Newport 'Player of the Season Award' scoring 568 Premier League runs at an average of 71 which included 2 fifties and 2 centuries. His off spin bowling claimed 21 league wickets for 439 runs off 129 overs at an average of 20.9. An outstanding season for a young 19 year old with high ambitions in the game.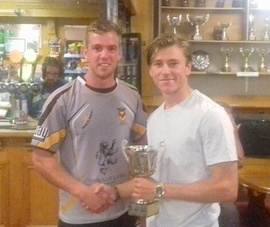 Callum Taylor Receives the Player of the Year Trophy
from Captain Matt Norris
All at Newport Cricket Club wish Callum all the best for a successful forthcoming season in Australia, and a safe trip back home, and hope to see him again in the 2018 season.