The 6 Nations Rugby Competition was as close as ever, 
amazingly with over 700 entries, there was only 1 person 
who predicted all 15 results correctly.



Winner:- Malcolm Childs (All 15 Results Correct - 85 Tries)



There were 9 people who predicted 14 correct results:-

Marc Childs 75 tries
Joan Pocket 73 tries
Nicky Phillips 83 tries
Ben Waters 70 tries
Dave Shakespeare 63 tries
Barbara Griffiths 60 tries
Dawn Collins 60 tries

Tom Carter 57 tries
Gethin Smart 51 tries

There were 78 tries in the tournament, 


The Winning Ticket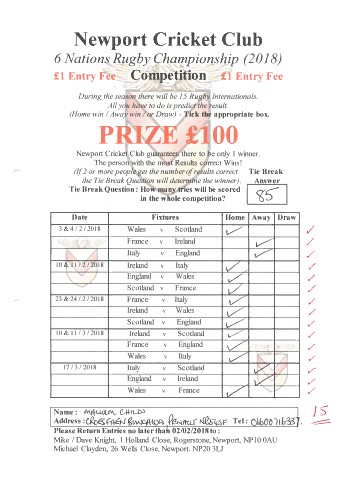 Congratulations Malcolm, £100 is on its way!

Newport Cricket Club would like to thank everyone who took part in the competition. 
The Club Raised £702, which will go towards the New Covers Appeal.
Thanks very much for your support.