How To Register for the Newport Cricket Club 'All Stars'
i.  To Register, copy and paste the following link into your browser:-
https://ecb.clubspark.uk/AllStars/Course/8ed03860-5f01-437d-8410-d65b6d9ee3f6

or Click on the Sign Up Now logo above.


ii.  Select:- Register Now


iii. From the Club's dropdown list select 'Newport Cricket Club'
iv. Select:- 'Book Today' on the 'About the Programme' page
v. The £40 will cover all Coaching sessions at the club (until the end of July)
Each child will also get an 'All Stars Personalised Back Pack, containing T-Shirt,Bat, Ball, Cap etc.
First Session:- Tuesday, May 15th (6.00 - 7.00pm) with an option to stay till 8.00pm


Contact: Mike Knight (07793823294) if you need any further details.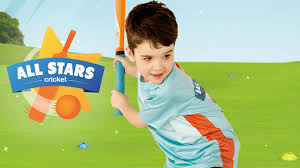 Time To Try 'All Stars Cricket' .... Make Sure You Book Your Place Early!