Newport U13 Girls and their U15 counterparts produced stunning performances to win their respective Lady Taverner Zone Finals matches.
U15 South West of England & Wales Zone Final: Newport v Plympton (Devon)
The U15 Girls were in action first, playing at home to Plympton (Devon winners). Plympton won the toss and put Newport into bat, a decision which quickly backfired as Newport openers, Rose Evans and Georgia Parfitt were quick out of the blocks scoring freely. 31 runs were scored off just 3 overs with Rose Evans in particular, hitting a sequence of fours. The 50 run partnership was reached in just 6 overs and Plympton were already staring down the barrel of a big Newport score. Georgia Parfitt (15) was the first wicket to fall at 74 in 10 overs, but Evans innings was proving to be the real match winner.
She totally dominated the Plympton attack, reaching her own personal fifty in 11 overs with the Newport score on 81-1. She was joined by Ella Read who played a sensible innings, keeping the scoreboard ticking over, but also giving Evans as much strike as possible. 104 was posted in 14 overs and a late flurry saw Newport finally reach 158 in their alloted 20 overs. Read scoring a useful 29 not out, but it was the magnificent innings by Evans which caught the eye and took the game away from Plympton. She remained unbeaten, but finished agonisingly short of a deserved century on 98no (11 fours) when the Newport innings concluded.
Plympton were in shock and never recovered. An early wicket by Jess Thornton added to their woes and despite a spirited batting performance could only manage 112-6 when their innings concluded, leaving the Newport girls winners by 46 runs.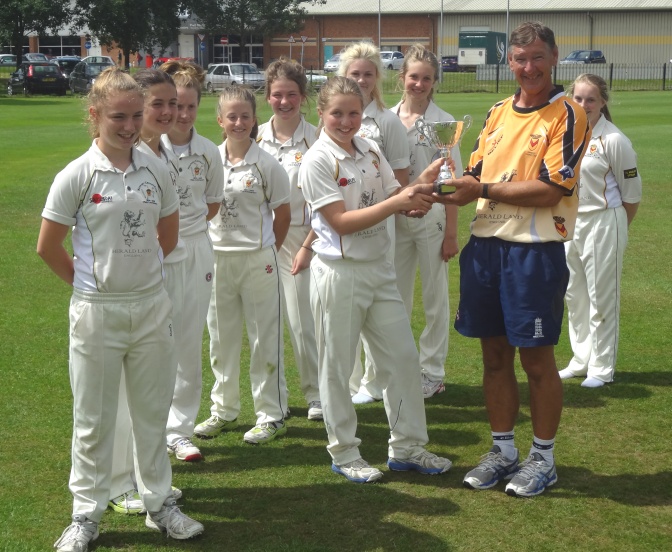 U15 Girls Captain, Rose Evans Receives the U15 Wales & SW England 
Zone Final Winners Trophy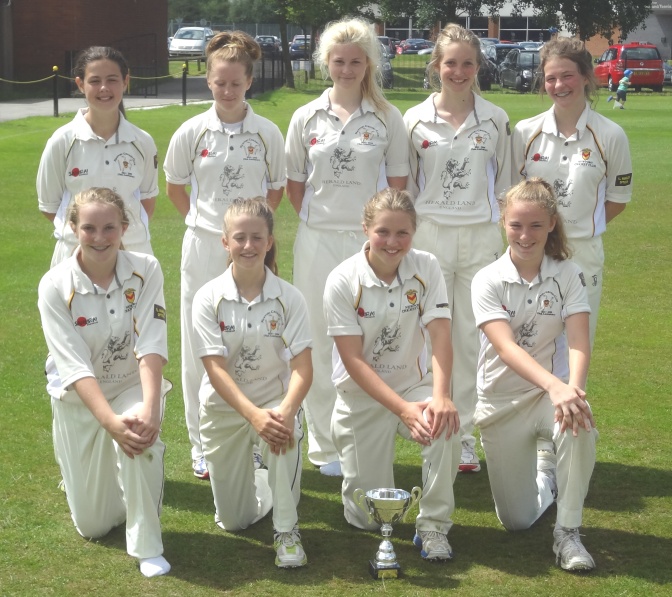 Newport U15 Girls Team: Rose Evans (Capt.), Georgia Parfitt, Ella Read, Sophie Osborn, Charlotte Scarborough, Jess Thornton, Megan Simkins, Thea Huckle
U13 South West of England & Wales Zone Final: Newport v Ballinger Waggoners (Bucks)
The U13 Girls played Ballinger who were the Buckinghamshire area champions. Ballinger won the toss and elected to bat on a good batting wicket at Newport. The Ballinger openers started briskly with 32 on the board after just 3 overs. However, when Charlotte Scarborough claimed the first wicket, things began to settle down. Tilly Mason was proving to be a tough nut to crack, scoring the majority of the Ballinger runs. The introduction of Amy Harris into the bowling attack soon changed the course of the game, claiming 2 wickets as the Ballinger innings slowed on 61 3 off 16 overs. A superb run out, from a throw from the boundary by Charlotte Scarborough, superbly collected by wicket keeper Beth Proctor saw the end of Mason for 34, and along with it went Ballinger's hopes of a big score. The Newport bowlers bowled a tight line and length, notably Lauren Chambers who finished with 0-23 off 5 overs. Amy Harris finished with 2-16 and Charlotte Scarborough 1-18, as the Ballinger innings closed on 87-4.
Newport openers, Charlotte Scarborough and Jess Thornton weren't fazed by the task in hand and started comfortably, easing their way to 20 in 4 overs. Thornton was proving to be the run maker, as Scarborough was more intent on batting through the innings (the perfect partnership). The 50 run partnership was reached in 12 overs as the Ballinger bowlers were not giving up hope. However, chanceless innings by the two Welsh Internationals gradually took Newport closer and closer to the winning score. The winning runs coming in 15 overs as Jess Thornton reached her own personal fifty, finishing on 51n. Charlotte Scarborough who also batted superbly finishing on an excellent 26no to see Newport winners by 10 wickets.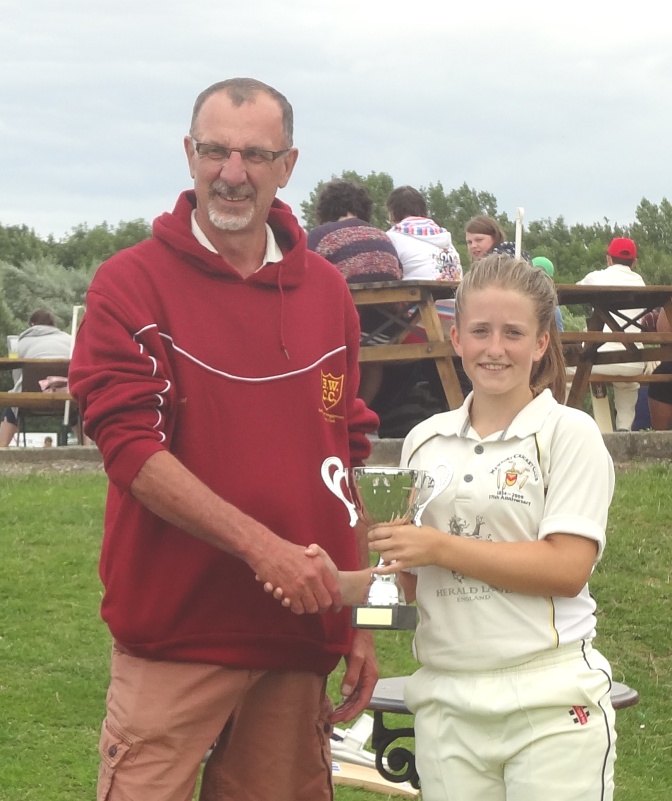 U13 Girls Captain, Jess Thornton, Receives the U13 Wales & SW England 
Zone Final Winners Trophy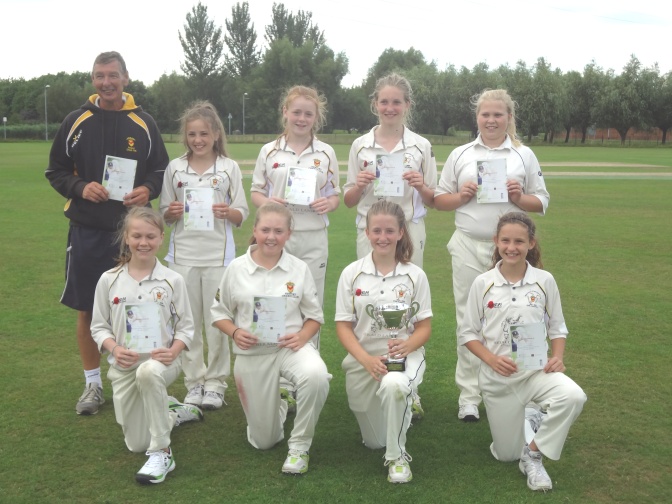 Newport U13 Girls Team: Jess Thornton (Capt.). Charlotte Scarborough, Amy Harris, Beth Proctor, 
Molly Cooper, Lauren Chambers. Paige Curtis, Immie Huckle, Sophia Smale

Newport Cricket Club's Head Coach, Mike Knight, commented on the two wins, 'Both Newport teams played fantastic cricket, the opposition was good and to reach the National Finals is a tremendous achievement. We thought last year, having won the U13 National Finals and being Runners up in the U15 National Finals was the pinnacle, but to get to the National Finals Stage again this year, with different players, shows the real strength of Girls Cricket at Newport'

The U13 National Finals take place at Leamington Spa on Tuesday, August 5th. Playing a Semi Final / Final format.
The 4 Regional Winners are:
Newport Girls (Wales & SW England)
Ealing (SE England)
Narlborough & Littlethorpe (N England)
Wolverhampton (Midlands)


U15 National Finals take place at Leamington Spa on Wednesday, August 6th. Playing a Semi Final / Final format.
The 4 Regional Winners are:
Newport Girls (Wales & SW England)
Ansty (SE England)
Wrenthorpe (N England)
Gt Melton or Walmley (Midlands)
Congratulations Girls!