Estimated Project Total
 £200 000

 £200 000 is required for the development, and grants are being actively pursued.


Our Target

£50 000

The Cricket Club has set a Target of raising £50 000 towards the project
and need all members and Local Businesses to help us.
A major Fund Raising Campaign is underway and we need as much Support as possible.
The Leaflet below is aimed at local company's who we are hoping will Support our 
worthwhile venture, as it is the whole community which will benefit from improved facilities.


As a local voluntary Sports Club we epitomise what is good in a Junior 
Sports Club, and have an excellent reputation of working 
with young people, both within and outside the game.
With the support of local businesses, we are confident we can achieve a facility
of which the Local Community can feel proud.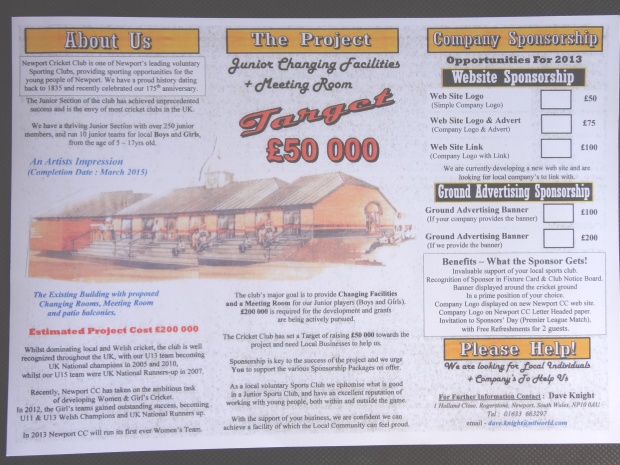 If you know of any businesses who may be able to help at all, please let us know.   
                          
Sponsorship Enquiries

For all Sponsorship Enquiries Contact:
Paul Morris,
Tel : 01633 662413 (H), 07808 888481 (Mob), 01633 281236 (Club).
email : paul_morris11@hotmail.com

Dave / Mike Knight,
Tel : 01633 663297 (H), 07793 823294 (Mob),
email : mike.knight2@ntlworld.com


See Project Page on the Main Website for More Details