Newport 1st X1 Captain Michael Clayden led the Newport team by example, in their vital South Wales Premier League match against Panteg on Saturday at Spytty Park, completing an emphatic 8 wkt win to lift any relegation worries and secure another season in the South Wales Premier League.
The match was witnessed by many of the Club's Sponsors, who were invited to the Club's Sponsors' Day Match. The game was also enjoyed by Eira Reynolds and her family, as the teams played for the annual Graham Reynolds Memorial Trophy.
Panteg won the toss and batted, a decision they were soon to regret as they lost wickets steadily. Only Glamorgan professional Will Bragg, offered any resistance scoring 23 as Panteg slumped to 113 all out. A fine fielding display by the young Newport team was the outstanding feature of the day, with 3 fantastic catches being caught by Jeremy Lawlor, Max Scarr and Nathan Millichip, backed up by 2 great run outs by Lawlor and Darnel Taylor-Wood which accounted for the wicket of Bragg. All the Newport bowlers bowled well, with Max Scarr claiming 3-13 being the pick. H.Powell 1-24 off 9.3overs, Josh Aston 2-37 off 10 overs, Mike Clayden 1-14 off 8 overs and Jeremy Lawlor 1-21 off 10 overs making sure Panteg were always under pressure!
Newport in reply were rarely threatened, and Mike Clayden led the way with a fine 60 not out 
to see Newport home by 8 wkts. In securing 21pts from the match Newport's relegation fears 
were over, while the defeat for Panteg (1pt) meant they will definitely be relegated back to the 
Glamorgan & Mon. Feeder League for the 2015 season.

Click Here for Full Match Scorecard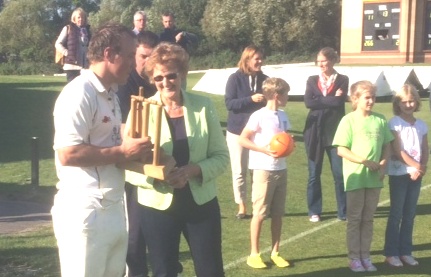 Captain, Mike Clayden Receives the Graham Reynolds Memorial Trophy 
From Eira Reynolds, as Eira's Family Look On.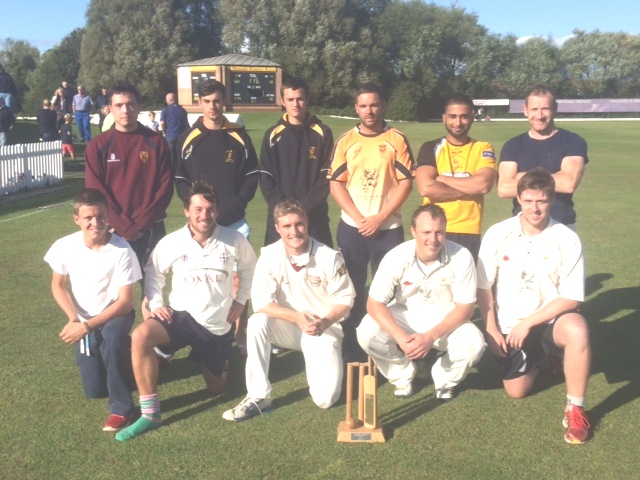 The Newport Team With the Graham Reynolds Memorial Trophy