Cometh The Hour .... Cometh The Man!
Newport Cricket Club stalwart Robert Brown, played his last innings on Saturday, retiring after 
50 years playing for THE CLUB. Robert was given a Guard of Honour welcome onto the field for 
his final match against Blaina, with representatives of not only Newport 3rd's and Blaina joining in, 
but also the Club's 2nd X1 players and Miskin Manor 2nd's X1 players interrupting their game, to 
show their own appreciation as well.

In this, his final playing season he was elected captain of the Club's 3rd team, nuturing many 
of the Club's talented young players into their first years in senior cricket. He led the team with 
distinction this year and ends a tremendous career in the game.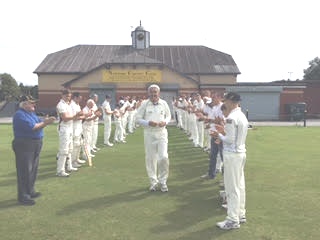 Club Chairman, Paul Morris said, 'Robert has been a magnificent servant of Newport Cricket 
Club over many years. He joined the club as a youngster and played in many of the Clubs top 
teams ranging for over half a century. He's always taken a keen interest in the Club's young players 
and it is fitting that in his final season, he has done so much to help the youngsters in the club 
progress. We wish him all the best for the future and long may his involvement with Newport 
Cricket Club continue'

It was an ambition of Robert's to play for the club for 50 years, and it is a fitting time for him to
announce his retirement. As a player and organiser he will be sadly missed by both young and old, 
but the club hopes to see a lot more of him in another capacity in the years to come.