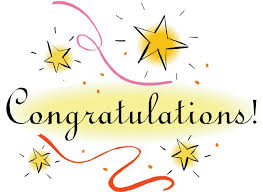 For the second consecutive year, Newport Cricket Club's Junior Teams at U11, U13 & U15 beat Chepstow in all three Junior Monmouthshire Building Society Cup Finals.
The Final's day which was hosted by Malpas CC this year, was held over two weekends due to rain.
U15 MBS Shield Final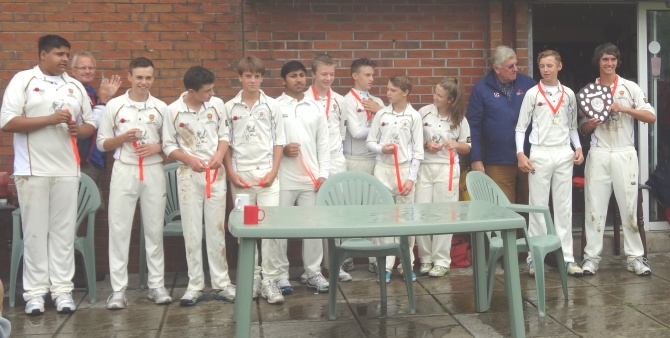 Newport U15 Captain Sam Hope-Bell Receives the 2015 MBS Shield
The U15 Final was played on the set date with Newport winning the toss and putting Chepstow into bat. A solid Chepstow start of 44 off 8 overs, was quickly turned around once Newport broke the opening partnership, with Scrivens well caught by Krishnan Hariharan for 16. A couple of suicidal run outs brought Newport back into the game, but Lewys Jones continued his hard hitting innings scoring 33 before he too was well caught on the boundary by Tom Lynbeck, off the bowling of Tom Protheroe as Chepstow slipped to 80-4 off 16 overs. With overs running out 2 further run outs resulted in Chepstow finishing their innings on 103-7. All the Newport bowlers bowled economically, with Tom Protheroe being the pick with 1-14 off his 4 overs, Jack Waters backed him up well with 1-15 off his 4 overs.

Newport in reply lost an early wicket, but Sam Hope-Bell stood firm. He made batting look easy, punishing every loose ball and was in total command. However, wickets were falling at the other end and although well up with the run rate at 62-4 off 10 overs, there were a few nervous times ahead for the Newport batsmen. Unfortunately, with the score on 84-4 off 14 overs and Hope-Bell passing his own personal fifty, he was forced to retire under the rules of the competition. A couple of quick wickets followed and allowed Chepstow back in the game and although Nathan Berry and Tom Protheroe steadied the ship for a while when they were both out with the score on 102-7 in 18 overs, a few worried faces could be seen. Fortunately, with just 2 runs required off 2 overs Newport had a little time on their side. However, with the next 9 balls being dot balls, Newport still needed 2 to win off 3 balls. Jess Thornton and Cameron Pardington proved up to the task with two scampered singles leaving Newport winners by 3 wkts and 1 ball to spare.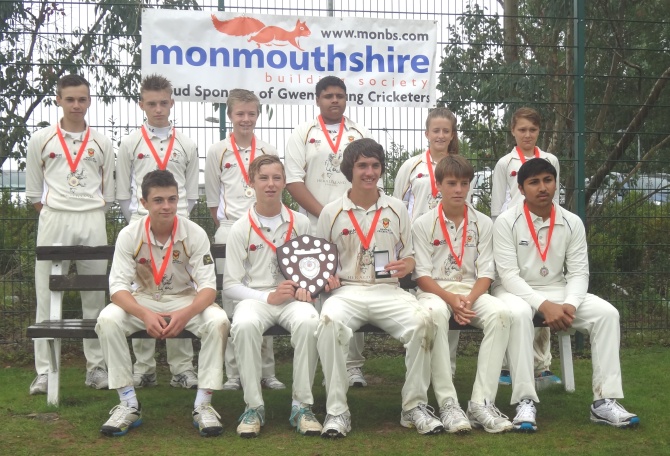 The Victorious Newport U15 MBS Shield Winners 2015
Lewys Jones completed a fine game for Chepstow finishing with 3-14, but it was Newport captain Sam Hope-Bell 
who was awarded the Man of The Match by former Somerset Allrounder Graham Burgess.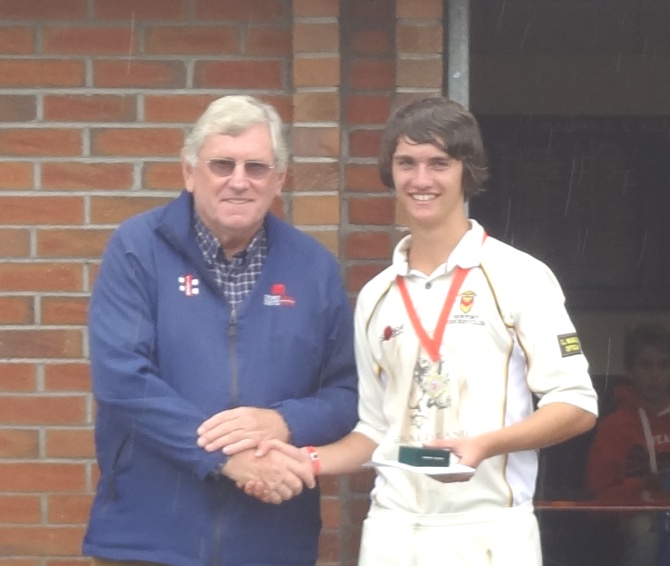 Newport U15 Captain, Sam Hope-Bell Presented
with the Man of The Match Award
by former Somerset Allrounder Graham Burgess.
Click Here For Full Match day scorecard


U13 MBS Shield Final
The U13 Final was tipped as a close affair, however on the day Newport proved far to strong for Chepstow, winning by 8 wickets and hence gaining the League and Cup Double over their closest challengers.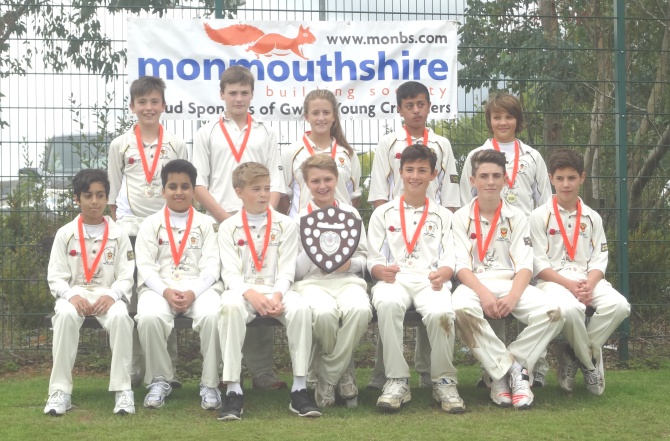 The Victorious Newport U13 MBS Shield Winners 2015
Chepstow batted first and got off to a quick start with 16 runs coming of the first 2 overs. However, at this stage a 
disasterious run out of Ryan Scrivens, followed by another wicket next ball set the innings back. T.Franklin with 21 
and M.Goddard 11 tried to get the innings back on track, but another flurry of wickets saw the score tumble to 54-6 
off 12 overs, with Muaaz Shahid claiming 2 quick wickets. Harry Bachelor followed up with another 2 wickets and 
the Chepstow innings was in disarray, eventually being bowled all out for just 63. All the bowlers bowled well, with 
Muaaz Shaid 2-8 and Harry Bachelor 2-0 being the pick.
Captain Nathan Berry and Ben Hope-Bell were determined to get Newport off to a good start, and batted cautiously 
taking the score to 25 off 7 overs, before Hope-Bell was out. Berry continued to play the captain's role and despite 
losing another wicket he found a great partner in Morgan Mohring, who played the hard hitting role which was needed. 
Hitting 4 fours in a quickfire 25no in just 23 balls, he took the game away from Chepstow and with Berry (25no) looking 
in no trouble at the other end, the two comfortably took the score past the required 64 run target with 8 wickets and 
5 overs to spare.
 
The man of the Match Award was awarded to Newport Captain, Nathan Berry.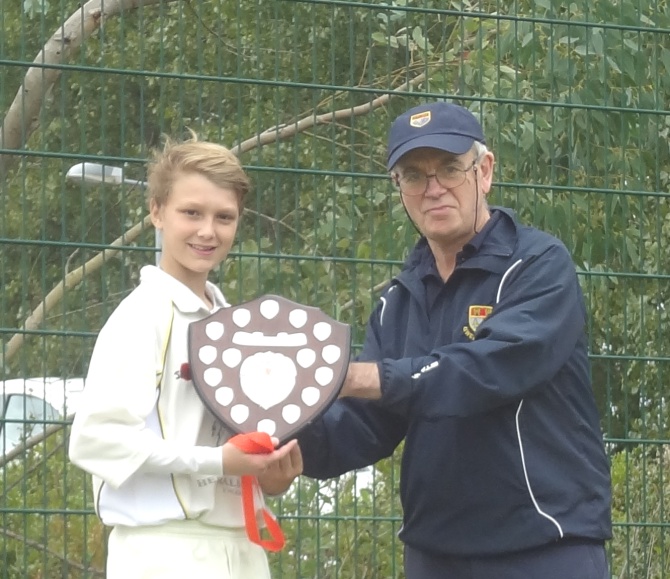 Newport U13 Captain, Nathan Berry
Presented with the Man of The Match Award
Click Here For Full Match Day Scorecard
U11 MBS Shield Final
The U11 Final proved to be the closest and most exciting of the three Finals, with Newport edging past Chepstow, winning by 8 wkts with just 1 ball to spare.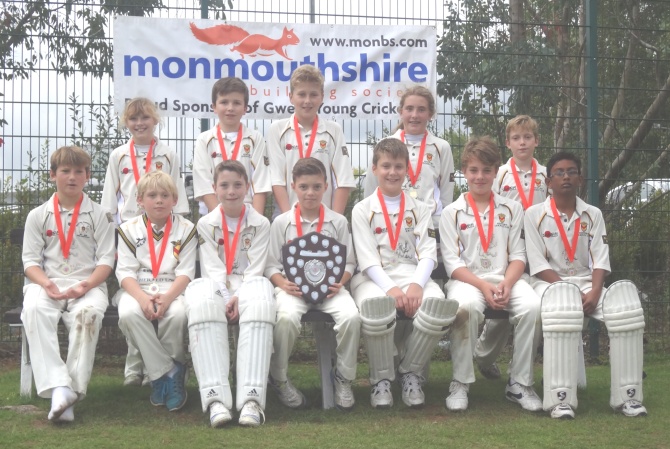 The Victorious Newport U11 MBS Shield Winners 2015
Newport won the toss and put Chepstow into bat, however Chepstow openers Ben Kellaway and Ollie Raynor 
proved to be a major obstacle in their path. The Chepstow openers batted superbly taking the score to 51-0 
off 10overs. Kellaway in particular began to dominate the bowling hitting 8 fours in a fine 74 not out as Chepstow's 
innings closed on 118-0 off their 20 overs. Raynor himself scoring a useful 28no.
It was a daunting score to chase, but the Newport team is made of stern stuff, not to mention good ability. 
Openers Sam Protheroe and Harry Hughes, both Welsh Internationals, began cautiously, but upped the run 
rate to see Newport through to 51-0 off 10 overs, and then upto 77 before the partnership was finally broken 
in the 15th over, with both Hughes (29) and Protheroe (30) out in consecutive balls. 

A good foundation had been laid, but 41 runs were still required off just 5 overs. However, Welsh cap and 
England triallist, Sophie Thomas along with fellow International Ross Mohring beagn to assert their authourity 
on the bowlers and with fine running and a few stray wides, Newport were always in the game, but slightly 
underdogs. 

26 runs wree needed off the final 3 overs, which was reduced to 16 off the last 2 overs. An excellent penultimate 
over resulted in Newport needing just 6 off the final over. A few scampered singles and a wide had everyone on 
the edge of their seats, with the game being decided on the final ball, with Newport still needing 2 to win. With 
the adrenalin pumping, players on both sides were under pressure, unfortunately for Chepstow a wide was bowled 
and when the Newport batsmen scampered a quick single the game was all over, Newport winning a pulsating game 
by 8 wickets with just 1 ball to spare. Sophie Thomas 15no and Ross Mohring 16 no being the heroes, while Chepstow 
will rue the 18 wides bowled throughout the innings. Chepstow's Ben Kellaway, deservedly won the Man of the Match 
Award for his fine all round display with bat and ball.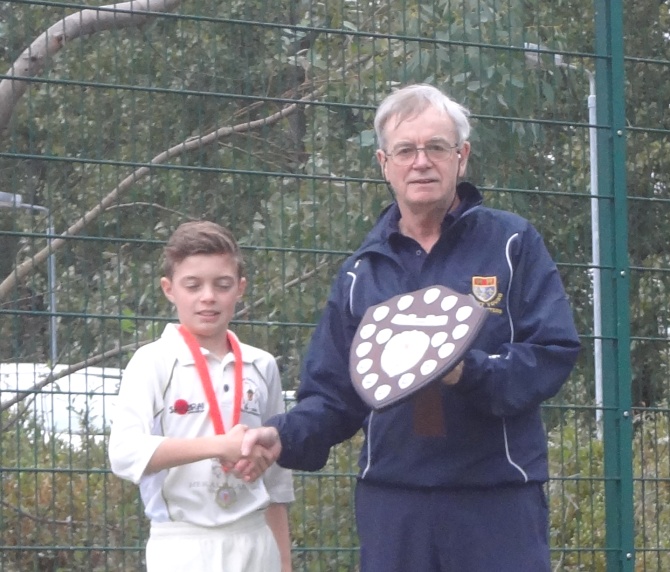 Newport U11 Captain Sam Protheroe Receives the 2015 MBS Shield
Click Here For Full Match Day Scorecard
The Cup Final win see's the talented Newport U11 Team to a League and Cup Winners Double
MBS Junior League Tables (Final Standings) Can be Found Here

Click on the Gallery Page To See More Photo's