Welsh OSCAs 2015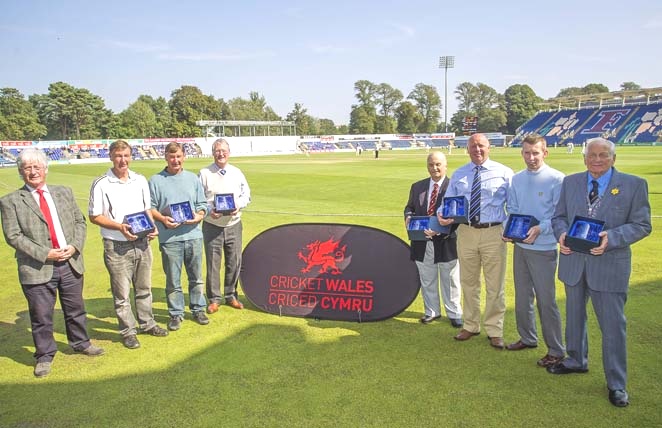 Wales' off-field cricket stars have been rewarded at the annual NatWest OSCAs (Outstanding Service to Cricket Awards). The awards recognise the vital contribution that volunteers make to the game throughout Wales. "Cricket simply would not exist without the volunteers in clubs, leagues, boards and the community more widely," said Cricket Wales chief executive, Peter Hybart.
"The individuals, and in one case the twins, who have won this year's NatWest OSCAs represent the tip of the iceberg as far as volunteering is concerned. Cricket in Wales is fortunate to have such dedicated people who devote their time, energy and skills into the sport."
The 2015 Cricket Wales OSCAs winners received their awards at The SSE SWALEC (formerly the SWALEC Stadium), home of Glamorgan County Cricket Club. Among the Award Winners were Mike & Dave Knight.
Mike Knight and Dave Knight, Newport (Heartbeat of the Club)
Mike and Dave are identical twins who have been the stalwarts of Newport CC for 40 years.  
Both ex-school teachers, they devote most of their spare time to club business and especially the development of 
young cricketers. They were involved in the development of the youth section which resulted in Newport CC 
becoming UK Club of the Year in 1991 and since then have been instrumental in promoting youth development 
making Newport CC the premier club in this regard in Wales. Their development of cricket for girls has been 
particularly impressive. Consequently, the Club has become the following:
•             ECB U13 National Club Champions 2005 & 2010
•             ECB U15 National Club Runners-Up 2007
•             ECB Premier League National Champions 2013
•             Lady Taverners ECB U13 UK Winners 2013 & 2014 and Runners-Up 2011
•             Lady Taverners ECB U15 UK Winners 2014 and Runners-Up 2013
•             Sri Lankan training base for the 2013 ICC Trophy in recognition of the high quality of its two pitches and 
              four-bay all-weather training area.

Currently, Mike and Dave's roles within the club cover the areas of: coaching (head and assistant), junior 
administration, grounds maintenance, website administration, sponsorship, fundraising, clothing sales and 
project management.
The full list of winners were:-
Jonathan Finn, Cimla (Category; Get the Game On)
Brinley John, Llangennech, Llanelli (Leagues)
Roy Emmott, Newport (NatWest CricketForce)
Derek Rees, Dunvant, Swansea (Lifetime Achiever)
Maurice Leyland, Pembroke (Lifetime Achiever)
For A Complete Report on All The Awards Click Here