Newport Cricket Club celebrated a unique SWALEC treble with their U13 and U15 teams emulating the 
Club's 1
st
 X1 SWPL T20 victory, with their own Welsh Cup Final wins. It was an amazing week for the 
club with three Cup Final wins in a week, all at the SWALEC Stadium. A feat never previously performed 
and very unlikely to ever be repeated in the future.
With the Senior Team having already claimed the SWPL T20 Trophy, next in line for honours was the 
club's U13 team. Having won their way through to the Final with wins against Lisvane, Chepstow and 
Newbridge, they now had to play a 3 way round robin tournament against Mochdre (North Wales) and 
Pontarddulais (West Wales).
With overnight rain delaying the start, all matches were reduced to 15 overs a game. In the first game 
of the day Newport played Mochdre and put the North Walians into bat on winning the toss. Steady 
bowling restricted Mochdre to 77-3, a score which Newport passed relatively easily in 13.1 overs, with 
Ben Hope-Bell scoring 26 ret, Sam Protheroe 25 ret., and Luke Lezar 17no.
Pontarddulais then went on to beat Mochdre leaving the final match the decider.
Newport won the toss and decided to bat first. An opening partnership of 53 in 9 overs by Ben Hope-Bell 
and Sam Protheroe, laid the foundations of a useful Newport score, before Protheroe was out for 18. 
Hope-Bell 27 and Luke Lezar 28 formed an impressive partnership before both had to retire. A late fluury 
saw the Newport total reach a useful 100-5 off their 15 overs.
E.Sivak and L.Rees 13, got Pontarddulais off to a useful start before Rees was out LBW to Oskar Rice. 
M.Cromwell joined Sivak and the two looked a real threat before both had to retire on 25. Just 17 runs 
were required off the final 3 overs, but a fine spell of leg spin bowling by Muaaz Shahid 2-7, and one 
over for just 1 run by Lewis Probert put the brakes on at just the right time. The Pontarddulais innings 
closing on 92-3, falling agonizingly short at the end of their innings, leaving Newport winners by 8 runs.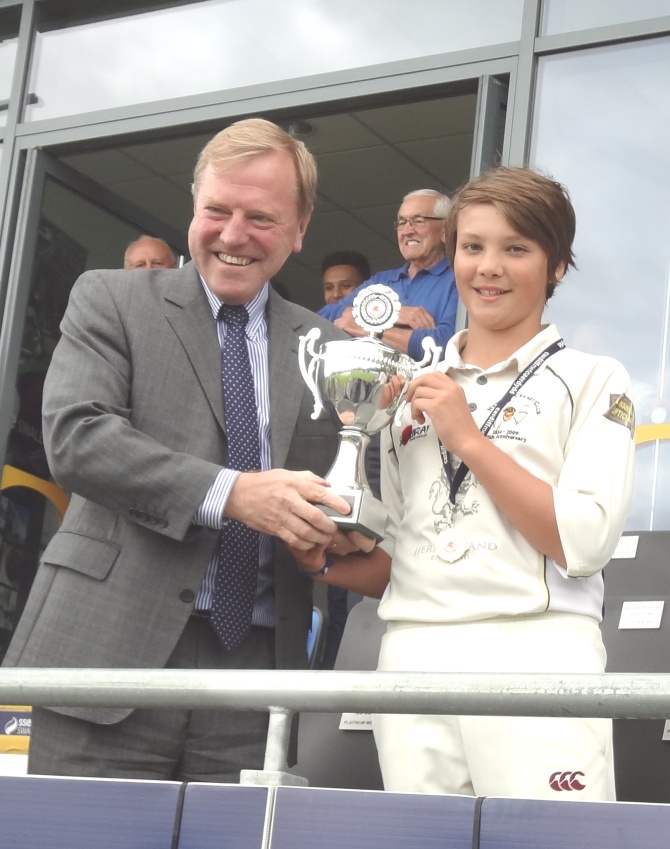 Glamorgan CCC Chief Executive Presents
Newport Captain, Ben Hope-Bell with the U13 Welsh Cup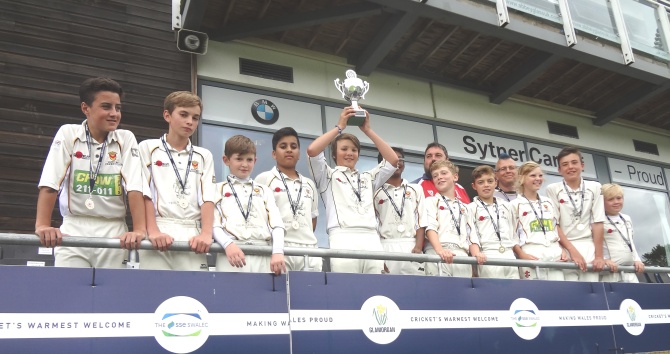 U13 Captain, Ben Hope-Bell Holds Aloft the U13 Welsh Cup
The Newport Team With the U13 Welsh Cup

Newport U13 Team
Ben Hope-Bell (Capt.), Sam Protheroe, Luke Lezar, Harry Hughes, Muaaz Shahid, Sophia Smale, Lewis Probert, Oskar Rice, Darshan Selva, Hari Owen, Noah Rice
The following day was the turn of the club's U15 team who had won through to the Finals Day with wins against Radyr, Lisvane, and Newbridge. Joining them in the Final was Llandudno (North Wales) and Carmarthen Wanderers (West Wales).
The first game of the day saw Newport play Llandudno, with Newport winning the toss and inviting Llandudno to bat first. Llandudno, despite losing an early wicket recovered with Matthew Jones 26 and Ethan Hill 40 scoring quick runs. At 86-3 off 15 overs a big score was looking possible, however Jack Davies 2-19 and Harry Bachelor 2-19 had other ideas and the innings petered out to finish on just 94 all out.
A winning position was lost, as Newport's Welsh International openers Tom Evans and Will Smale, showed their class. Smale was out for 13 but Evans 39no played superbly and put on an unbroken 55 with Tom Lynbeck 26no, to see Newport home by a convincing 9 wkts with 5 overs remaining.
Carmarthen Wanderers also beat Llandudno in the second game to set up an intriguing final match. Newport won the toss and elected to field, but aided by some wayward bowling and ill disciplined fielding Carmarthen raced away to a lightning fast start scoring 36 off 5 overs. Josh Thomas was proving a real thorn in the side of the Newport attack scoring a hard hit 50 before he had to retire with the Llandudno score on 106-2 off 17 overs. Harry Bachelor tied things down claiming 2 wickets for 16 runs, as the Llandudno innings closed on 124-4 off their allotted 20 overs.
In reply, Newport openers Smale and Evans were in confident mood scoring 62 in 9 overs, before Smale was out for 28. Evans remained cool and calm and in total control, scoring runs freely and with the score on 95-2 off 15 overs a close finish was in store. However, an aggressive 16no from Tom Protheroe, was just the tonic the Newport innings needed and they scored 34 in just 2 overs to win comfortably in the 16th over by 7 wickets, Evans falling with just 5 runs needed for a fine 46.
It was a fine performance and secured the remarkable treble for the club. A feat which will be hard to match!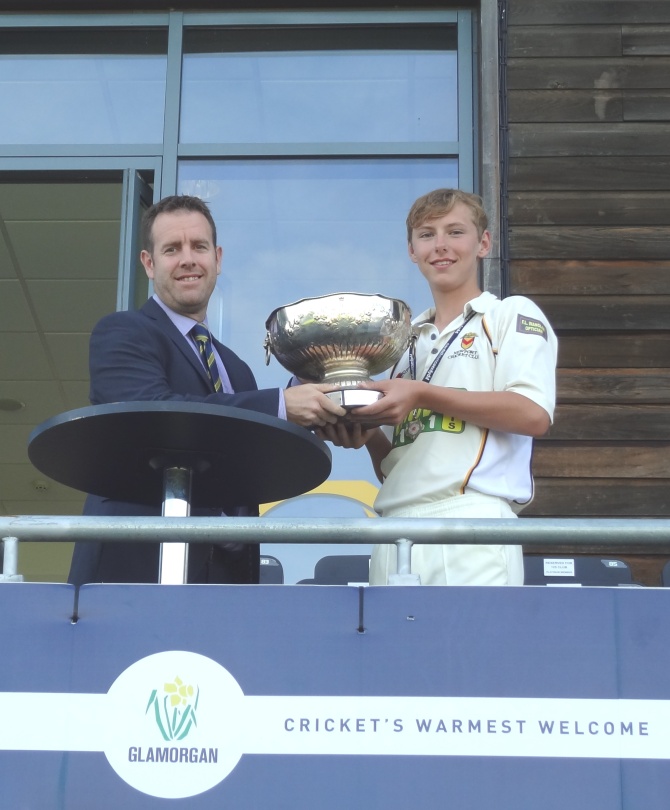 Glamorgan CCC Operations Manager Dan Cherry,
Presents Newport Captain Will Smale with the U15 Welsh Cup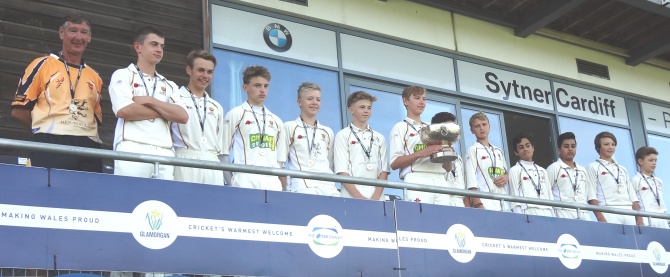 The U15 Team Celebrate Their Welsh Cup Success
U15 Welsh Cup Champions
U15 Team
Will Smale (Capt), Tom Evans, Tom Lynbeck, Tom Protheroe, Nathan Berry, Jack Davies, Cameron Pardington, Harry Bachelor, Hussain Shahid, Muaaz Shahid, Sam Protheroe,