Arthur Joseph 'Monkey' Gould
Arthur Gould – the Rugby Player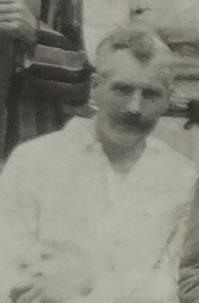 Arthur Gould – the Cricketer
Captain of both club and country, Newport legend Arthur Joseph 'Monkey' Gould is regarded as the first 
superstar of Welsh rugby. The multi-skilled and charismatic back played 27 times for Wales, 25 at centre 
and two at full-back, and was captain in 18 of them – a record that lasted almost a century. He retired in 
1897 and remained Wales' most-capped centre until overtaken by Steve Fenwick in 1980.
One of three brothers to represent Wales, Gould played for Newport for 16 years between 1882 and 1898. 
His tally of 37 tries in 24 games in the 1893-94 season is a club record that stands to this day. He was 
inducted into the World Rugby 'Hall of Fame' in November 2016.
In 1874, Arthur Gould's father Joseph Gould was the first Captain of Newport Cricket Club. He was one of 
the founders of the Club and was a fantastic servant. Gould's brother Bob was a useful batsman and also 
a prominent bowler, heading the 1st X1 Bowling averages in 1886. Both Joseph and Bob Gould also played 
for a South Wales 22 v W. G. Grace's All England X1 at Newport in 1881.
Arthur Gould joined his father Joseph and brother Bob in the Newport 1st X1 that inflicted a heavy defeat 
over arch rivals Cardiff in 1881. The match was memorable for a great feat of bowling by John 'Slingshot' 
Williams, who had the remarkable analysis of 8 Overs, 8 Maidens, 0Runs, 6 Wickets in the Cardiff first 
innings. Cardiff were out for 16 and 15 runs respectively in their two innings.
Arthur Gould was a very useful batsman and in 1903, won the 1st X1 Average Bat with an average of 19.33.
In 'Newport Athletic Club's – The First Fifty Years', H. Berrow the books author said of Arthur Gould, 'He took 
to cricket like all his sport, seriously. He was not a born cricketer, but got to be quite a good defensive bat 
purely by perseverence, and his quickness in running between the wickets, and his fielding at cover-point 
made him worth his place in the side'. An example of the quality of Arthur Gould's fielding came in a match 
with Guy's Hospital (a touring side) on 11th August 1892, when he caught 5 of their batsmen out whilst fielding 
at cover-point.

Arthur Gould also served as Assistant Secretary for several years until being replaced by Tom Blandford in 1913.
The photo below shows Arthur Gould playing for the Newport Veterans team v Newport 1st X1 in 1914.