6 Nation Rugby Competition
The 6 Nations Rugby Competition was as close as ever, amazingly nobody predicted all 
15 correct results.
(Stewards Enquiry on the late, late, late French try..... it could have been a lot different).
However, there were 7 people who predicted 14 correct results:-

David Hunt 67 tries
Dan Cherry 64 tries
Kerry Lloyd 70 tries
Bob Bigmore 61 tries
Terry Rice 78 tries
Martin Williams 82 tries
Chris Morgan 45 tries

The Tie Break question decided the winner.



David Hunt

 managed to choose 67 tries
There were 66 tries in the tournament, 


The Winning Ticket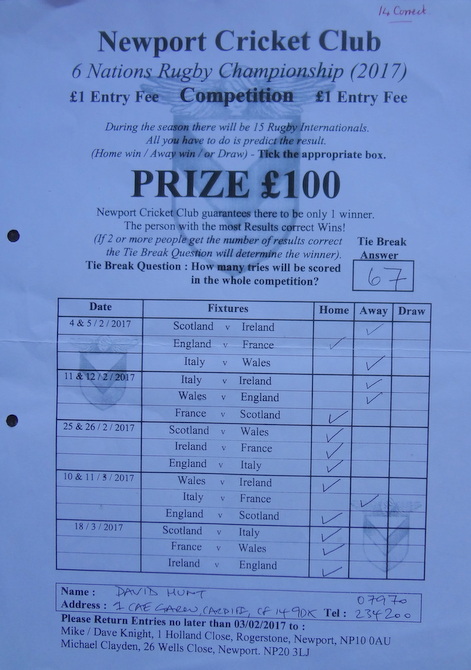 Congratulations David, £100 is on its way!

Newport Cricket Club would like to thank everyone who took part in the competition. 
The Club Raised £477, which will go towards the Artificial Wicket Project.
Thanks very much for your support.