Newport Cricket Club
All Stars Cricket Programme for 5 – 8 Year Olds

Register Now!
Newport Cricket Club has an excellent reputation for its work with young cricketers and is pleased to announce that in partnership with ECB and Cricket Wales,the new All Stars Cricket Programme will be delivered at the Club this summer.
All Stars Cricket aims to give 5-8 year olds their first experience of the game. Parents can enrol their children (Boys and Girls) to take part in Newport Cricket Club's All Stars Cricket Programme by registering via http://allstarscricket.co.uk/
After signing-up, boys and girls will have a cricket 'back-pack' delivered to their door with a bat, ball and everything they need to try the game for the first time.
Details of All Stars Cricket at Newport Cricket Club :-
Venue : Newport Cricket Club (Based at Newport International Sports Village NP19 4PT)
Course : 8 week programme
Date : Tuesday evenings (May – July)
Time : 6.00 – 7.00pm, (with the option to stay on until 8.00pm)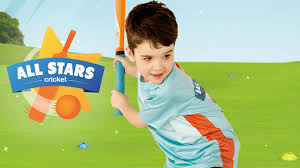 Join Newport Cricket Club - All Stars Cricket (click on the link above)
Fully qualified Club coaches will conduct the sessions, with parents being invited to get involved - if they want to. The emphasis of All Stars Cricket is to learn to play the game in a fun, safe and inclusive environment, enabling children to learn the social development skills that playing sport brings. Each session of the 8-week programme will give children the basic skills they need to develop a lifelong love of cricket.
Mike Knight, Newport Cricket Clubs Head Coach commented 'Through the All Stars Programme, Cricket will be available to children (Boys and Girls) as young as 5 years of age. Cricket is a fun and exciting game and our coaches plan to offer a warm welcome and an enjoyable experience to children playing Cricket for the first time. Who knows, our All Stars Cricket Programme might unearth the next Joe Root or Ben Stokes.''
The All Stars Programme is a great initiative and ECB hopes to have 50,000 children trying Cricket all over the country. Minister for Sport, Tracey Crouch said: "All Stars Cricket is exactly the type of programme we are keen to see more of. It is vital to encourage children to have a happy, healthy and active lifestyle from an early age. All Stars Cricket proposes to do just that and I'm sure parents will jump at the chance to sign their kids up."