A tense affair was in prospect as Cardiff took on Newport in a game that many had described as the SWPL Title Decider. The match at Cardiff's Diamond Ground began in a sombre mood as both teams held a 1 minute silence for the passing of Glamorgan legend Don Shepherd.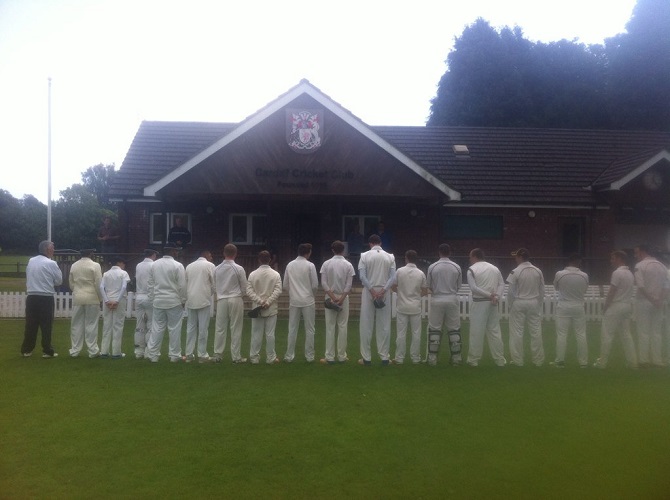 Newport and Cardiff, Players and Officials Observe
a 1 Minute Silence for Glamorgan Legend Don Shepherd
Cardiff won the toss and put Newport in to bat, with the decision reaping immediate dividends as Newport captain Matt Norris was out LBW with the score on 10. Any early innings worries were soon forgotten as Joe Voke, who was the top run scorer for Wales Minor Counties this season, and Imran Hassan quickly showed their authority taking the Newport score to 65 in the 13th over before Voke was out for a useful 34 in Prem Sisodiya's first over. When Callum Taylor soon followed a few alarm bells were ringing for Newport, however former Glamorgan wicket keeper Mark Wallace eased the nerves with a faultless innings of 56 in 64 balls, as he helped Hassan build a match winning stand of 101, taking the Newport score to 181-4 off 39 overs.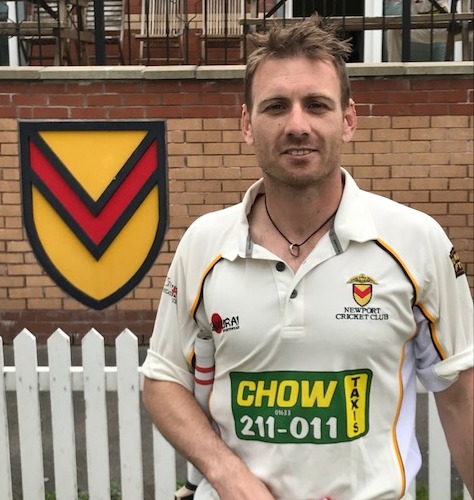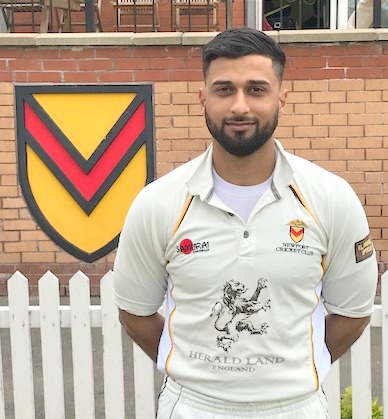 Mark Wallace Imran Hassan
Just as Newport were in command and looking at a big score, the game dramatically changed, as they lost their remaining 6 wickets for just 19 runs, as the Cardiff spin attack of Sisodiya and Connor Brown wreaked havok. Hassan was one of the victims but had scored an invaluable 76 in a classy innings before falling to Sisodiya. A final score of 200 had seemed to let Cardiff off the hook.
Cardiff replied with prolific opener Alex Milton, being joined by Umar Malik. Spin seemed to be the way, as first Josh Aston and then Callum Taylor (record 30 wickets for Wales Minor Counties), were introduced into the attack in the early stages of the Cardiff innings. It was Taylor who struck the first blow claiming the wicket of Malik for 10. The wicket brought Connor Brown and Milton together and they seemed to be taking the game away from Newport with a stand of 68, before Brown was brilliantly caught by Taylor off his own bowling for 22, with the Cardiff score on 93-2 in 29 overs. From a good position in the game, it was the turn of the Cardiff batsmen to have the jitters and as Josh Aston was re-introduced into the attack the game was completely turned on its head. Aston claiming 4 quick wickets as Cardiff slipped to 143-7 in 44 overs, as the pressure began to tell. Milton, however was still in, notching up his personal fifty and passing 1000 league runs in the process. a fantastic milestone. It was up to Milton to hold the Cardiff tail together, but another wicket soon followed and Newport eventually needed to claim 2 wickets in the last over to win outright. Imran Hassan was given the ball, bowling his first over for some considerable time, and he came up trumps claiming the 9th Cardiff wicket off the 3rd ball of the over. Another fine catch by Wallace, his 3rd of the match and 24th (16 catches 8 stumpings) victim of the season.
The big Title decider had lived up to its pre match billing, with players and spectators of both sides anxiously watching a nervy performance by both sides, before the Cardiff number 11 James Lewis managed to salavage something out of the game for Cardiff, blocking out the last three balls of the match to claim a what could be a vital 5 points in a losing draw, as Cardiff clung on to finish on 152-9. Milton finishing on 79 not out. While for Newport the pick of the bowlers was Josh Aston who claimed 4-28 in a superb spell of bowling. Callum Taylor also picked up 3-30.
The winning draw for Newport who claimed 19 points, to Cardiff's 8pts, from the match, takes them to just 5 points behind the league leaders with one round of fixtures to be played next week. Another nervy weekend is in prospect with Newport travelling to Ynysygerwn, while Cardiff travel to local rivals Penarth.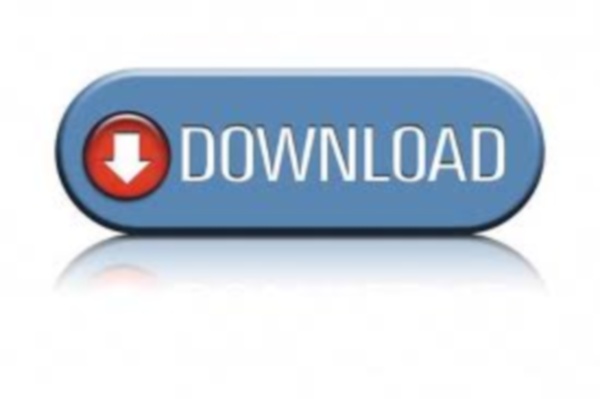 (Click above for Full Match Scorecard)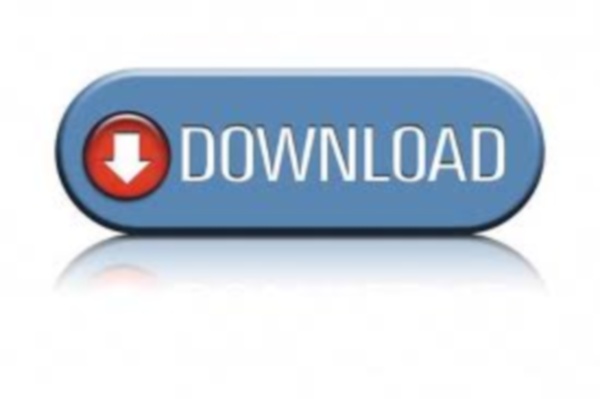 (Click above for SWPL Div. 1 Table)
Newport 2nds - A fine day for Newport was made even better with the news that the 2nd X1 had beaten 
Cardiff by 110 runs. 
Young prospects Jack Wright claiming 5-22 and Will Smale 68. Captain Joe Thompson also 
claiming 52. 
Newport 2nds - 219-10 (Will Smale 68 Joe Thompson 52)
Cardiff 2nds - 109 -10 (Jack Wright 5-22)

They also cling to title hopes with a last week encounter with TATA Steel.
Newport 3rds made it a hat trick of wins beating Llantwit Fadre by 58 runs as the ever green 
Tallah Ubaid scored a fantastic 131 and young Nathan Berry a superb 85 not out. Captain 
Alex Davies claiming 6-63 in the Llantwit reply
Newport 3rds 281 - 2 (Talah Ubaid 131, Nathan Berry 85n0)
Llantwit Fadre 223-10 (Alex Davies 6-63)