Newport U11's won the MBS Gwent Shield Final with a 20 run win against Chepstow at Monmouth Cricket Club.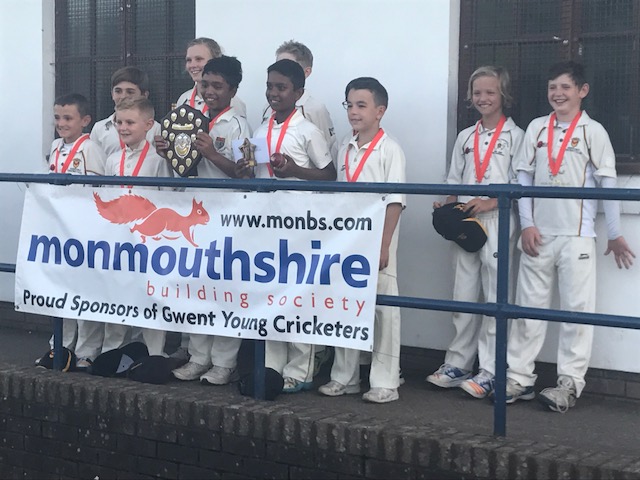 Newport CC U11's Win the MBS Shield Final Against Chepstow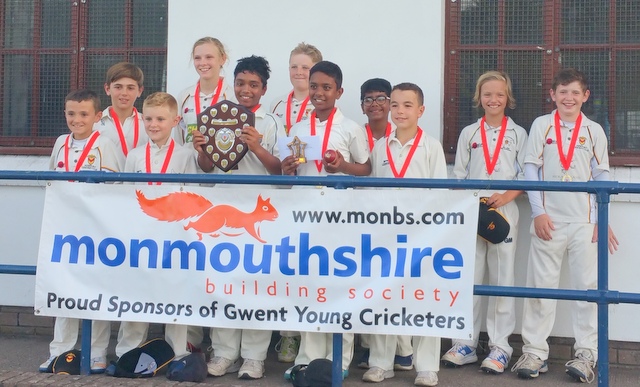 Newport were put into bat on losing the toss with openers, captain Rohan Donga and Sophia Smale finding runs difficult to score, With the score on 10 off 6 overs Smale was out for 4 and it was not long before Donga followed LBW for 9, with Newport 17-2 off 9 overs. Noah Rice 10, came to the wicket and looked in good form, but suddenly Newport had lost a further 4 wickets, falling to 39-6 off 13 overs. Chepstow's Charlie Beddis was the main wicket taker claiming 3-18 in a good spell of bowling, but was ably backed up by Filip Chitnis 2-14
Facing a daunting position, it was left to Robbie Sandford and young Tom Krige to see out the onslaught, before launching their own counter attack. Batting very sensibly for children so young in the face of such pressure, was a tremendous achievement as they began to turn the game around, scoring several vital boundaries as the Newport total began to gain respectability. As the Newport innings closed the pair were still together and had added an unbeaten 49, with Sandford scoring 20 not out off 27 balls and Krige 19 not out off 17 balls. The unbroken partnership proved decisive with the Newport innings closing on 88-6 off their 20 overs.
The Chepstow innings in reply was always going to depend on James Kellaway who looked in fine form, however the other Chepstow batsmen were finding things a little more difficult. Jack Hope-Bell claimed an early wicket and soon after left arm spinner Sophia Smale also got in on the act as Chepstow fell to 132-2 off 4 overs. At 39-2 off 11 overs, the Chepstow innings was looking on course with O.Taylor offering Kellaway good support. However, the game was dramatically turned on its head as Vidhey Maripur clean bowled Kellaway in the 12th over for a good 30.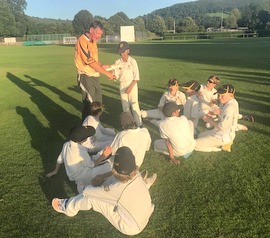 In his Final Game for Newport before moving, Vidhey is Presented
with the Match Stumpthat he Broke while Bowling in the Final
Suddenly, it was the turn of the Chepstow middle order to feel the pressure and good 
accurate bowling from all the Newport bowlers particularly Vidhey Maripur 2 - 8, and
with Donga claiming 1- 12 life was proving difficult for them.
The game finally swung Newport's way with the introduction of Abhijeet Ashokkumar in the 15th over as he claimed 4 wickets in the over including a hat trick as Chepstow stumbled to 55-9. A gallant last wicket stand of 13, took the Chepstow score to 68, before Cunliffe was forced to retire on 15, leaving Chepstow 20 runs short on 68 all out. Abhijeet finished with match winning figures of 4 wkts for just 3 runs, with Jack Hope-Bell supporting well claiming 1- 10 off 3.2 overs.
The win rounded off a tremendous season for the young Newport team, who clinched the 'Double' as earlier in the season they had already claimed the League title.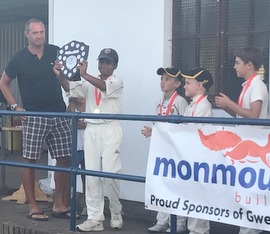 Captain Rohan Donga, Presented with the Trophy
By Glamorgan Legend Dean Cosker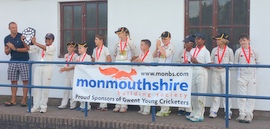 Rohan Donga, the Newport captain was presented with the trophy by Glamorgan CCC llegend Dean Cosker, who's son Jak had been part of the Newport team. Abhijeet Ashokkumar was named Man of the Match a received his own personal trophy from Dean.

Abhijeet Receives the Man of the Match Award from Dean Cosker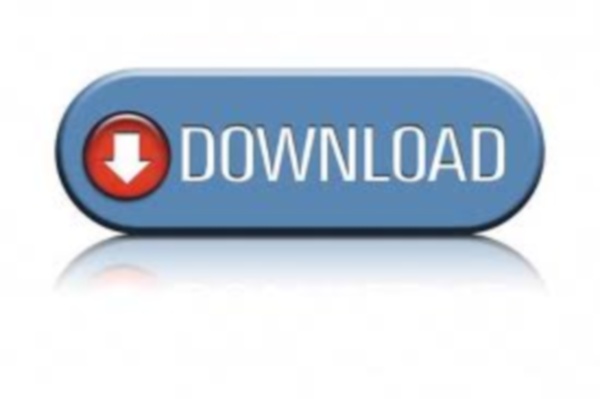 Click above for the Full Match Scorecard