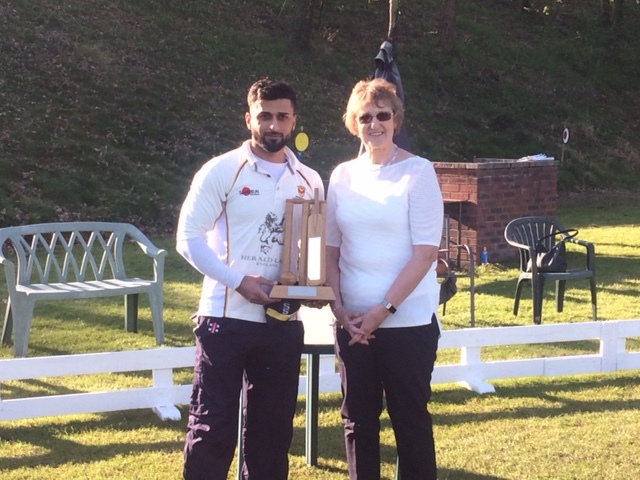 Newport Captain Imran Hassan, Receives the 'Graham Reynold's Memorial Trophy'
from Graham's Widow, Eira in 2017

Newport CC will host Panteg in the final Graham Reynold's Memorial Match on Sunday, April 15th, 2018 
at Spytty Park (NISV). The two clubs have played annually for 'The Graham Reynold's Memorial Trophy' 
and the final match between the two teams will mark the 10th Anniversary of Graham's death. 

The two clubs, along with Graham's widow Eira and the families, have agreed that the 
10th Anniversary match would be a fitting finale to honour Graham's services to both clubs.

Graham spent a lifetime playing for Newport, whilst also being a regular watcher of 
games at Panteg, where he had many friends. 

Newport Cricket Club and the family are hoping that friends and colleagues of Graham 
will attend the day and pay a fitting final tribute.

Newport Cricket Club Chairman Mike Knight commented, 'We all have special memories of Graham and 
he will never be forgotten at Newport Cricket Club. It would be a great finale to see a good turnout of friends 
to share their stories and memories of Graham.'
  
Timetable of Events - Sunday, April 15th, 2018
1.00pm - Match Starts
4.00pm (Approx) - Tea and Refreshments for friends and guests in the Club Museum 
6.30pm (Approx) - Presentation of the Graham Reynolds Memorial Trophy