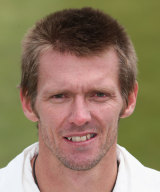 Glamorgan CCC Captain Mike Hogan
Glamorgan captain, Michael Hogan will play for Newport Today (June 16th), in their South Wales Premier League match at home to Bridgend. Hogan who has been out injured during the past month with a hamstring injury, is ready to begin his comeback with a game for Newport.
Hogan was one of two Glamorgan players allocated to Newport for the 2018 season, the other being Nick Selman. He will renew acquaintances with former Glamorgan star Mark Wallace, who is in his second season with Newport.