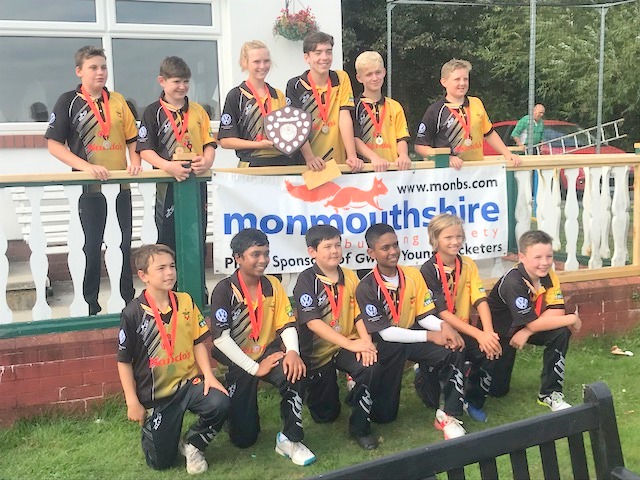 Newport U13's - 2018 MBS Gwent Shield Winners
Newport and Wales U13 player Ethan Oliver, produced an outstanding 'Man of the Match' performance to see Newport to an emphatic 69 run win, against Ebbw Vale in the U13 MBS Gwent Shield Final held at Abergavenny.
Ebbw Vale won the toss and put Newport in to bat, a decision which met with immediate success as Newport fell to 14-2, with both openers Sophia Smale and Noah Rice out early. However, the early disappointment for Newport was quickly forgotten as Ethan Oliver and Rohan Donga set about repairing the situation. A little tentative to start, soon became solidation and then free scoring, as the two forged a match winning partnership. Oliver in particular was keen to punish any bad ball, and with great support from Donga put on a partnership of 90 taking the score to 104 in 14 overs before he had to retire for a majestic 52, which included 8 fours and 1 six, in just 35 balls.
Donga was joined by Abhijeet Ashokkumar, and the pair took the Newport score to 132-3 off 18 overs before Donga, who played some excellent attacking shots was out for a fine 44 (6 fours), in just 48 balls. Abhijeet finished unbeaten on 21 as the Newport innings closed on a healthy looking 140-3 in 20 overs.
Ebbw Vale got off to the worst possible start, losing their captain Matt Hall, first ball of the innings LBW to Sophia Smale. It was then Ethan Oliver the bowler, who took centre stage, as he quickly ripped through the Ebbw Vale top order, claiming 4 wickets for 19 as Ebbw Vale slumped to 23-5 in 8 overs. The game was effectively over, however Harrison Parsons 12 and Gethin Weaver 19, tried to make a fight out of it, but with wickets falling at regular intervals, there was no way back and Ebbw Vale were all out for 71, leaving Newport winners by 69 runs. Jack Hope-Bell 2-10, Noah Rice 1-7, Sophia Smale 1-4 and Robbie Sandford 1-1 sharing the wickets.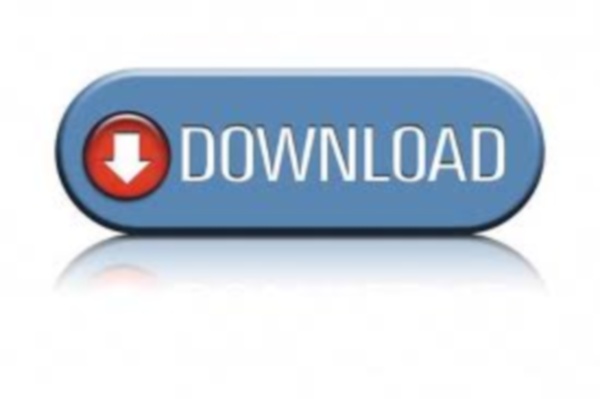 (Click above for Full Match day Scorecard)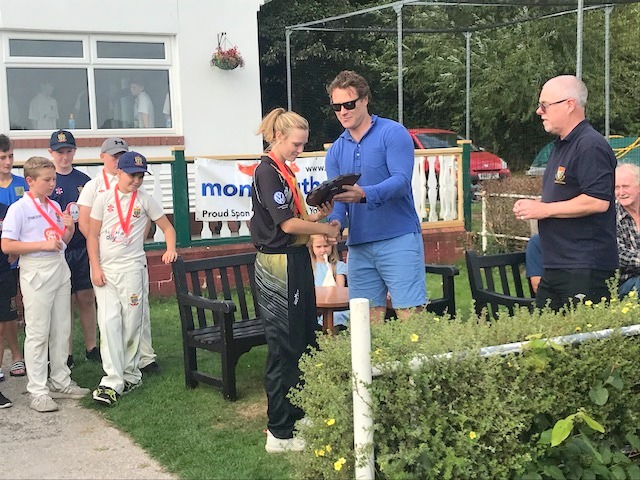 Newport U13 Captain Sophia Smale, Receives the U13 Winners Trophy
from ex Glamorgan Star Mike Powell
At the presentations after the game, Ethan Oliver was presented with the 'Man of the Match' Award for his outstanding display with bat and ball. He scored 52, before tournament rules forced him to retire, and then produced a devastating spell of bowling claiming 4-19.
Newport Team:- Sophia Smale (Capt.), Ethan Oliver, Rohan Donga, Abhijeet Ashokkumar, Noah Rice, Robbie Sandford, Will Hull, Ollie Donoghue, Jake Vinh, Leo Bailon, Tom Krige, Jack Hope-Bell