County Championship cricket will return to Newport for the first time in 54 years, as Glamorgan play their mouth watering local derby match, against Gloucestershire at Spytty Park on:-
Tuesday May 14th, Wednesday May 15th, Thursday May 16th & Friday May 17th, 2019

The last County Championship match held in Newport would have been at Newport Cricket Club's 
former ground at Rodney Parade, where Warwickshire were the visitors in 1965.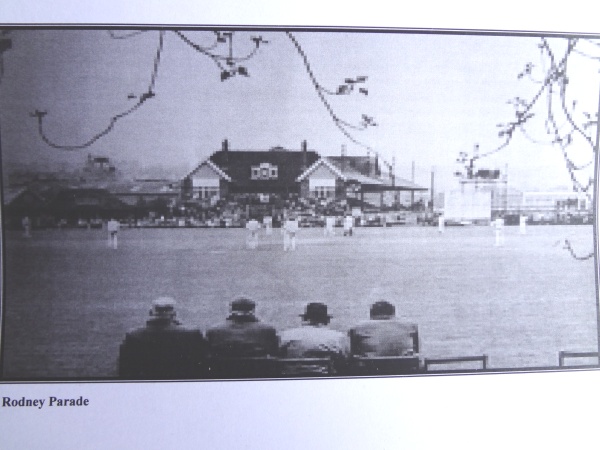 County Championship Cricket at Rodney Parade
Since then the club has moved its headquarters to Spytty Park and set up a superb cricket facility.
Newport Cricket Club Chairman, Mike Knight enthused, 'In 1990 when Newport Athletic Club sold the cricket ground at Rodney Parade, there was a very real threat of cricket in Newport dying. It was unthinkable that First Class Cricket would ever be played in Newport again. However, there was a hardcore group of volunteers who have made the dream possible'.
The 2019 fixture against Gloucestershire will rekindle memories of the 1939 Glamorgan v Gloucestershire, County Championship fixture held at Newport.
'THAT MATCH' as it was later referred to, saw Wally Hammond score a remarkable 302 for Gloucestershire out of a first innings score of 505-5 dec, which remains as the highest score ever made on the ground and at that time a record score against Glamorgan. His innings included 3 sixes and 35 fours, in his mammoth stay, and was his fourth triple century of his career, equalling the number of runs he scored against Glamorgan five years earlier at Bristol.
One of his sixes was claimed to have smashed one of the windows at the top of the huge power station, which overlooked the ground. Groundsman at the time Fred Cox, claiming to have kept the smashed window as a souvenir.
Incredibly, in the same match Emrys Davies for Glamorgan, scored 287 not out, a score which remained a record score for a Glamorgan batsman for many years. Glamorgan having been bowled all out for 196 in their first innings, replied to the massive Gloucestershire score with a remarkable 557-4dec. Dyson's 99no in Glamorgan's first innings, followed by 120 in the second, almost being unnoticed!
Score Card
Glamorgan  1st Inns : 196 (A.H Dyson 99n.o T.Goddard 4-45)
Gloucestershire 1st Inns : 505- 5 dec (W.Hammond 302)
Glamorgan 2nd Inns : 577- 4 (E. Davies 287n.o, A.H Dyson 120)
Match Drawn

Knight said, 'The match next year will be 80 years, more or less to the day of 'That Match' (May 31st, June 1st, 2nd, 1939) 
and will mark a significant time in the history of County cricket in Newport. It will be a tremendous occasion and one 
that the cricket traditionalists will saviour. We'd love to hear from anyone who attended the original match in 1939'. 

Book it in your diaries.... Now!



Newport Cricket Club's Ground at Spytty Park