'The Final Countdown' – Preparations at Newport CC Taking Shape

Preparations at Spytty Park took an extra step forward this week, with the arrival of seating 
for the Glamorgan versus Gloucestershire Specsavers County Championship fixture on
 May 14th – 17th.


The return of 4 Day County Championship cricket to Newport after 54 years has certainly 
whetted the appetite of cricket enthusiasts near and far, with the club having regular visitors 
to see the ground and many enquiries regarding tickets and hospitality.
The hospitality marquee and various other stalls and tents will be arriving soon, along with 
a school children's / community cricket area and a food village. Jack Russell the former 
Gloucestershire and England wicket keeper, and nowan accomplished artist will have a 
marquee sited on the ground where he will show some of his paintings, including a print 
of the cricket ground at 'Rodney Parade' (the former ground of Newport CC), which he 
painted in 1990. The print will be auctioned at the game.


As Knight explained, 'A lot of hard work, by so many people has gone into the preparations, 
but when you see things progressing as they are, it is really exciting.
The ground preparations are going well and on schedule, with all peripheral pieces beginning 
to slot into place. Each piece is like a jigsaw puzzle, with each piece completed enhancing the 
whole ground. The ground will look fantastic when it's all complete. It's going to be down to 
how the sporting public support the event as to the ultimate success of the game, but it's 
going to be a historic occasion, not to be missed, that's for sure!'
The Glamorgan first team squad have recently trained at the ground in order to get acclimatised 
to the conditions and surroundings and will spend another 2 days at the club this week in the lead 
up to the match.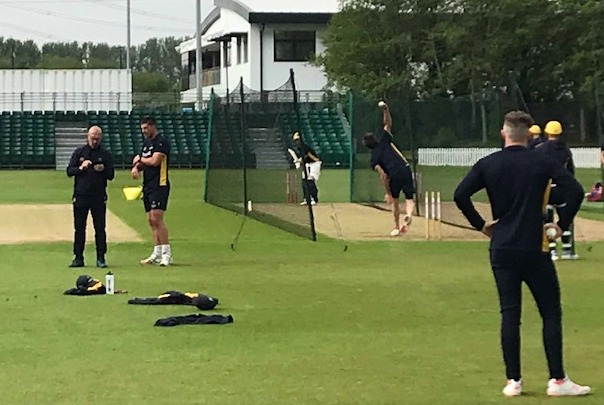 Glamorgan Coach Matt Maynard in discussion with Marchant De Lange                                           
                              during Glamorgan's training session at Spytty Park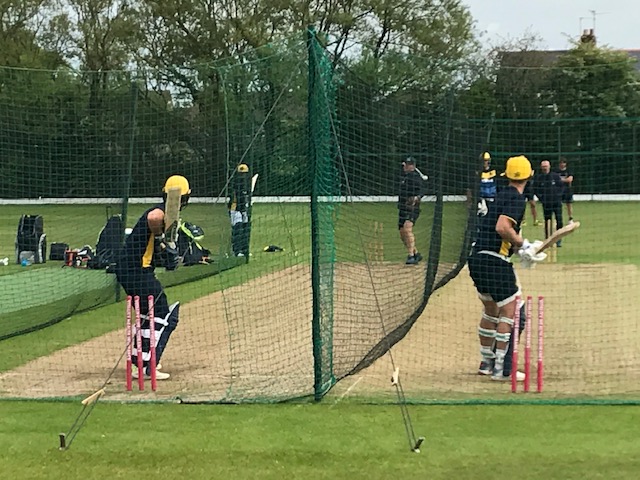 Glamorgan Net session at Newport Cricket Club


With Glamorgan running into a bit of form in the One Day format, a lot of interest has been 
shown, with the hospitality marquee nearly sold out on Day One and only limited tables 
available on Day 2.

Hospitality will include a match ticket, tea and coffee on arrival, along with lunch and afternoon tea.
During the lunch break there will be a Q and A session with former England players, Devon Malcolm, 
Jack Russell and current Glamorgan coach Matt Maynard. All three having played at Rodney Parade
in the final years of cricket played there, during the late 1980's. 

There will also be an auction during the lunch break with all proceeds going towards 
Newport Cricket Club Junior Section.