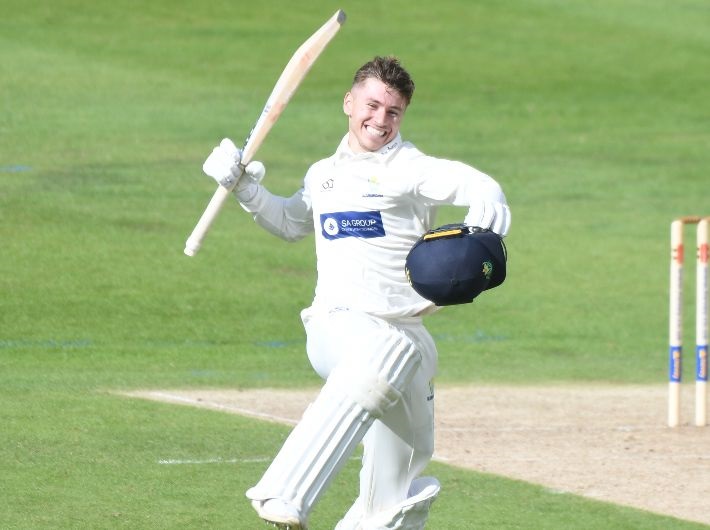 Callum Taylor on 1st Class Debut Celebrates his Century for Glamorgan Against Notts
Callum Taylor this afternoon emulated the achievements of Matthew Maynard and Mike Powell 
by scoring a century on his first-class debut. (writes Andrew Hignell)


Like Maynard, the youngster from Newport CC reached his hundred with a six, over deep square-leg 
having faced 88 balls and hit 11 fours and 6 sixes during his 131 minutes at the crease. 
The other Glamorgan batsmen to score a century on their first-class debut have been:


Frank Pinch – 138* v Worcestershire at Swansea, 1921.
Matthew Maynard - 102 v Yorkshire at Swansea, 1985.
Michael Powell - 200* v Oxford University at The Parks, 1997.
Arriving at the wicket with the Glamorgan score on 90-4, he seemed unfazed as they quickly slumped 
to 135-9. However, he shared a remarkable tenth wicket stand with Michael Hogan as they added 124 
in the space of just 11.2 overs to post the Welsh county's highest stand for that wicket against the 
East Midlands side, beating the 115 which Allan Watkins and Don Shepherd had added for that wicket 
at the same ground during 1958. Their efforts were also the fourth highest for that wicket in the Club's 
history, and only surpassed by:


131* by Cyril Smart and Wilf Hughes v South Africans at Cardiff Arms Park, 1935.
140* by Rodney Ontong and Robin Hobbs v Hampshire at Swansea, 1981.
143 by Terry Davies and Simon Daniels v Gloucestershire at Swansea, 1982.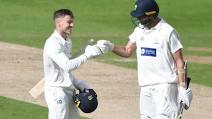 Michael Hogan Congratulates Callum Taylor (106) on Reaching his Maiden 1st Class Hundred
The Pair Shared a last wicket Partnership of 124 in just 68 balls(Hogan 36no)


Callum Taylor marked his first-class debut by scoring a whirlwind century on the opening day of the 
Bob Willis Trophy clash at Northampton, and in the process became only the 4th Glamorgan player to do so.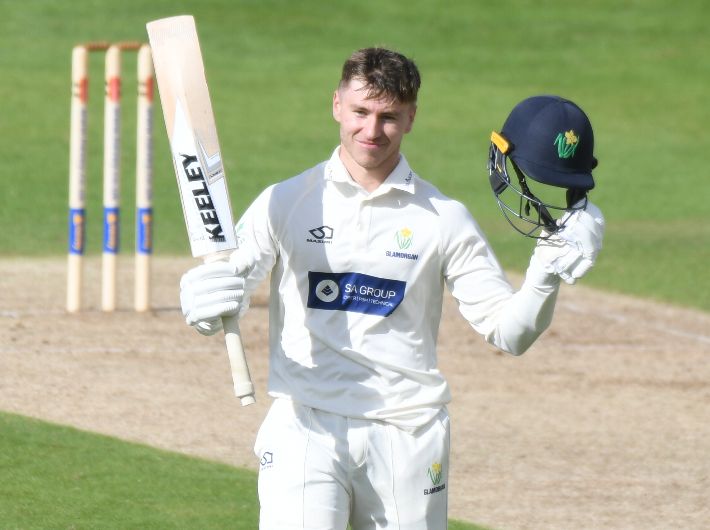 A Debut to Saviour
The 22-year-old from Newport reached the milestone with a six, one of six he hit, as he displayed an incredible 
range of power and class as he peppered the boundaries at Wantage Road.
"I was very excited to get to the hundred, as shown by my reaction," said Taylor. "It was good to have a big 
partnership (124 from 68 balls) with Hoges and get the boys up to a decent total. There's a lot of things that go 
through your head before your debut, one of them is scoring a hundred and it happened so sometimes your 
imagination does come true. It's a bit surreal but I'll look back at it tonight and soak it all up."
Taylor hit 17 boundaries in all, and after reaching 12 from his first 38 balls he cut loose when de Lange and 
last man Hogan arrived at the crease, and believes the lack of pressure helped him flourish as well as the feeling 
of making his debut.


"The expectation of us losing the last wicket pretty quickly was high, so me and Hoges showed a bit of intent. 
It loosened me and Mick up, being a bit more positive helped us and their attack didn't really know what to do. 
It's a dream come true to play but to score a hundred on debut is surreal and I'm excited for the future."



Congratulations Callum from Everyone at Newport Cricket Club