Over 100 girls attended the Newport Cricket Club Junior School Girls' Cricket Festival
at Newport's Velodrome on Wednesday. The Girls had a great day enjoying fun cricket related 
activities and to top it off, met England Women's Cricket Captain Charlotte Edwards, who gladly 
posed for photos and signed autographs with a smile, as the girls' sang a rousing rendition of 'There's 
Only One Charlotte Edwards ....... one Charlotte Edwards!


Charlotte Edwards & Heather Knight along with Newport CC's Young Leaders
The event was the first of two events organised by Newport Cricket Club to promote Girls' Cricket.
Mike Knight, Head Coach at Newport enthused, 'It was a fantastic occasion, although new to the game, 
the girls showed great skills and we hope many will actively take up the game in the weeks 
ahead. Charlotte is a true ambassador for Women & Girls' cricket and I'm sure the girls will remember 
the day for a long, long, time.'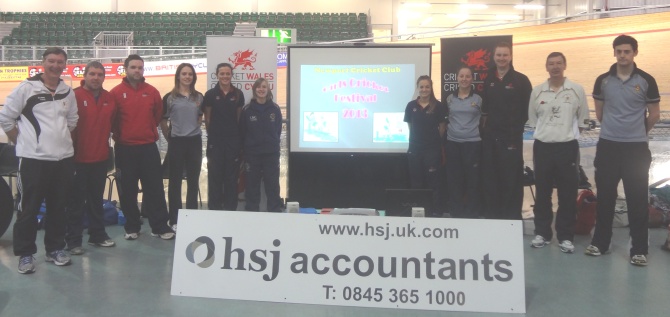 Newport Cricket Club's Junior Coaches at the Girls' Festival
Newport hope that lots of the girls will take part in their second event, this weekend, when the Club 
holds a 'Girls' Cricket Awareness Day.' The event coincides with the innaugural match of the new 
Newport Womens Team who play Bristol Pheonix in their opening match. It will be the first time that 
Newport Cricket Club have fielded a Women's team in their 175 year history. Current Wales Women's 
International Captain and Wales U/11 Team Coach Claire Thomas, will Captain the Newport Women's 
team in their inaugural season, when they'll compete in the ECB South West Women's League. 

Newport Cricket Club's Head Coach, Mike Knight commented, 'The Girl's section of the club has really 
taken off in the past four seasons with unprecedented success, with our Junior Girls teams winning 
Welsh and UK Championships. The Girls' Section has grown remarkably in a short space of time, with 
60 girls now attending weekly coaching sessions, but the missing link has always been a senior 
Women's team.  The new Women's team will provide a complete pathway for the club's girls, playing 
through the various age groups from 9 years olds to senior level.'


To celebrate the occasion Newport Cricket Club have organised a Women and Girls Cricket Awareness Day
to coincide with the inaugural match. At the same time as the Newport Women's match against Bristol 
Phoenix, the Clubs Girls cricketers will take part in an extravaganza of Girls Cricket, with the Club's Girls 
U11, U13 and U16 teams playing teams from Bristol throughout the day.
The Club's Girls section is regarded as being the best in Wales with a membership in excess of 60 girls 
and currently stand as Wales National Champions at all three age groups (U11, U13 & U15). The Club also 
boast 16 Wales Girls Internationals, but aren't being complacent and intend to make the Girl's cricket 
section even stronger.
Newport Cricket Club has recently been designated as a Girls Cricket Development Centre and a feature 
of the Women & Girls Cricket Awareness Day on Sunday 21st April (11.20am – 1.00pm) will be a 
Girls Cricket 'Taster Day', with Junior School girls invited to attend the session to try out the game of cricket. 
Under the guidance of Head Coach Mike Knight, ten of the Club's Girl Young Leaders will provide coaching 
in a fun environment for any girls wanting to try cricket. Mike Knight, who heads the Girls Cricket section 
said :- 'There must be many talented sports girls in Newport Junior Schools looking for a game to play 
during the summer months, and Cricket is a fantastic game for girls to play. We're looking to develop the 
Girls section further and are looking for more girls to join the club to attend Girls only Cricket sessions'. 

Girls attending the Cricket 'Taster Day' will be able to see that a complete pathway now exists for girls 
to play cricket and that they too can enjoy the game of cricket'.
Girls Cricket Coaching will be held on Tuesday evenings (6.00-8.00pm) starting on Tuesday 23rd April 
and will continue throughout the summer at Newport Cricket Club's ground at the Newport International 
Sports Village. For further information about Girls Cricket or to book a place at the 'Girls Cricket Taster Day' 
contact Mike Knight, Tel : 07793823294 or email ; mike.knight2@ntlworld.com

See Gallery for more pictures