Marnus Labuschagne Autographing a Newport CC Shirt, After His Record Breaking Score of 276 at Spytty Park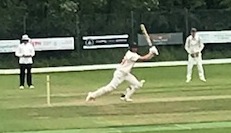 It may have been Behind Closed Doors, but for Marnus Labuschagne it could have been another 
Test Match. In need of an innings after his Covid Isolation scare, Marnus made sure he was going 
to get some practice on a superb wicket at Spytty Park, Newport.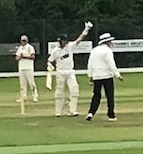 He celebrated his return to action after self-isolating by scoring 276 from 268 with 32 fours and 4 sixes 
for Glamaorgan 2nd XI in their Second Eleven Championship match against Northamptonshire 2nd XI 
at Spytty Park in Newport.


His magnificent double-century was the highest-ever score for the Welsh county in the competition 
surpassing the previous best of 267 by Ian Thomas against Somerset at North Perrott in 2003.


Other double-centuries in recent times include 243 by David Lloyd versus Warwickshire at Coventry in 2014 and 
240 by Aneurin Donald in the match with Gloucestershire at Panteg in 2015.

Labuschagne's 276 also set a new Individual highest score at Spytty Park. 




After his record breaking feat he signed a Newport CC playing Shirt, with the message, 'Great wicket, Thanks Guys' 
The shirt will be proudly displayed in the Club' s Museum.