Newport Cricket Club's Women Cricketers were the centre of attention for their inaugural match against Bristol Phoenix in the ECB South West Women's League. The day, designated to the development of Women & Girls Cricket was a major success, with over 250 people attending. In addition to the Club's U11, U13 & U16 Girls teams, who each played their Bristol counterparts a large array of invited guests witnessed some excellent cricket.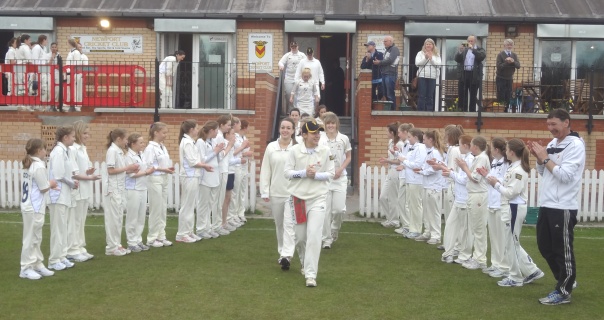 Prior to the start of the match, both teams were welcomed onto the field with a guard of honour being made by the Club's younger girl cricketers, before both teams were presented to Newport Mayor Councillor John Guy and other leading dignitaries.

In the main Women's match Bristol Phoenix won the toss and elected to bat on a very good wicket and made a fine start, racing to 117-2 from 23 overs. However, after the dismissals of Ffi Morris (32), stumped by Tash Cable off the bowling of left arm spinner Lauren Parfitt and Emily Robinson (37) caught off the bowling of off spinner Claire Thomas, the run rate began to slow. Excellent bowling and good fielding saw wickets fall at regular intervals with only opener Alex MacDonald (41) making any further significant contribution. Newport kept up the pressure, restricting Bristol Phoenix to 155-6 from their allotted 45 overs. In a very good all round fielding performance the pick of the Newport bowlers were Claire Thomas 9 overs, 1 maiden, 16 runs, 1 wicket and Kath Hudson 9 overs, 3 maidens, 24 runs, 2 wickets.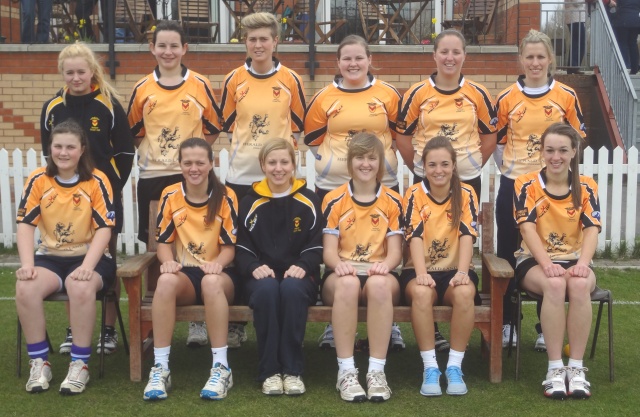 In reply, Newport Women got off to a quick start through Gaby Basketer (30) and Lauren Parfitt (23), reaching 55-2 off just 10 overs. However, with the introduction of Chloe Davies (3-39) into the attack, Newport slipped to 81-5. With the pressure mounting Becky Struthers and Tash Cable produced an excellent 49 run partnership, before Struthers was out for a well played 42, with Newport on 130-6. It was left to Captain Claire Thomas (14n.o) and Tash Cable with a very useful (33 n.o) to guide Newport home to an excellent 4 wicket victory, with 5 overs to spare.
Newport Women's Head Coach, Mike Knight enthused 'It was the first time that Newport Cricket Club have fielded a Women's team in their 175 year history and the girls showed tremendous character to fight back to win the game. There are some really talented players in this team and they showed real determination to win the game. Their commitment and practice ethic are unbelievable and if they can develop their confidence and the cricket discipline required, they have the potential to become a very good team. We're certainly looking to gain promotion to the ECB Women's Premier League in the not too distant future.
Newport Girls' Cricket Club has grown remarkably in recent years, with 60 girls now attending weekly coaching sessions and most of them were in action in the other games. Newport's Girl cricketers underlined their growing potential with the other girls teams comfortably beating their Bristol Phoenix counterparts :-
Newport U13 Girls
Newport U13 Girls 255 beat Bristol Phoenix 227 by 28 runs.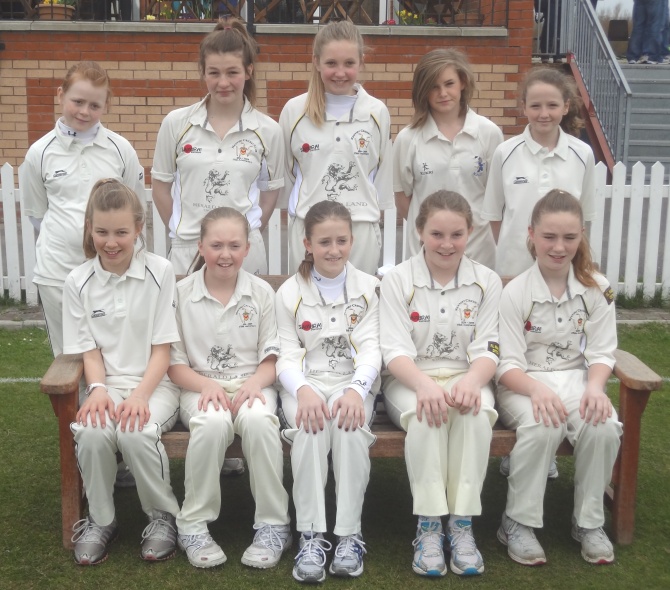 Newport U15 Girls
Newport U15 Girls 282, beat Bristol Phoenix 232 by 50 runs.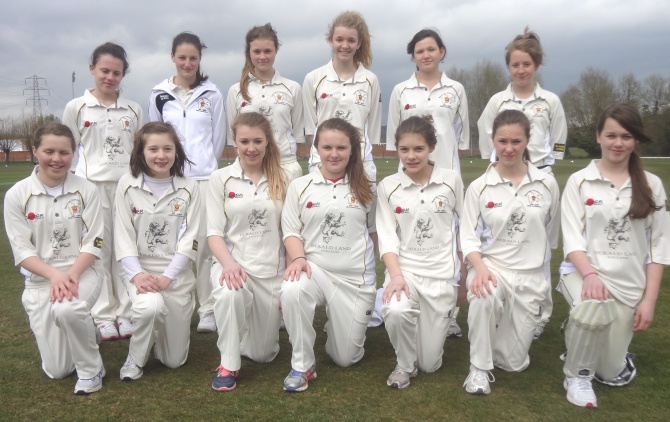 Newport U11 Girls with the 'Young Leaders' at their Cricket 'Taster Day'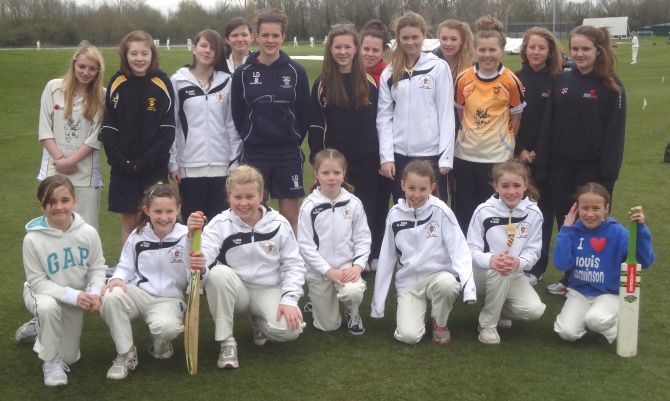 The Newport Women and Girls 'Cricket Awareness Day' was an excellent advertisement for Women & Girls Cricket, underlining the enormous growth in Girls Cricket. The Club would like to invite outstanding sports girls in the U9-U13 age groups to try cricket, with a view to developing the Club further. Any girls interested in trying cricket are invited to attend Girls only coaching nights at the club's ground at NISV, on Tuesday evenings (6.00-8.00pm), starting on Tuesday 23rd April. Contact Mike Knight 07793823294 for further details.