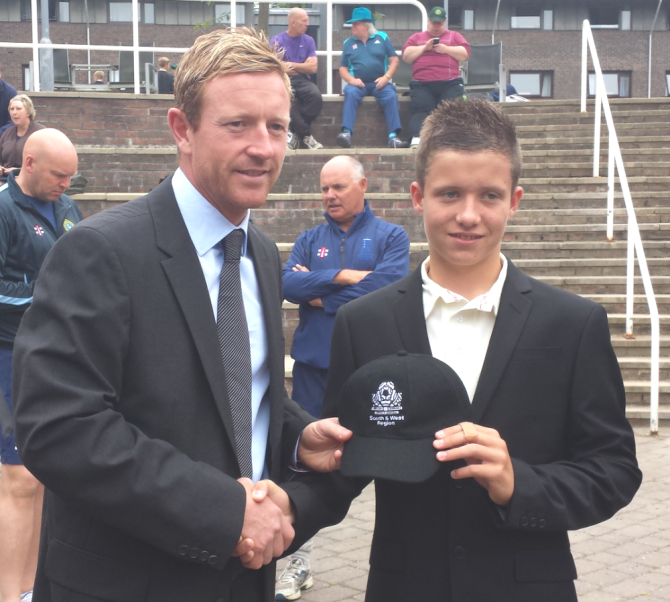 Scott Receiving his West of England Cap from Paul Collingwood
Scott Thornton, another of Newport Cricket Club's highly rated young cricketers received great news recently with his selection for the West of England U15 squad to play in the prestigious Bunbury Festival at Durham from Sunday 21st – Friday 25th July.
Thornton goes into the Festival in excellent form having already scored 417 runs at an average of 46.33 and taken 13 wickets with his off spin bowling in the club's 2nd X1 this season.
Newport Cricket Club Head Coach Mike Knight commented,
'No one in the club works harder at their game than Scott and his selection in the West of England Bunbury squad is very well deserved. Scott has been a star performer in Wales U15 and U17 teams this season and we have high hopes for him. His progress has been carefully monitored and we're sure that he has a very bright cricket future ahead.'
Thornton's selection follows that of Matt Jones and Jack Thorpe-Yon who were also selected for West of England's Bunbury squad last year. The talented trio are set to provide the cornerstone of Newport Cricket Club's 1st X1 in the next couple of seasons.
Knight enthusing, 'we're carefully managing the progress of the 3 of them, but it's inevitable that they will take their place in the club's first team in the very near future. All 3 are outstanding players and have the ability to be major players for Newport very soon.'
The Bunbury Festival has been the launch pad for many of England's most outstanding players – Jimmy Anderson, Andrew Flintoff etc. The standard of cricket will be very high and following the Festival an England U15 Development Squad will be selected.