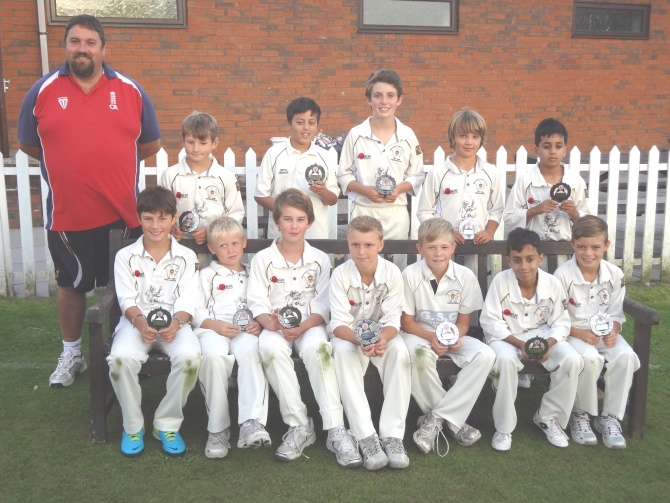 In a repeat of last year, Chepstow took on Newport in the 2013 Monmouthshire Building Society Youth Cricket Under 11 Final at Croesyceiliog CC.
Openers, Harry Bachelor and Nathan Berry, batting first for Newport, put on 17 for the first wicket before Bachelor was lbw to Matteo Goddard for 11. Wickets then fell at regular intervals another to Goddard, and a further two to Tom Franklin. Newport captain, Nathan Berry with an excellent 40, was holding the Newport innings together, but as the overs ticked by he fell to the bowling of Ryan Scrivens. Goddard and Harry Pinchard contributed with catches as Newport finished their twenty overs on 76 for 5. M.Goddard 2-9, T.Franklin 2-12 being the pick of the Chepstow bowlers.
In reply, Chepstow were looking comfortable taking their score to 63 for 2. However, with the introduction of Newport bowlers Morgan Mohring and Ben Hope-Bell the game began to change, with Tom Franklin out for 11, caught Ben Hope-Bell bowled Morgan Mohring. Ryan Scrivens was still going strong but, when he was caught and bowled by Mohring for 32, panic seemed to set in, as three wickets fell in the space of four balls, a third for Mohring and two for Hope-Bell.
Chepstow then needed seven to win off the last five balls but the cool head of Ollie Mellings, well supported by Ben Kellaway, saw them to victory with a scampered run off the penultimate ball, to leave Chepstow narrow winners by 4 wickets. Morgan Mohring 3-9 and Ben Hope-Bell bowling excellent spells for Newport.
Click Here For Match Scorecard
While there was clearly a mixture of emotions amongst the players, they can all be satisfied with having been involved in a tremendous game of a cricket appreciated by a large crowd.
The Player of the Match was adjudged to be Ryan Scrivens for his contribution with the bat and his dismissal of Newport's main batting threat.
Unfortunately, for the young Newport team, they had to settle for the Runners up spot in Cup and League, but never the less a highly creditable season.

Team
Nathan Berry (Capt.), Harry Bachelor, Ben Hope-Bell, Owen Humphreys, Morgan Mohring, Hussain Shahid, Muaaz Shahid, Haroon Mohammed, Harry Hughes, William Bewley, Sam Protheroe, Ross Mohring.