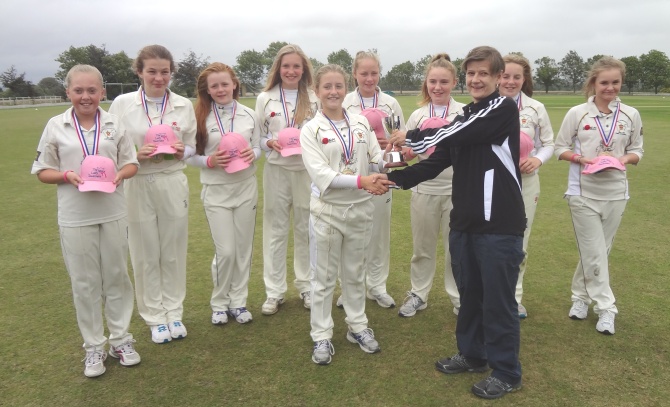 Captain, Jess Thornton Receives the U13 Lady Taverners UK National Winners Trophy
From Lisa Drummond (ECB Women & Girls Cricket - Operations Manager)
Newport Cricket Club's U13 girl cricketers, performed heroically, beating Walmley (Midlands) 
in the semi final and then Ealing (London & South) in the Final, to win the prestigious UK Lady 
Taverners UK National U13 T20 Cup at Challow & Childrey Cricket Club in Oxfordshire.
Newport were given a tough semi-final draw against Walmley (Midlands), the team who had 
beaten the Club's U15 Girls in the U15 UK Final last week. With rain never far away the semi-finals 
were reduced to 16 overs per side. Determined to gain revenge for their U15 club mates, Newport 
won the toss and put Walmley into bat on a cloudy overcast day.
Walmley made an excellent start racing to 35 off just 5 overs, before losing I. Bottrell for 10, bowled 
by Jess Thornton. With the Newport bowlers gaining in confidence, 3 further Walmley wickets fell for 
just 10 runs, including the dangerous Georgia Ballinger for 19, as Walmley slipped to 47-4. The 
Newport bowlers had begun to adapt to the adverse conditions, with Charlotte Scarborough, Sophie 
Osborn and Meg Simkins each claiming a wicket. Runs were becoming more difficult, but a 20 run 
partnership between A. Dixon and M.Burke helped Walmley towards a useful total, However, with 
the loss of Dixon, brilliantly caught by Lauren Chambers off the bowling of Osborn for 20, the 
remaining batsmen could do little more than play out the remaining 2 overs, Walmley reaching a 
useful 71-6 from their allotted 16 overs. Pick of the Newport bowlers were Meg Simkins and Sophie 
Osborn, both with 2-15 from their 4 overs.
Having to score at nearly 5 runs per over, Newport made an impressive start, with 13 off the first 
over and 24 off 3 overs as Charlotte Scarborough and Jess Thornton cut loose. The Walmley bowlers 
were never allowed to settle and both batsmen played magnificient shots all around the wicket, 
reaching the 50 partnership in just 6 overs. It was a faultless display of batting and Newport raced 
to their target of 72 runs without loss, in just 9 overs, with Charlotte Scarborough scoring 38no 
and Jess Thornton 11 no.
Click Here For Match Scorecard 

v Walmley (Semi Final)

In the other semi-final Ealing (London & South) had easily beaten Westbury (Bucks) to set up a meeting 
between two clubs, who last met when the Newport U13 boys beat them in the  UK U13 National Cup 
Final, at Oakham in 2010. 

Ealing won the toss and elected to bat first, a decision which proved costly. Ealing made a fast start 
reaching 18 off just 3 overs, before opening batsman S. Dyson (9) was bowled by Osborn. G. Bently was 
joined by Z. Latif and were looking in control at 35-1 off 6 overs. However, the introduction of Newport 
Captain Jess Thornton, had an immediate impact, bowling Latif for 7 and when Bently was brilliantly 
run out by Sophie Osborn the game changed dramatically in Newport's favour. 3 wickets for 0 runs in 
3 overs had seen Ealing slump to 35-4. It was a long way back for Ealing and worse was to follow, as 
Thornton, with her leg spin, claimed another wicket before Meg Simkins came on to take 
the final 2 wickets, as Ealing were all out for a meagre 49 in 11 overs. All of the Newport bowlers bowled 
well with Jess Thornton 2-10 and Meg Simkins 2-1 being the main wicket takers.
Newport were in buoyant mood, but no sooner had they bowled Ealing out, the rain began to fall. With 
bad weather forecast, Newport started their reply in positive fashion, racing to 13 off just 2 overs before 
Jess Thornton was bowled for 7. Charlotte Scarborough (20no) was again proving to be a tower of strength 
for Newport and with Sophie Osborn (16no) they made an unbroken 37 run partnership to see Newport 
home to a comfortable victory to claim the UK Lady Taverners U13 T20 Cup.



Click Here For Match Scorecard v Ealing (Final)
In becoming UK Lady Taverners U13 National Cup Winners it was the first time a Welsh Club had won 
the Trophy and is a fantastic achievement for everyone involved in Girls Cricket at the Club. 

Head Coach Mike Knight commented, 'The Girls section of the Club has been phenomenal this year and 
to win the UK Trophy the week after the U15 team had lost in their UK Final shows the strength of Girls 
cricket at the Club. The girls really showed their class today and thoroughly deserved to win the accolade 
of best in the UK'

Squad : Jess Thornton (Captain), Lauren Chambers, Amy Harris, Nicol Helkvist, Caitie Lake, Charlotte Mould, 
Sophie Osborn, Charlotte Scarborough, Meg Simkins, Aimee Watson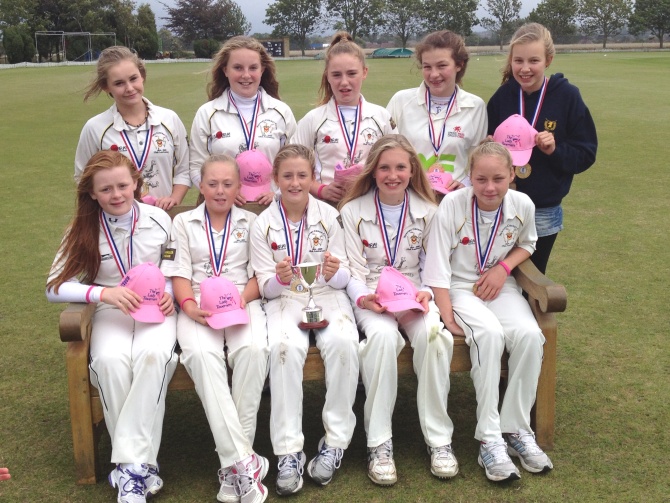 Newport Cricket Club U13 Girls - UK National Champions
A Tweet from one of the umpires, (@Gunnerszzzzz) who umpired at the Finals Day said, 'I was umpiring in 
your games today and you can be very proud of your girls - they played not only in great spirit, but you've 
got some exceptionally talented cricketers - if they stay interested in cricket, then the Ashes are in safe hands'.



What a great tribute to the team. Thanks Gunnerszzzzz!



See the Gallery Page for more photo's.