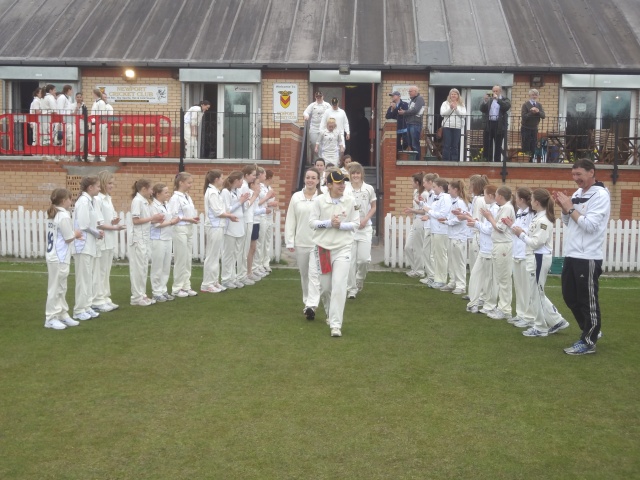 Newport Cricket Club's Women's Cricketers will complete a unique 'treble' this weekend, when they play in the ECB Women's UK Club Play Off Finals. Having won the ECB Women's South & West League, Newport head to Buckinhamshire where they will face stiff competition from some of the best Women cricketers in the Country.
It's been a phenomenal month for Newport Cricket Club's female cricketers, with first the U15 Girls becoming Lady Taverners UK Runners Up, followed a week later by their U13 counterparts becoming UK Champions and a visit to Lords to be presented with their UK Winners Trophy.
Fresh from the success of the club's younger girl cricketers, Newport's senior team will travel to the ECB Club Finals in buoyant mood. The Finals will be held over 2 days at Luton Cricket Club (Bucks), with Newport facing ECB North League Winners New Farnley (Leeds) in the Semi Final, with the Winners scheduled to meet ECB South League Winners Finchley Gunns in the Final on Sunday.
Head Coach Mike Knight said, 'The Women & Girls Cricket section has enjoyed tremendous success this season and for all 3 teams to have reached their respective ECB National Finals, we feel that we have achieved something that is totally unprecedented'.
Captain of the Newport Women's team is Claire Thomas the current Wales Women's Captain, who has done an excellent job in moulding a young team together. She said, '2013 was the inaugural season for the team, so to win the League and to reach the ECB Club Finals in our first season is a great achievement. It's a young team, but the girls are all really good players, with some having fantastic cricket futures in front of them'
Women and Girls cricket is developing rapidly at Newport, with over 60 girls attending weekly coaching sessions, with new players joining the ever expanding Women & Girls cricket section every week. Knight enthused, 'The season started with a Girls Cricket 'Taster Day' with over 80 girls attending. Ironically Charlotte Edwards was there to present certificates to the girls, sixth months later we could be playing against one of her old club's - Finchley Gunns, if we get to the Final. To play against one of the icons in the Women's game would be great for the team'.