We are pleased to announce the launch of Jack Russell's new art book and invite you to a book signing exhibition at Newport Cricket Club on Sunday, November 24th at 12 - 2.00pm.
The Art of Jack Russell A Personal Journey through 18 Counties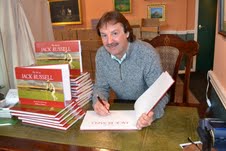 This book is a pictorial record of Jack Russell's 22 years playing for Gloucestershire CCC a wonderful story told in words and pictures of his colourful career. 86 oil paintings and 89 pencil sketches created by Jack for this book, illustrate the variety of venues enjoyed by cricket lovers as they follow their teams in pursuit of county cricket matches across 18 counties. Full of colour and atmosphere, the ups and downs, the emotions of a dedicated sportsman are all portrayed here in this unique publication.
Also available from the Jack Russell Gallery on line www.jackrussell.co.uk or telephone 01454 329583.