Major Achievements
Newport Cricket Club 1st X1
South Wales Premier League
'Double Winners' 2016
League Champions & T20 Winners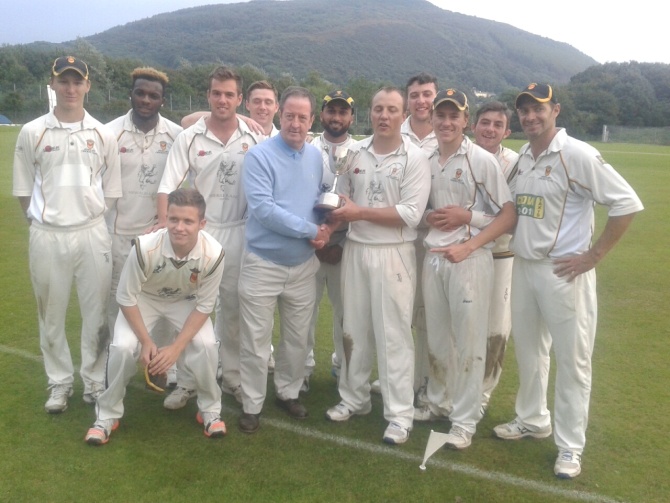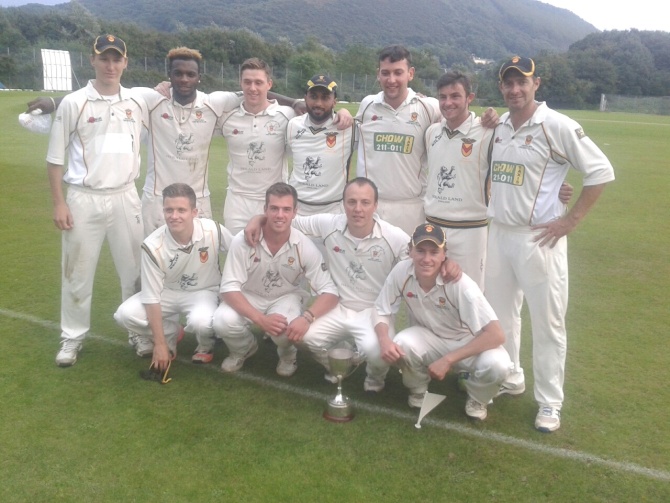 SWPL Champions Presented With the League Winners Trophy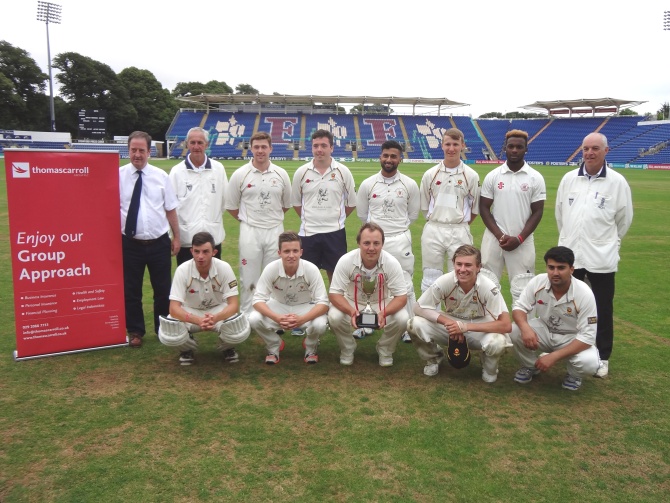 SWPL T20 Winners
Captain : Michael Clayden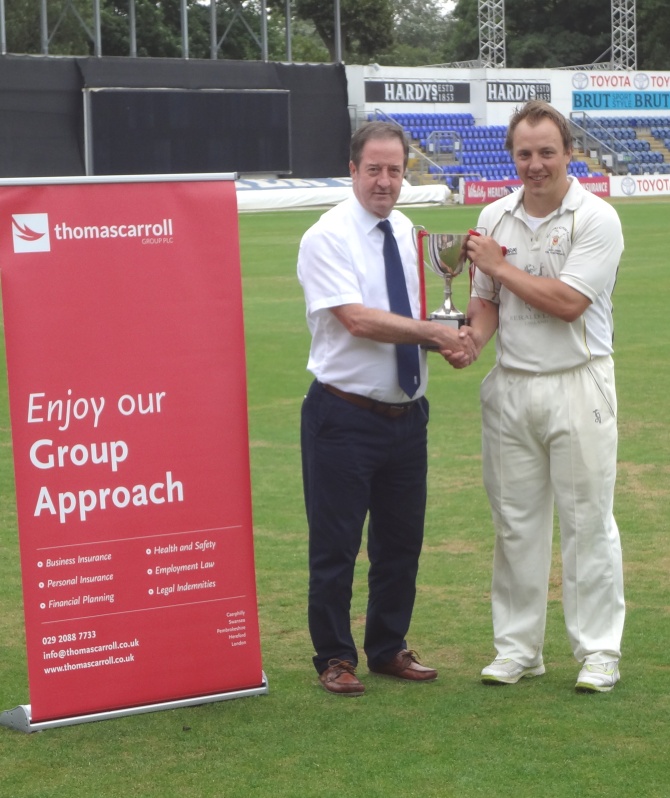 2016 SWPL Final League Table
| | | | | | | | | | | | |
| --- | --- | --- | --- | --- | --- | --- | --- | --- | --- | --- | --- |
| Team | P | W | L | D | t | can | abn | BatP | BowlP | Pen | Pts |
| | 18 | 7 | 1 | 7 | 0 | 3 | 0 | 60 | 58 | 0 | 251 |
| | 18 | 5 | 1 | 8 | 0 | 4 | 0 | 59 | 59 | 0 | 249 |
| | 18 | 6 | 3 | 6 | 0 | 3 | 0 | 54 | 56 | 0 | 226 |
| | 18 | 3 | 3 | 7 | 0 | 5 | 0 | 47 | 47 | 0 | 207 |
| | 18 | 5 | 6 | 4 | 0 | 3 | 0 | 47 | 54 | 0 | 196 |
| | 18 | 5 | 0 | 9 | 0 | 4 | 0 | 42 | 56 | 0 | 190 |
| | 18 | 4 | 8 | 3 | 0 | 3 | 0 | 47 | 50 | 0 | 175 |
| | 18 | 4 | 6 | 5 | 0 | 3 | 0 | 35 | 62 | 0 | 175 |
| | 18 | 2 | 7 | 4 | 0 | 4 | 1 | 34 | 50 | 0 | 145 |
| | 18 | 2 | 8 | 5 | 0 | 2 | 1 | 43 | 48 | 0 | 138 |
1995
Famous Grouse Western League Winners
Captain, Andy Knight Receives the Trophy, Pendant and Photo Frame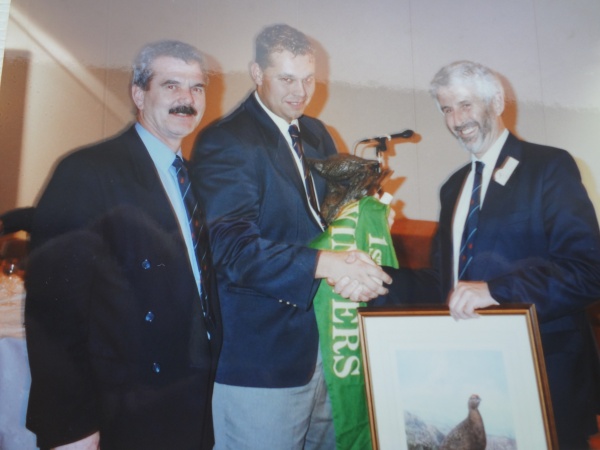 Meet The Players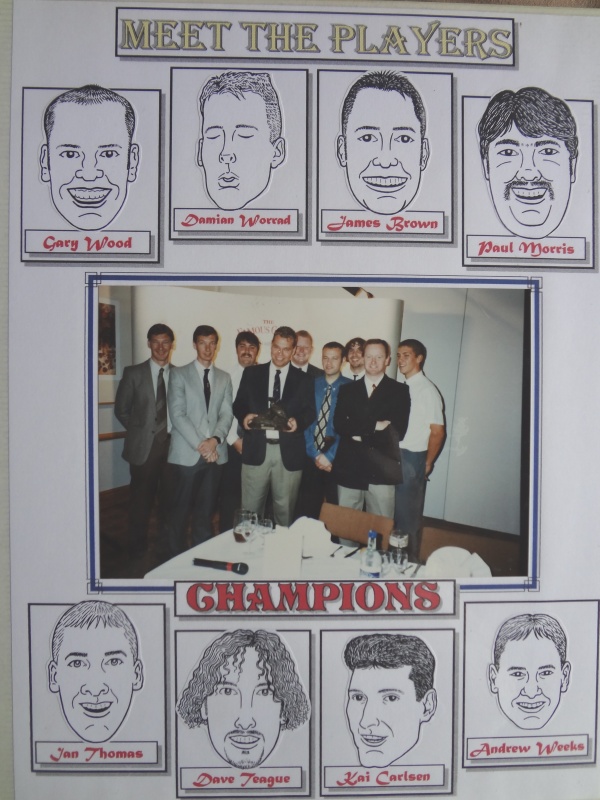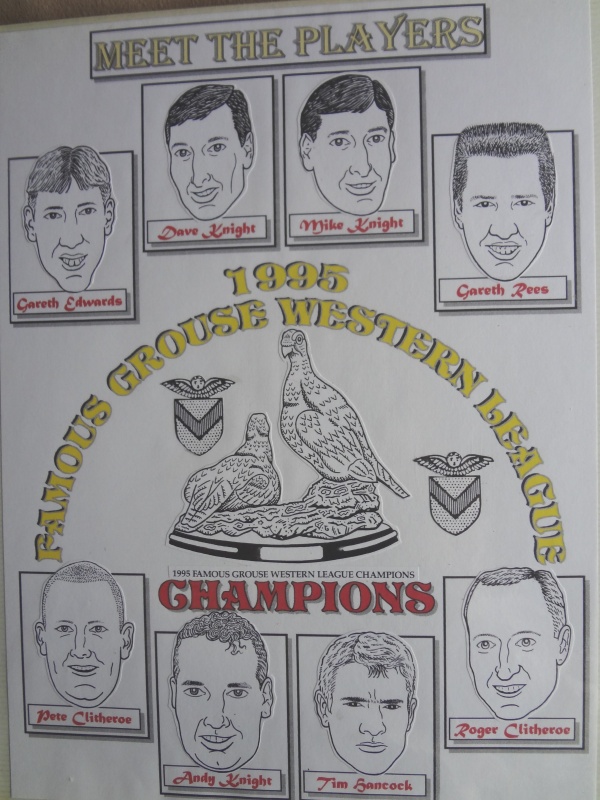 How It Was Achieved


1995 Triple Crown Winners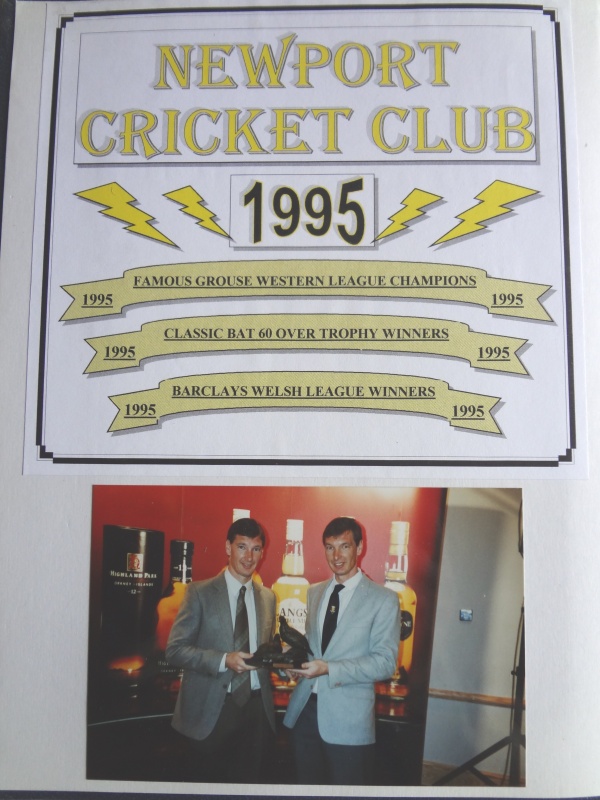 2004 (15/08/2004)
Newport CC- First Welsh Club To Gain Accreditation 2004
Newport Cricket Club has become the first club in Wales to achieve Accreditation, meeting stringent benchmark standards of 
coaching, facilities, organisation and safety. The new award for excellence was presented to the club by the CBW Chairman 
Huw Davies, along with CBW Director of Cricket, Mark Frost, at a special celebration with the club to officially open their new 
£70 000 four lane outdoor net facility. The Club is now officially one of eight planned centres of Cricket Excellence in Wales, 
with both top class Indoor and Outdoor net and playing facilities.


Glamorgan coach John Derrick, once in charge of the Indoor Cricket School at Ebbw Vale, and one of many distinguished past and present county 
cricketers present, said, 'It is a fantastic facility and in terms of variety, one of the best in Wales. The surfaces of the nets are such that two remain 
constant whatever the weather conditions, while two change with the conditions, giving players experience of almost any pitch they might play on. 
The Gwent Coaching Association is one of the best and Dave and Mike Knight, (the head coaches), do a great job at Newport. Players from East Wales 
are beginning to dominate the Glamorgan County Championship scene at present and such a facility will undoubtedly ensure many more come 
through.'
Glamorgan's England Academy wicket keeper, Mark Wallace said, 'Facilities like the one at Newport are important in terms of teaching players 
the right techniques and getting them to enjoy playing cricket.'
Cricket Board of Wales Regional Development Officer, Steve Watkins said, 'The facility will not only benefit Newport but all the Gwent Regional 
squads as well. The Newport Club has to be congratulated on working hard over the years to get to a level of facilities second to none in Wales.'
CBW Chairman, Huw Davies, who presented the Accreditation Certificate to the club said, 'Newport have set the standard. It's no surprise to me 
for as long as I can remember Newport has always been a big status club. They have shown the vision to help safeguard the future of cricket in 
Wales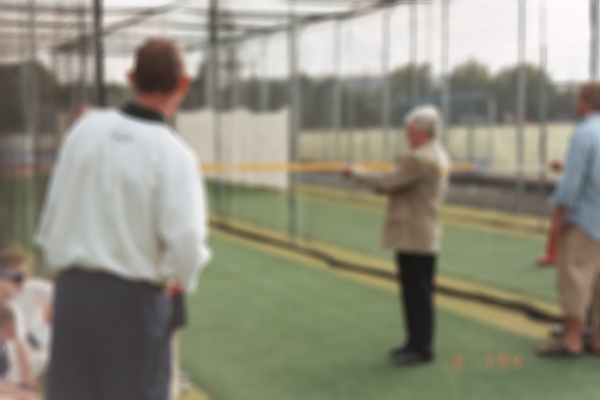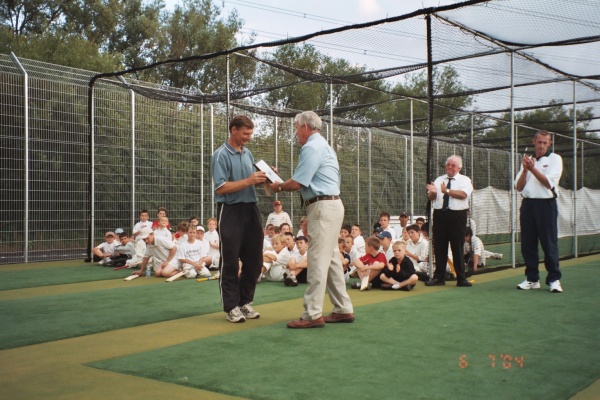 Newport CC Head Coach Mike Knight, being presented with the               The Mayor of Newport, Paul Cockeram, officially opens  
'Accreditation Certificate' by Huw Davies (CBW Chaiman).                       the new 'Coaching Bay' to mark Newport's Accreditation Award.

  Click Download logo for Full Report





2008 (15/09/2008)
Newport CC- Gwalia Welsh Cup Winners 2008
'Ahead of its time!' The well chosen words of many a shrewd judge about the team who completed the historic 
'Gwalia' Welsh Cup success of 2008. The young team winning the trophy for the first time in the club's history.

Young Adam Millichip played the hero's role with a match winning 43 not out, as Newport Cricket Club won a pulsating thriller 
against North Walians Northop Hall, in the final of the Gwalia Welsh Cup at Abergavenny CC. 



Michael Clayden & Joe Roberts with the Welsh Cup


Newport Cricket Club - Welsh Cup Winners 2008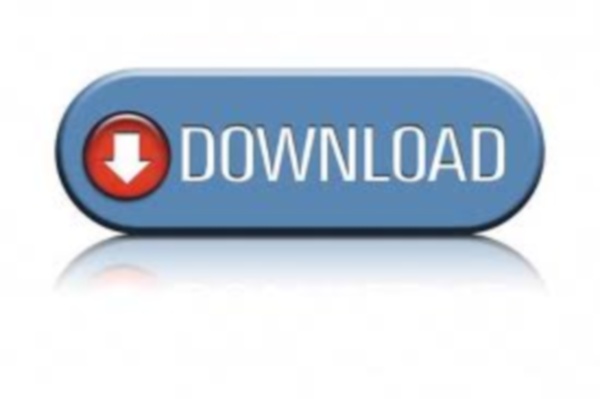 Click Download logo for Match Report


2009
Champion's Trophy Winners
Newport Cricket Club ended their historic 175th Anniversary season with the news that the club had won the prestigious South Wales League, 'Champions Trophy'.
The competition, based on the Australian model, recognizes achievement and depth of talent throughout a club, with Senior and Junior playing performances analysed, as well as the club's playing facilities. In the four seasons of the Award being made, Newport have never been out of the top two, last winning the trophy in 2007.
All the club's teams performed admirably in 2009:-
Click Download logo for Report





2009 (06/10/2009)
175 Anniversary Celebrations End at Lords
Newport Cricket Club ended their 175 Anniversary celebrations in style, with a trip to Lords (Home of Cricket), to play a 
prestigious friendly match against 'The Cross Arrows'.


An early morning start saw a coach full of players, officials, friends and parents leave for London in near total darkness. However, with the weather 
forecast good, Newport were about to play a game of cricket on October 2nd. The 'Cross Arrows' who play on the Nursery ground at Lords, throughout 
September and into October, were to be the club's opposition, having been invited to play the game had been a tremendous coup.
The coach arrived at Lords in glorious sunshine, anticipation was high, a quick look around, and it was soon time for the game to start.
Newport winning the toss and electing to bat. It was to be a game never to forget for young Max Scarr and Michael Clayden. From the first ball of 
the innings the Newport openers set the standard and with glorious shots to all parts of the ground, the two put on an opening partnership of 181 
in just 22 overs. Clayden was first out falling victim to Keith Dutch for 98, while Scarr went on to complete a momentous innings of 134. Adam 
Millichip with 42 and Tom Cleeve 41 not out, along with Nathan Millichip 25 and Kyle Tudge 21 saw Newport to an impressive looking 402-6 off 
their 50 overs.
The Cross Arrows were never in the game and when they lost two early wickets, the writing was on the wall. Only Middlesex reserve wicket 
keeper Dion Nash with 49, saved a complete rout as the Cross Arrows were bowled all out for just 115. Left arm spinner Max Scarr making it a 
day never to forget with 3 wickets for 3 runs off 5 overs. Newport eventually winning by a massive 287 runs.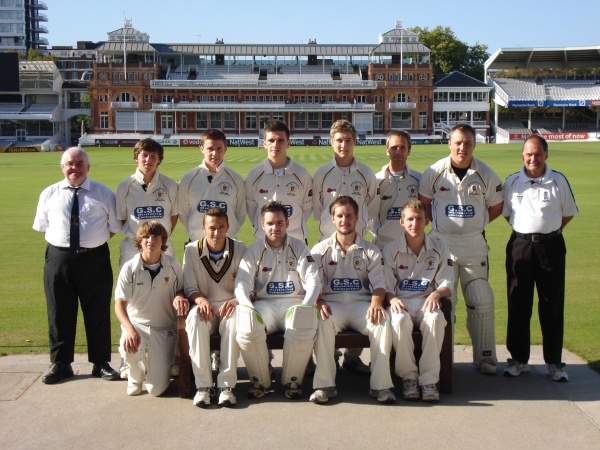 Newport CC v Cross Arrows at Lords to End our 175th Anniversary
  Click Download logo for Match Report
Click Download logo for 175 Club Anniversary details






Individual Achievements
1979
Dave Knight Represents Wales in ICC World Cup
Dave Knight was the only Gwent player selected to play for Wales in the 1979 ICC World Cup based in the Midlands.
Knight was officially invited, along with the rest of the 14 man Welsh squad, to a Reception at Buckingham Palace, where the team was introduced to Her Majesty the Queen and had photo's taken with the Prince of Wales, (Prince Charles) and Princess Anne. 15 other ICC Teams (including Sri Lanka - who were in Wales group) and the 6 major Test playing nations also attende the reception, which was held at the end of the World Cup tournament.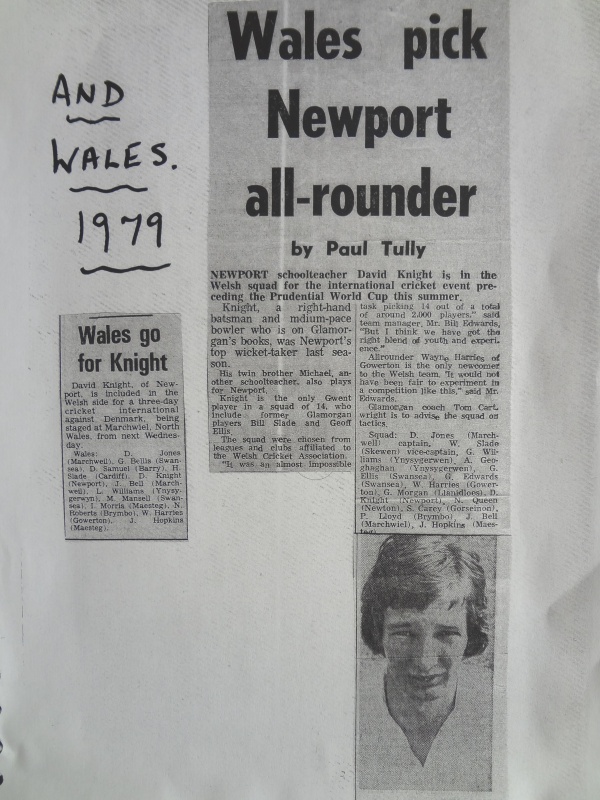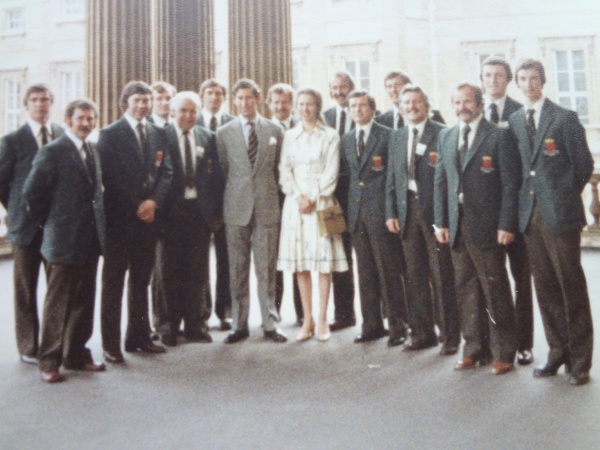 2005 (22/08/2005)
Ian Thomas Leads Newport Run Spree
Ian Thomas smashed a new League Record with an amazing 255 not out for Newport Cricket Club on Saturday (22/08/2005), against Panteg in the Thomas Carroll South Wales Premier League.
His innings included 7 sixes and 32 fours, as he shared a 257 run, 3rd wicket partnership with Michael Clayden who scored 89. The 1st team scored an incredible 398-4, beating Panteg by 108 runs.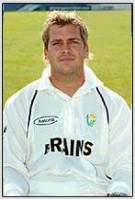 Ian Thomas
  Click Download logo for Match Report


 


2006 (23/07/2006)
James and Clayden in Record Unbroken, Opening Partnership (303)
Newport Cricket Club opening batsmen, Carwyn James and Michael Clayden both scored unbeaten centuries, as the club's record books were rewritten when they starred in a match winning, unbroken opening partnership of 303 runs against Croesyceiliog at Spytty Park, in the South Wales Premier League.
Newport, having been put into bat by Croesyceiliog, were quick to take the initiative with openers James and Clayden soon in complete control. After 20 overs the Newport score was 106-0 and a big total looked a distinct possibility. The Croesyceiliog bowlers began to wilt in the hot afternoon sun, but James and Clayden continued to play freely, scoring runs all around the ground. Carwyn James scoring his fifty off just 55 balls, and Michael Clayden soon following scoring his fifty off 61 balls. The 200 run partnership was made off 40 overs, and then followed a 'batting master class' as both batsmen cut loose. Carwyn James was first to his century, and it was not long before Clayden followed suit. The Croesyceiliog attack had no answer, as the pair showing batting maturity beyond their years, picking up runs off virtually every ball. Once he had scored his century James despatched the bowling to all parts of the ground, while Clayden was content to take the many singles and 2's on offer. The final hundred runs being scored off just 10 overs. The final Newport total of 303 – 0 in 50 overs, breaking the Newport opening partnership scoring record, with Carwyn James on 158 not out and Michael Clayden finishing on 126 not out.
At the interval Croesyceiliog looked a beaten side, as they faced their daunting task crashing to a paltry 132 all out, leaving Newport winners by a massive 171 runs.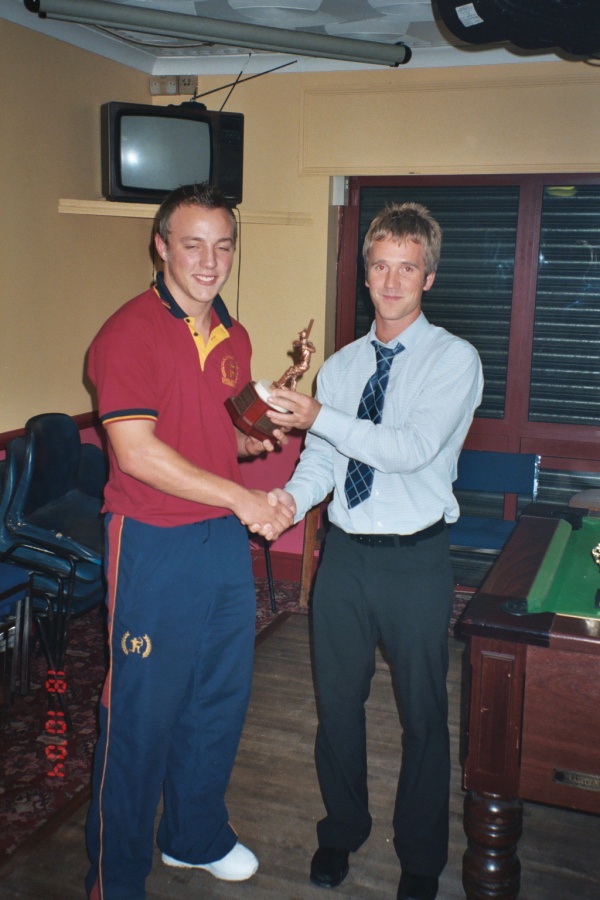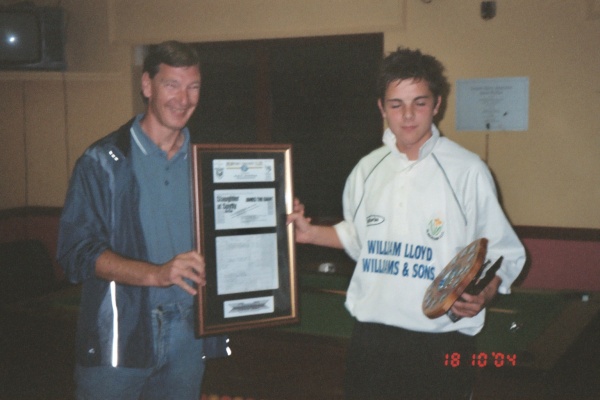 Michael and Carwyn Receive Awards to mark their Historic Partnership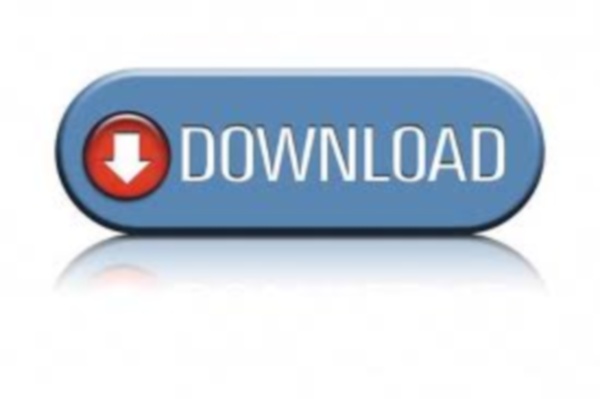 Click Download logo for Match Report

2011 (15/05/2011)
Herring Scores Magnificent 196no in SWALEC Premier League
Newport Cricket Club's Cameron Herring scored a superb unbeaten 196 in the Club's SWALEC Premier League clash against Swansea at St Helens.
Sixteen year old, Herring in his first season with Newport, having moved from Croesyceiliog in the winter, dominated the Swansea 
attack from start to finish, hitting 22 fours and 5 sixes in an astonishing 177 minute innings, which laid the platform for a fine winning 
draw for Newport. Herring played shots all around the wicket and looking in sublime form.  He made the attack look ordinary as he kept 
accumulating runs, reaching his fifty in 54 balls.
He reached his milestone in fine style in just 105 balls, carrying his bat throughout, finishing on a magnificent 196 not out just short of a magical 
double hundred, in 177 balls.


Newport Head Coach, Mike Knight presents Cameron with a Framed scorecard of his innings.
  Click Download logo for Match Report