History
175 Years of Newport Cricket Club
The Beginning
The first reference to Newport Cricket Club was in the old Monmouth Merlin on September 27th, 1834, consequently the Club celebrated its 175th Anniversary in 2009.
The earliest record of cricket in Newport dates from 1820, and in 1834 a formal club, catering chiefly for gentlemen came into being. There is evidence of the Club's continuing existence almost every season up to the 1870's, when the Club became founder members of the Newport Athletic Club. As the Monmouthshire town grew, so did the number of cricket teams, and by the 1870's there were around two dozen teams in existence in the town.
It is significant to note that in 1840 there was intense rivalry between Newport and Clifton ('these crack clubs'), a rivalry which continued in the Club's Western League days, which were only ended in 1999, when Newport were reluctantly brought home to play in the South East Wales Premier League.
A list of members in 1856 shows eight men who had been, or were to become Mayor of Newport.
The status of the Club can to some extent be measured by the annual subscription at that time
(half a guinea), - a sum which many clubs wouldn't have charged their members until a century later!
In 1875 the Newport Athletic Club was created, and two years later they secured the use of land at Rodney Parade from Lord Tredegar for their cricket, tennis, rugby and athletics sections. Joseph Gould was the earliest recorded 1st X1 Captain, who 'held office' until 1881. In 1881 the ground at Rodney Parade, hosted a game between a South Wales XXII and W.G.Grace's All England XI, with the South Wales XX11 consisting mainly of Newport players. It had been 20 years since such an event had taken place in the district before, and nearly £80 was taken in gate money, but the match was much spoilt by bad weather. Later in 1881 W.G Grace, then in his prime scored 109 not out for Clifton against Newport, in the only match Newport lost during that season. It was reported that 'about this time Newport were getting a very strong X1'. On 26th May, 1882 the Monmouthshire Merlin newspaper published the Newport Fixture list of matches for 1882, which included a Newport & District XX11 v All England X1 including Dr. W. G. Grace, on 10/11/12 July 1882 - but there are no records to suggest that this match was actually played.
'Sling Shot' John Williams was probably the best bowler in South Wales at this time and in 1879 in a South Wales Challenge Cup match, bowled 13 overs, (5 ball overs in those days), of which 12 were maidens, and took 8 wickets for just 1 run and 1 wide. In 1881 he performed another outstanding achievement, when in a match against Cardiff, he bowled 8 overs and took 6 wickets for 0 runs in the first innings, while in the second innings, he bowled 10 overs, 6 maidens, 4 wickets for 5 runs, making it a match haul of 10 wickets for 5 runs.
In 1892, Fred Phillips, a member of the well-known brewing family, who were to have a long family association with the club, created the Monmouthshire County Cricket Association, and it wasn't long before Phillips persuaded several of the Athletic Club's leading players to turn out for the county.
Lord Tredegar
In these early days, all of the Club's athletic pursuits took place on one small sports field, but at the Annual Dinner in 1892 Lord Tredegar announced that he was to give five acres of land further South of the original ground for the purpose of making a cricket ground (the ground at Rodney Parade).
The grounds were levelled and designs were commissioned for a purpose-built pavilion, financed by Public Subscription, of which the names of Lord Tredegar, Fred and Edward Phillips were prominent, (see photo below). A splendid clock in the roof of the new pavilion was presented by Messrs. Rainforth and Son, while Mr W T Ford made a 'magnificent gesture' in presenting the whole of the tiles for the roof.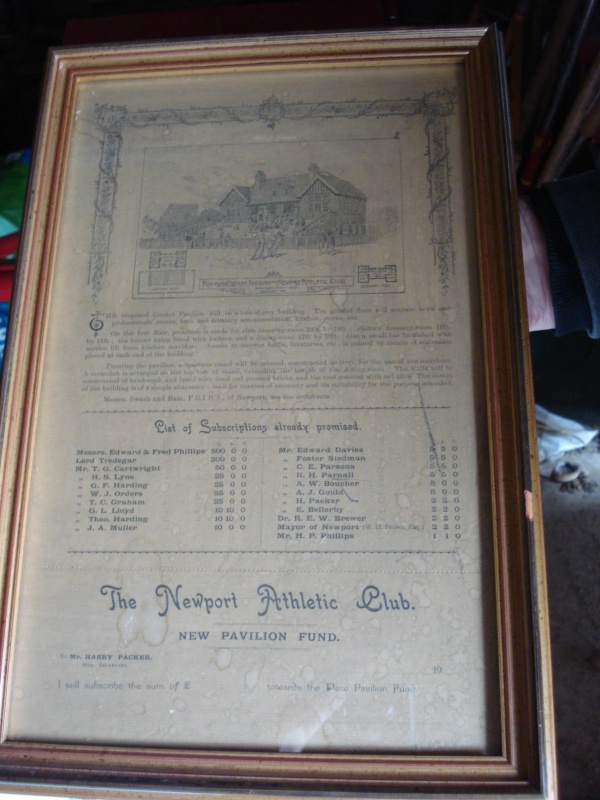 Donations made for the new pavilion
(The Framed photo is still displayed in the Cricket Clubhouse at Spytty Park)
Other developments saw  terraced seating built in front of the pavilion, a new scoreboard
and also work to prepare a new wicket.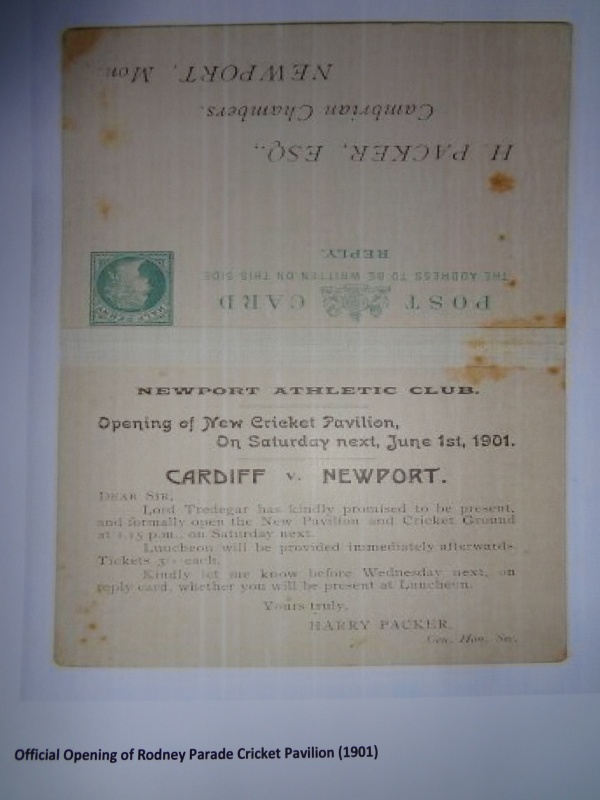 Ticket for the 'Opening of the New Cricket Pavilion'
On June 1st 1901 Lord Tredegar formally opened the new Rodney Parade ground, and a special game was staged against Cardiff C.C
The Pavilion at Rodney Parade in the 1980's
Unfortunately the pavilion was burnt to the ground shortly after the Cricket Club finished playing there in 1990. (Although in the late 1990's a new pavilion was built on the same site for the purpose of the Rugby Club).
The Professionals
There is a long history of professionals employed by Newport Cricket Club, 1892 saw the debut as Club Professional of Arthur Silverlock, an East End Londoner aged about 24 years old. With one short break he was Club Professional until 1914. Year after year he was a consistent all rounder for Newport and Monmouthshire. Next to S.F Barnes he was regarded as the greatest Minor County player never to have played First Class Cricket. In 1895 in successive innings he scored 149no, 160no, 162no and 79no. Matches were all day affairs in these days, though the starting times seem to have varied depending on what time the Great Western railway delivered the visiting team at the station nearest the ground. 'Quite long' railway journeys were involved from as far afield as Llanelli, Bristol and Gloucester.
In 1896 another notable professional was engaged. He was 23 year old Dick Steeples, a typical Derbyshire fast bowler, who served Newport well for 13 years, claiming over 900 wickets in the process.
L. Foster Stedman assumed the captaincy in 1902 and remained captain for 11 successive years.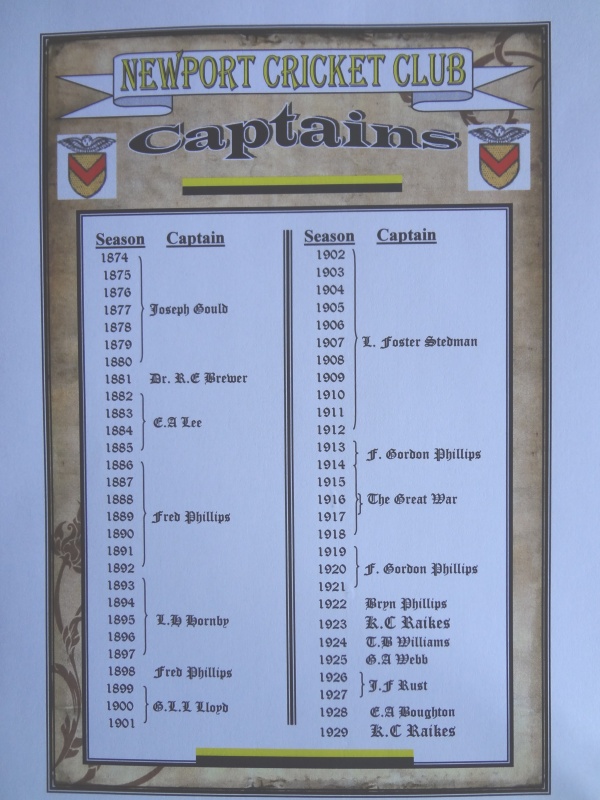 In 1903 Edwin Diver, another professional of near test standard was engaged. In a remarkable career he played for Surrey and Warwickshire and also held the distinction of representing both the 'Gentlemen' and 'Players'.
Foster Stedman was extremely fortunate in having three really great professionals in his side.
Monmouthshire CCC & Glamorgan CCC
During the 1890's, Monmouthshire were playing in the Minor County Championship, and the Rodney Parade ground became their home base. Edward Stone Phillips, another member of the Phillips family, together with the Newport professionals Arthur Silverlock and Dick Steeples, formerly of Derbyshire, shone with bat and ball, and their fine performances for the county reinforced Newport Athletic Club's position as the premier club in the county. The Newport Athletic Club were able to hire up to three cricket professionals as a result primarily of the success of the rugby side that played on the adjoining pitch, and in 1893 over 2,000 GBP was taken in gate receipts at the rugby matches. This meant that former county professionals could be hired, as well as eight ground staff, and the net result was that the Rodney Parade wicket continued to improve.
In 1922 the freehold of the entire Rodney Parade complex was purchased by the Athletic Club, and during the inter-war years they undertook a number of further improvements to both the cricket ground and the adjoining rugby pitch. Memorial gates were also erected in memory of the Athletic Club's members who had died in the Great War. But just as the Newport ground was becoming one of the best equipped in the area, Monmouthshire CCC started to fall on hard times. They ran up a sizeable debt, and being unable to afford decent professionals, their playing record deteriorated.
In the winter of 1934-35 the Monmouthshire committee decided to merge with Glamorgan. after Monmouthshire had encountered financial difficulties and had to drop out of the Minor County Championship. Various conditions were built into the agreement, and in return for clearing Monmouthshire's debts, it was agreed that Glamorgan could select any of the Monmouthshire players and play at their potentially lucrative venues.
Newport Old Boys
In 1935, a newcomer named Arthur Porter arrived on the scene. In his first season as a 21 year old he topped the batting averages and also claimed 49 wickets at an average of just 11.2 Porter went on to make his Glamorgan debut in 1937 and captained the club on many occasions.
Harry Jarrett, father of Rugby International Keith, arrived at the club having played for Warwickshire. In 1938 he had the distinction of claiming 105 wickets in Saturday and Thursday matches. Harry went on to captain the club with distinction before becoming the Club's Head Groundsman.
The War Years



The First World War.                                                                                                                        
F. Gordon Phillips succeeded Foster Stedman as Captain in 1913. Although, Silverlock recorded 
centuries against Clifton and Cardiff, E.S Phillips ended the season at the top of the batting 
averages, in what was tragically his last season as he was killed in action early in the First World 
War. The Outbreak of War saw the end of Silverlock who had strode the stage since 1892. 
He would have been 51 years of age by the time cricket was resumed in 1919. 
He eventually retired to rural Essex where with cricket and angling as his main interests he lived 
until 1949. No cricket was played on the ground in the seasons 1915 - 1918 as the ground was 
used by the services.


The Second World War.                                                                                                                   
1939 was notable for two reasons, the first being that July was recorded as the wettest on record, 
and this caused many matches to be abandoned. 
The second was the  declaration of the Second World War, in September, prior to which many 
players had been away in camp with the Territorial Army so it was not possible to raise teams.
In 1944, in his first season W. Lucas, the Welsh football international and then playing for 
Newport County scored 336 runs in just five innings. H. Jarrett, W. Lucas and A. North all played 
for a Glamorgan representative side, with North having the distinction of scoring 100 in his first 
game. 1946 was the first complete 'peacetime  season' since 1939. A. Porter played for 
Glamorgan in the County Championship, and although he was appointed Club captain in 
1947 he was forced to resign due to his Glamorgan commitments.


'The Battle of Cheltenham'                                                                                                               
While on the subject of 'wars', the annual battle between Newport and Cheltenham in the late 
1970's early 80's was generally an encounter not to be missed. With both sides packed with 
a host of ex-County professionals, current professionals and aspiring young professionals of 
both Glamorgan and Gloucestershire, tensions often ran high and were not for the faint 
hearted, as the two sides met 'head to head'. 
Cheltenham, who were at the time led by former Gloucestershire captain, Ron Nichols 
were enjoying a spell where they dominated the 
National Knockout Competition, while Newport were led by ex-Glamorgan player Graham 
Reynolds and were always more than competitive. 
Off the field there was great respect shown by all involved, but during play not an inch 
was given by either side. The games were always highly charged with many a tale to tell !!
First Class Cricket in Newport
Part of the agreement concerning the affiliation of Monmouthshire and Glamorgan, involved 
Glamorgan staging county cricket within the boundaries of Monmouthshire, and this resulted 
in Rodney Parade, Newport entering the club's fixture calendar. In July 1935 Glamorgan played 
their first game at their new 'home' in Newport as Leicestershire travelled to Rodney Parade, 
and to celebrate the arrival of county cricket, a civic reception was held at Newport Town Hall. 
Part of the merger also invloved Glamorgan 2nd XI replacing Monmouthshire in the Minor 
County competition, and in mid-August the match with Oxfordshire was staged at the 
Rodney Parade ground. The success of these games both on and off the field led to a sequence 
of either one or two matches each year at Newport.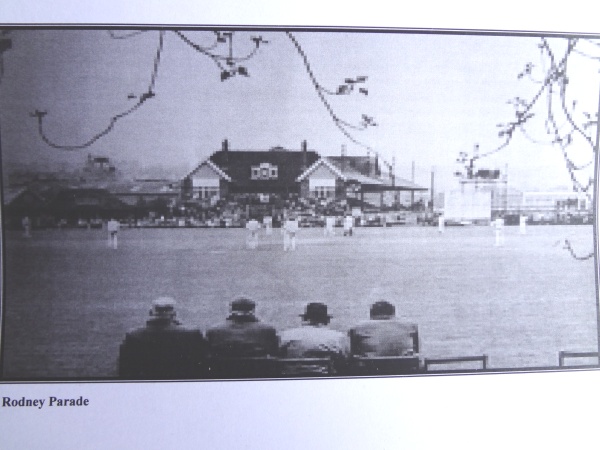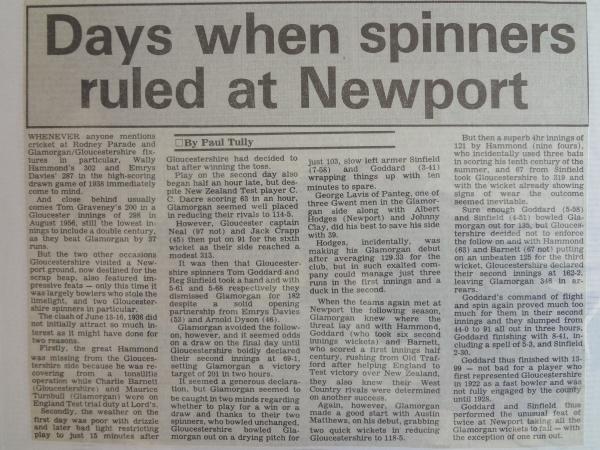 Perhaps the most famous game ever staged at Rodney Parade was the 1939 match against 
Gloucestershire. After Glamorgan had been dismissed for 196, Glocestershire rattled up 
505 for 5 declared with Wally Hammond making 302. This stood for over 50 years as the highest 
score against Glamorgan, yet the home batsmen also created a few records themselves, as they 
replied with 557 for 4 with Emrys Davies remaining undefeated on 287. 


Jim McConnon
In 1949 a newcomer to Newport appeared in the team. Jim McConnon, Newport's only player to have represented Glamorgan CCC and England at Test level. A recognised off-spin bowler, he also proved handy with the bat scoring 542 runs in the 1949 season. His appearances for Newport were sandwiched in between regular appearances for Glamorgan and England.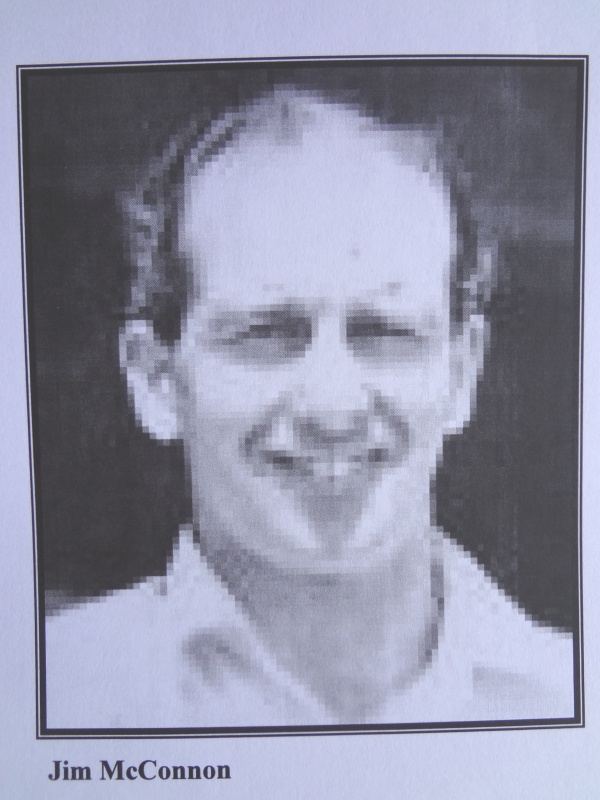 Jim McConnon, made 243 appearances for the Welsh county between 1950 and 1961, during which he took 799 wickets. In only his second season of county cricket, Jim spun his way into Welsh sporting folklore when he helped Glamorgan to beat the 1951 South African side with amazing bowling at St Helen's, Swansea. Jim was instrumental in securing the dramatic victory for Glamorgan, together with fellow spinner Len Muncer, his fine bowling saw the Springboks collapse from 54 without loss, to 83 all out as they chased a victory target of 147. In the space of just three-quarters an hour, Jim took 6-10, including a hat-trick, as Glamorgan became the only county side to defeat the South Africans tourists.
In all, Jim took 136 wickets in 1951, and this remarkable performance at St.Helen`s, saw the tall off-spinner move onto the fringe of the English team. After taking a career-best 8/36 against Nottinghamshire at Trent Bridge, Jim won selection in the Commonwealth XI for their tour to India in 1953/54. The following summer, he won two Test caps in the series with the 1954 Pakistanis, and took 3/12 in his first six overs in an England sweater.
Jim`s promising performance led to his inclusion, ahead of Jim Laker for the 1954/55 Ashes tour to Australia. However, he sustained a series of injuries whilst in Australia, and Jim had to return home early after breaking a finger.
Despite never playing again for England, Jim continued to be an effective spinner at county level, and formed a successful partnership with Don Shepherd, who had converted to spin from seam. He seemed to be at his best for Glamorgan against international opposition, taking seven wickets against the 1953 Australians, 6-49 against South Africa in 1955, 6-50 against the West Indies in 1957 and 4-72 in the victory over India in 1959. In the last match he also scored a useful 52 runs.
Jim took 99 wickets in 1957 and then 113 at just 18 apiece in 1959, as well as developing into a forceful late order batsman, striking a career best 95 against Middlesex at the Arms Park in 1958. In all he took 819 first-class wickets during his career, which ran from 1950 until 1961, at a cost of 19.88 each. Of that tally, 799 wickets came for Glamorgan.
Rodney Parade
Most Memorable Match - Glamorgan v Gloucestershire
(May 31st , June 1st, June 2nd, 1939)
The beautiful, tree ringed Rodney Parade ground was at one time one of the biggest grounds in the country, and was home to many famous matches and performances. Glamorgan CCC played First Class cricket at Newport for many years and many famous records and statistics followed, none more so than the 1939 fixture between Glamorgan and Gloucestershire.
Wally Hammond scored a remarkable 302 for Gloucestershire out of a first innings score of 505-5 dec, which remains as the highest score ever made on the ground and at that time a record score against Glamorgan. His innings included 3 sixes and 35 fours, in his mammoth stay, and was his fourth triple century of his career, equalling the number of runs he scored against Glamorgan five years earlier at Bristol.
One of his sixes was claimed to have smashed one of the windows at the top of the huge power station which overlooked the ground. Groundsman at the time Fred Cox, claiming to have kept the smashed window as a souvenir.
Incredibly, in the same match Emrys Davies for Glamorgan, scored 287 not out, a score which remained a record score for a Glamorgan batsman for many years. Glamorgan having been bowled all out for 196 in their first innings, replied to the massive Gloucestershire score with a remarkable 557-4dec.
Score Card
Glamorgan  1st Inns : 196 (A.H Dyson 99n.o T.Goddard 4-45)
Gloucestershire 1st Inns : 505- 5 dec (W.Hammond 302)
Glamorgan 2nd Inns : 577- 4 (E. Davies 287n.o, A.H Dyson 120)
Match Drawn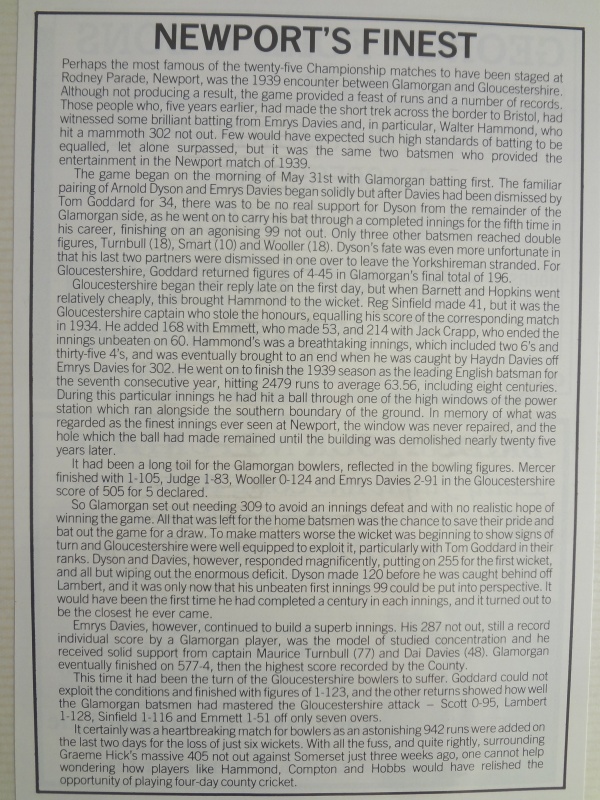 Cricket Records at Rodney Parade.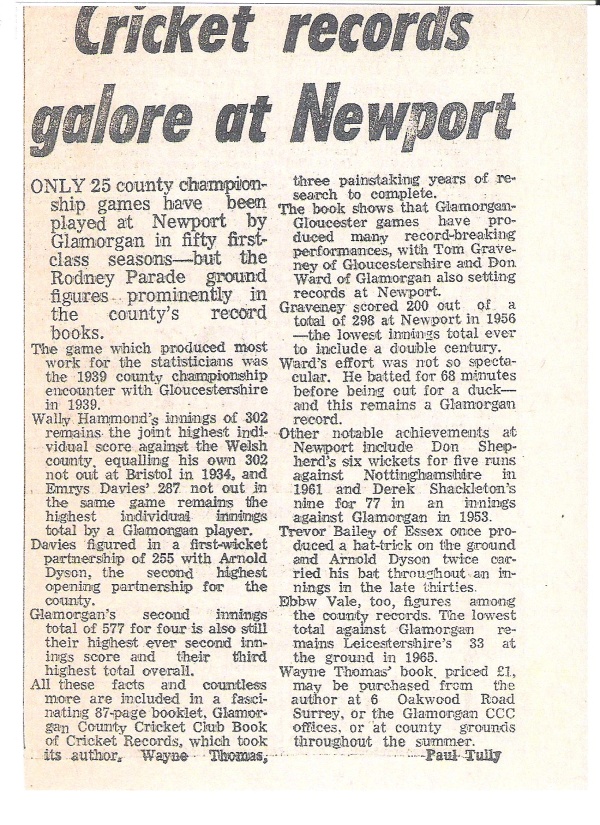 There have been many more great feats at the ground, here are just a few:-


1937
(Glamorgan CCC v Gloucestershire CCC)
Wally Hammond  121 (His 10th century of the summer).
England spinner Tom Goddard claimed a match haul of 13-99


(Glamorgan CCC v SomersetCCC) 
Johnny Clay claimed a match haul of 12-180


1939
(Glamorgan CCC v Gloucestershire CCC) 
Wally Hammond scored a remarkable 302 (3 sixes, 35 fours)
Emrys Davies  scored 287not out.

(Glamorgan CCC v  Essex CCC)
Essex & England all-rounder Trevor Bailey claimed a Hat Trick.


1953
(Glamorgan CCC v Hampshire CCC) 
Derek Shackleton  took 9-77 in the first innings.

(Glamorgan CCC v Gloucestershire CCC) 
Tom Graveny scored a Double Century, 200 in a Gloucestershire total of 298.     
 Glamorgan's Wilf Wooler was rumoured to have said  'the worst 200 I've ever seen'

(Glamorgan CCC v Notts CCC) 
Glamorgan's immortal Don Shepherd took an amazing 6 wkts for just 5 runs
(which included a spell of 6 - 0 in 11 overs).

(Glamorgan CCC v Middlesex CCC) 
Gale of Middlesex scored 200 while Don Berry took 5wkts - 8 runs


County Cricket at Rodney Parade Draws to a Close
By the 1960's falling attendances at Newport led to a few questions being asked about the viability 
of the ground as a county venue. The club experimented by staging the 1964  Gillette Cup match with 
Worcestershire at the ground, but the following year, the  Championship match with Warwickshire 
was the final first-class game there.
No First Class cricket was played at the ground for  24 years, but with the threat of the ground 
being redeveloped and a new school to be built on the cricket ground, Glamorgan returned to 
play three 40 over, One Day Fixtures. 

Derbyshire were first to visit on May 22nd 1988 and include World Great Michael Holding in their line up.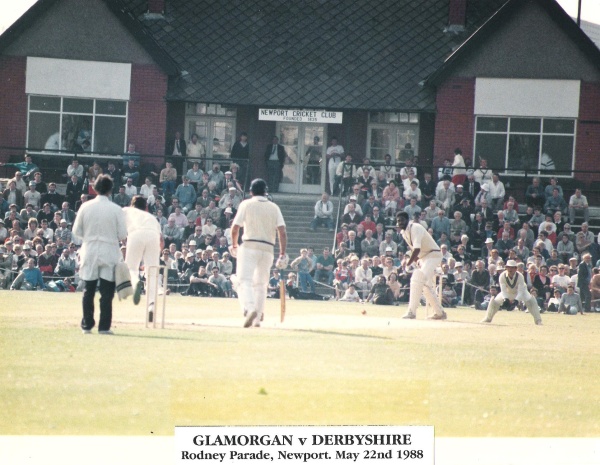 Further County matches followed:- 
by Gloucestershire on May 7th, 1989, before the final First Class fixture against Yorkshire on 
June 24th 1990.
The Rodney Parade ground was soon to  be redeveloped, with Newport CC moving to a 
new ground to the north of the town at Spytty Park.
Invincible Season
In 1960 under the captaincy of Ian Frost, the Club recorded an invincible season, winning 10 matches and drawing the remainder. A number of talented club stalwarts, namely Bill Jones, Fred Wangler, Willie Whitehill and Mike Brickley appeared in the side at this time, not to mentionDennis Richards (who took all 10 wickets in an innings, 17 overs 7 mdns 10wkts for 25 runs , for Newport v Machen, Sept 12th, 1966).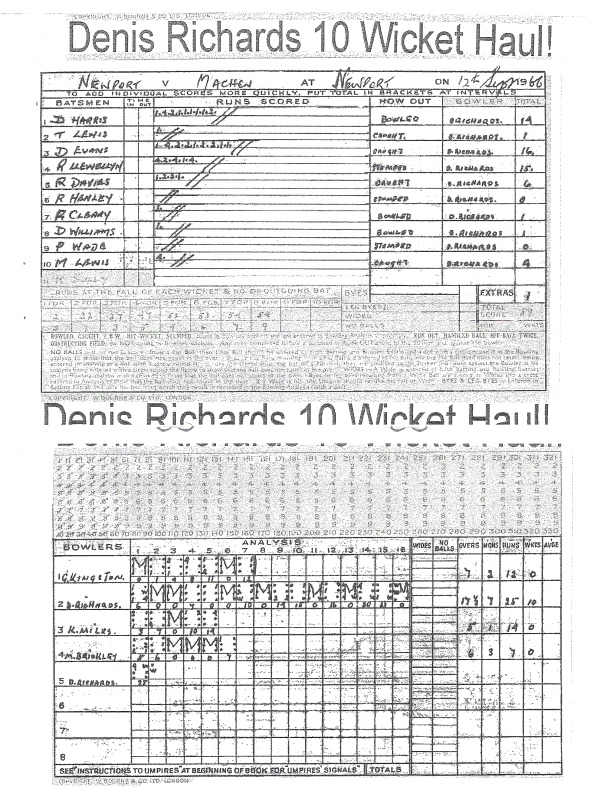 A young player called Graham Reynolds who went on to become another Newport stalwart was beginning to make his mark in the team.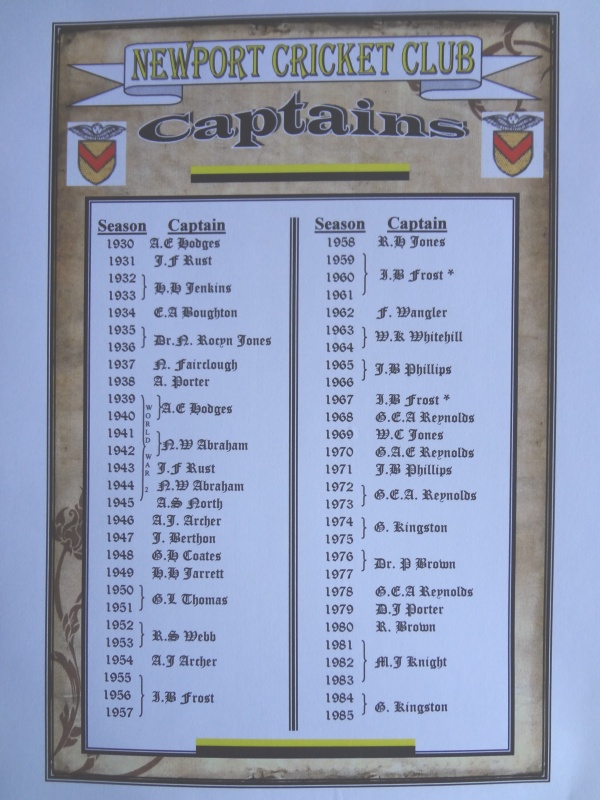 The Club's fourth Invincible season duly arrived in 1967 again under the leadership of Ian Frost. Four players, Willie Whitehill, Keith Jarrett, Graham Kingston along with Graham Reynolds all appeared for Glamorgan CCC during this era. Reynolds claiming the wicket of Gary Sobers whilst playing in the 40 over John Player League.
The 'Famous Grouse' Western League
As travel conditions improved, with the building of the Severn Bridge, Newport, along with Cardiff and St. Fagans became founder members in setting up the Western League in 1971. Limited overs, league cricket playing against the best clubs in the South West of England was a mouth watering prospect and proved a resounding success.
Many top players linked with the professional County Clubs of Glamorgan CCC, Gloucestershire CCC and Somerset CCC played in the league, not to mention three legends of the game, namely Viv Richards (Lansdown CC,), Allan Border (Downend CC) and Shane Warne (Bristol Imperial CC). By 1989 all three had pitted their wits against Newport (See Viv Richards & Shane Warne Scorecard v Newport CC - below).
Viv Richards Scorecard (Newport CC v Lansdown at Rodney Parade - July 28th, 1973)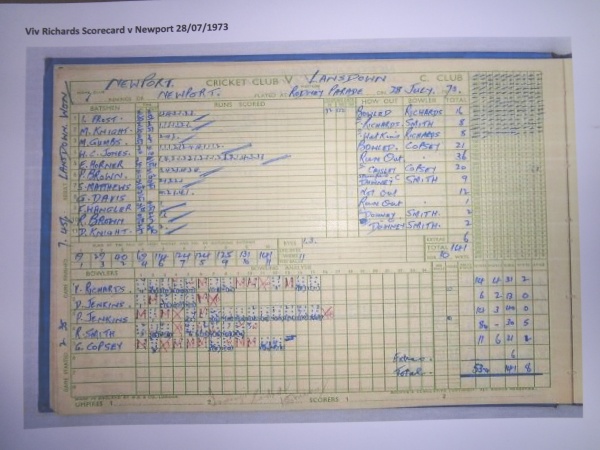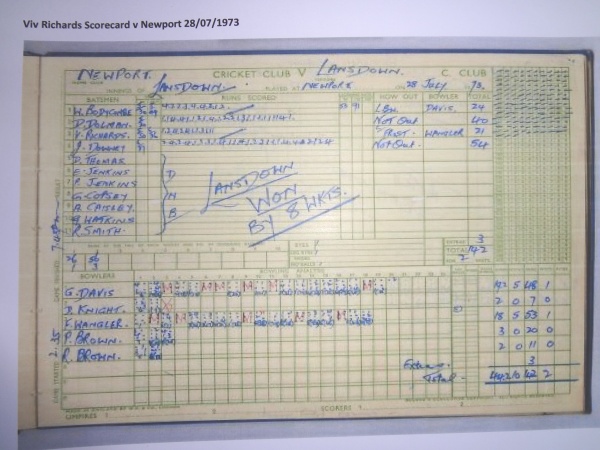 Shane Warne Autographed Scorecard - (Newport CC v Imperial at Rodney Parade - July 24th, 1989)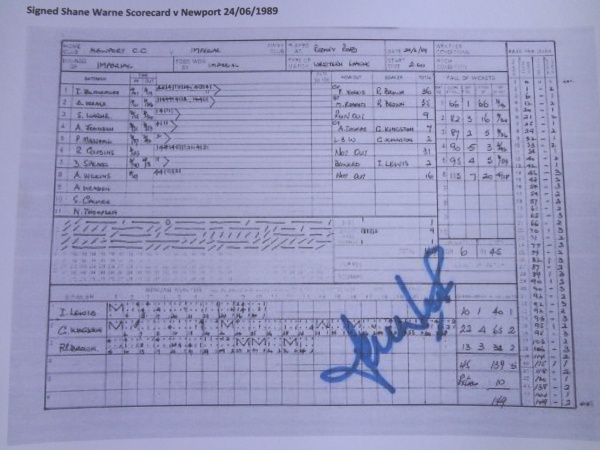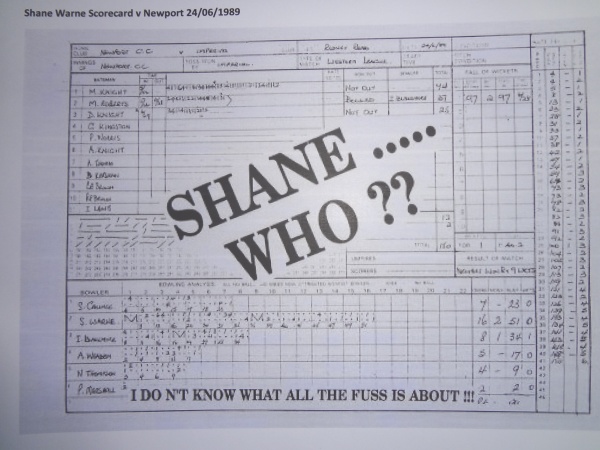 As young players starting out in the game, who at the time would have realised that all three would go on, to not only star for their country, but to also Captain their countries with great distinction and become real legends of the game.
The Western League was arguably one of the best leagues in the country, with the League team winning the President's Trophy in 1981. Newport's Dave Knight starred in the Semi-Final win over The Merseyside Competition League, claiming 6 wkts for just 8 runs. He also claimed 2 wkts for 29runs off 10 overs, including the wicket of Test player Mushtaq Mohammed in the Final, which they won against the Birmingham League.
John Haig / William Younger National Knockout
During the late 1970's and early 80's the Club had several excellent runs in the John Haig / William Younger National Knockout Competition. Several exciting and tense contests between the club and Gowerton, as well as 'annual wars' against Cheltenham took place in the competition over the course of several years.
However, it was in 1979 that Newport embarked on their best John Haig, National Knockout run. Wins against Gloucester (A) and Bourton Vale (A) set up a battle royal against much fancied Gowerton, who included Glamorgan legend Malcolm Nash.
Newport v Gowerton (H) (Regional Semi Final - 1979)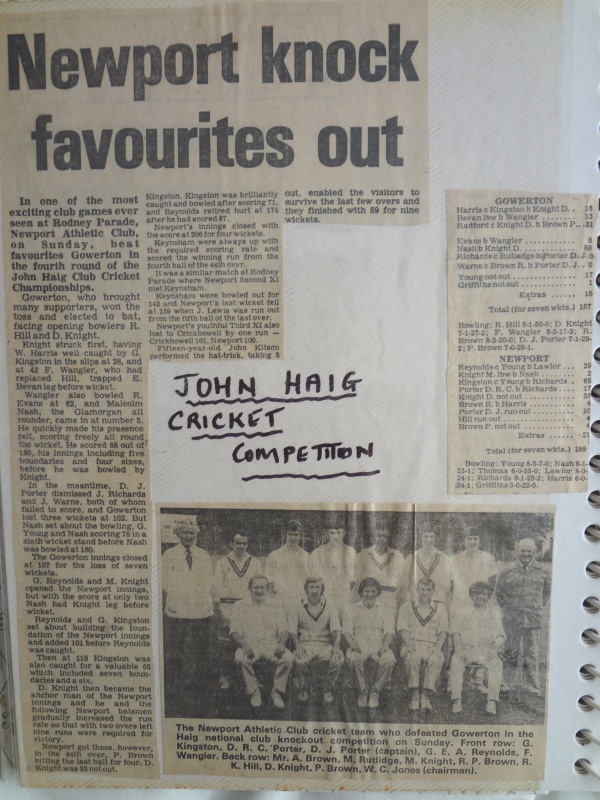 In a tight and tense match Newport edged home in the final over, winning by 3 wickets.
This set up a Regional Final against arch rivals and current John Haig Cup Winners, Cheltenham.

Newport v Cheltenham (H) (Regional Final -1979)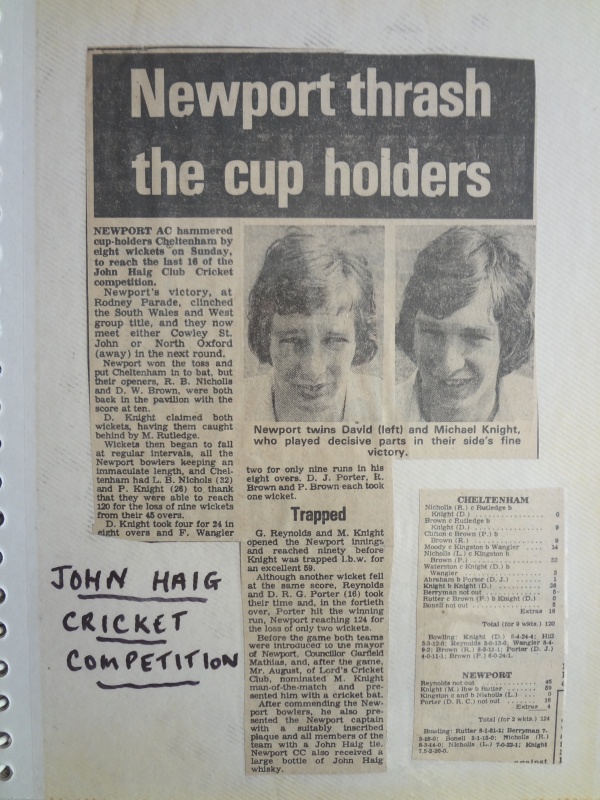 The Club's best run in the competition saw them go on to beat Cowley St. John (A) in the National Last 16.



Eventually the Club lost away to Reading in the National Quarter Finals. Reading went on to lose in the National Final.
Another good run in 1983 saw Newport lose away to Keynsham in the National last 16.
Newport Knight's
During the two John Haig National Knockout Cup runs, two young players were coming to prominence, with 'identical twins' Mike Knight winning the Man of the Match Award for scoring 59 in the Regional Final against Cheltenham in 1979, whilst not to be outdone, twin brother Dave took the Man of the Match Award in the 1983 Regional Final against Hatherley & Redding scoring 66 and taking 2-27.
All rounder, (Opening bowler and Right Hand batsman) Dave Knight was Gwent's only representative to play for Wales in the 1979 Prudential World Cup, staged in Birmingham.
He also starred in the Western League representative side which won the 'Presidents League Trophy' in 1981, taking 6 wickets for just 8 runs in the Semi Final win against the Merseyside Competition League at Irby Cricket Club. In the Final the Western League team beat the Birmingham League at Smethwick by 2 wkts, with just 5 balls remaining. Knight claiming 2 - 29 off 10 overs, including the prize wicket of Pakistani Test player, Mushtaq Mohammed. Knight also contributed a crucial 17 not out with the bat, to see the Western League team crowned 'Best in Britain'.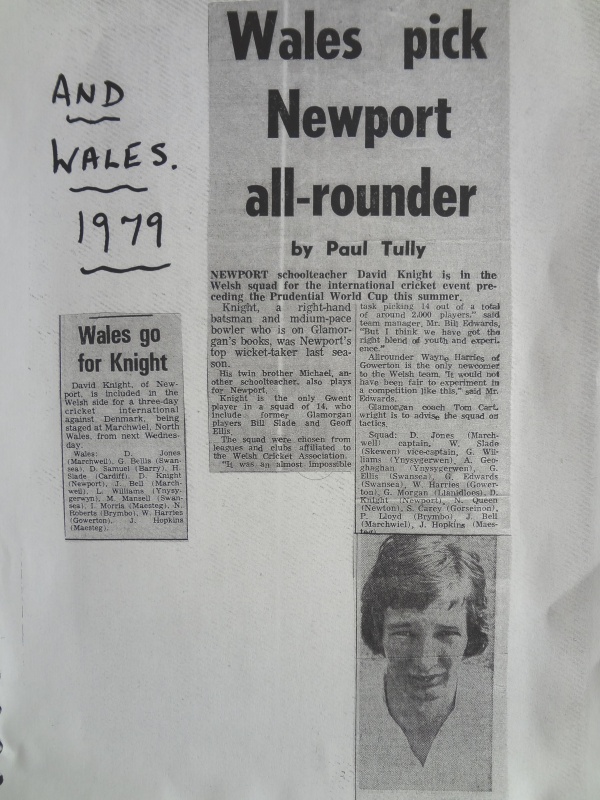 Both Mike and Dave have had a major involvement in the Club's development ever since, first as players, then coaches and administrators, they along with others have helped lay the foundations of today's very successful club.
150th Anniversary Celebrations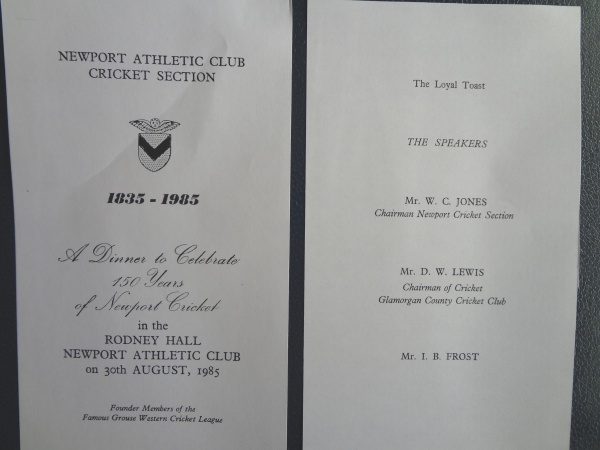 Who would have realised in 1985, when the Cricket Club celebrated its 150th Anniversary, that the cricket ground at Rodney Parade was in grave danger of being sold!

The Final Countdown
In the mid 1980's as rugby was turning ever more professional, the rugby dominated committee of the Newport Athletic Club deemed it necessary to sell the Club's historic ground at Rodney Parade.
Glamorgan Second team games continued to be staged at Rodney Parade, and in the late 1980's, generous sponsorship from local businesses saw Glamorgan return to play Sunday League games against Derbyshire in 1988 and Gloucestershire in 1989. The final First Class match to be played on the ground was between Glamorgan CCC and Yorkshire CCC on June 24th, 1990 where cricket lovers were to witness one of the game's all time greats, Viv Richards, grace the ground for its last game. Unfortunately, the heavens opened, 'shedding a tear on the loss of a superb cricket ground' and play was abandoned without a ball being bowled. With the ground being redeveloped, (a school being built on the ground the following year), this was the final visit by Glamorgan CCC to Rodney Parade.
The 'sands of time' were running out on Rodney Parade and whilst enjoying the last matches at the historic ground, plans were being laid to end the club's playing days there with a high profile celebration match.
The last game to be played on the ground was a special Victorian style, 'Ashes Match' to be played between Newport and Cardiff. With BBC television interest and a full range of media coverage, the scene was set for the final game.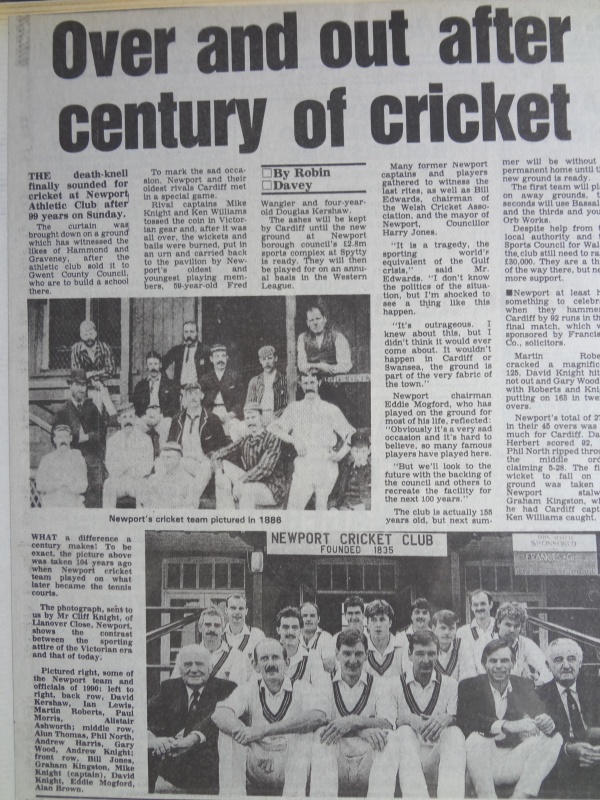 The Ashes Match
Nearly a century of cricket (99 years) eventually came to an end when on September 16th, 1990 a special 'Ashes Match' was played between Newport and Cardiff. The two clubs have a great rivalry and history, and as the teams played against each other in 1901 to mark the opening of the new pavilion, it was only right to close the chapter with a game against the old adversaries as well.
The match involved both captains, Mike Knight (Newport) and K.D Williams (Cardiff), dressing in Victorian style blazers and and hats, taking part in a 'ceremonial toss' before the game.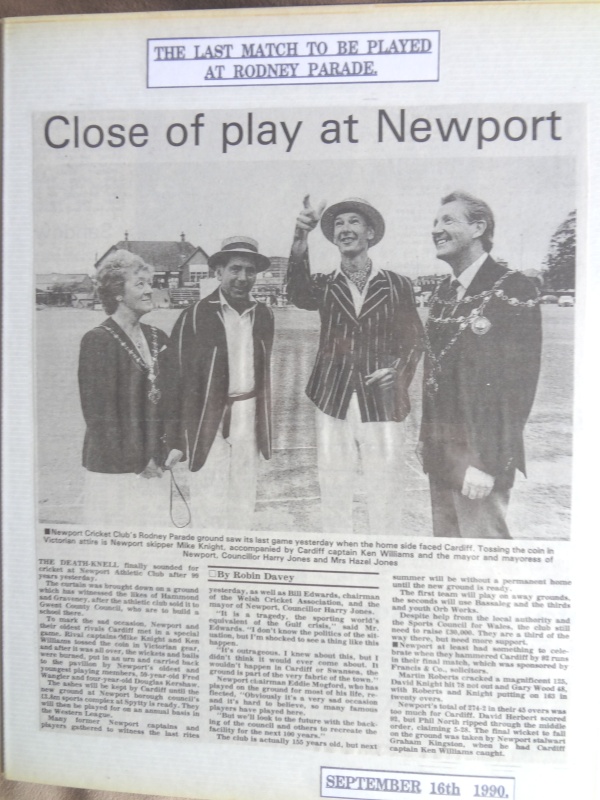 While after the game the stumps and bails were burnt and subsequently kept in an ornamental casket. For the record Newport beat Cardiff!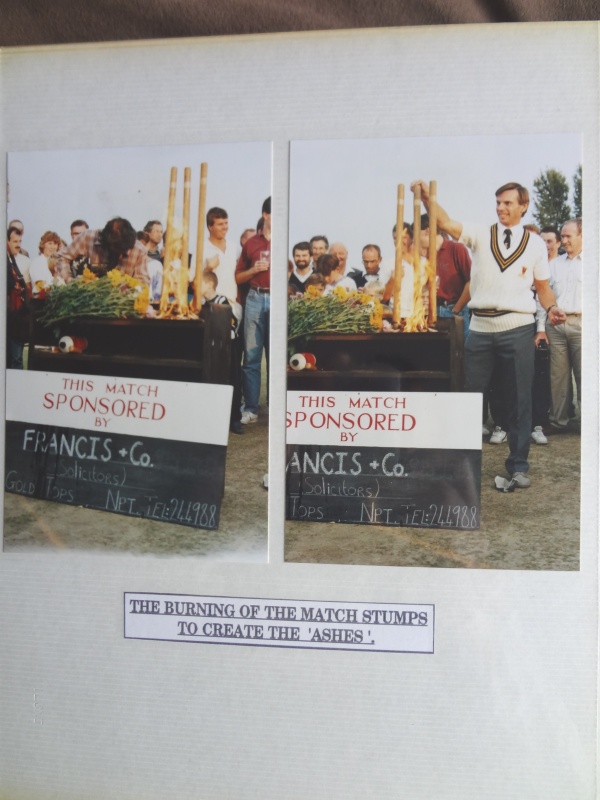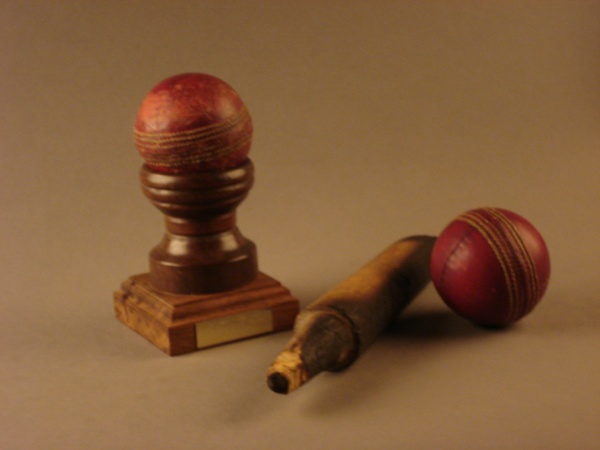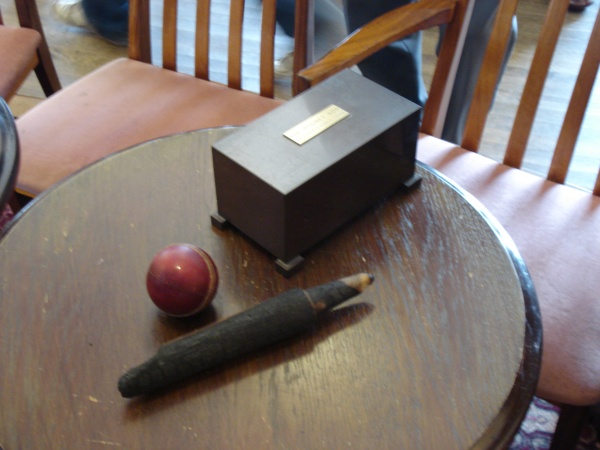 Match Balls, burnt stumps and 'The Rodney Sod' - from The Ashes Match
Having lost the fight to save the Rodney Parade ground from the bulldozers, with Gwent County Council purchasing the land for nearly £1 million and with no compensation forthcoming from the Athletic Club, it seemed odds on that the club would fold.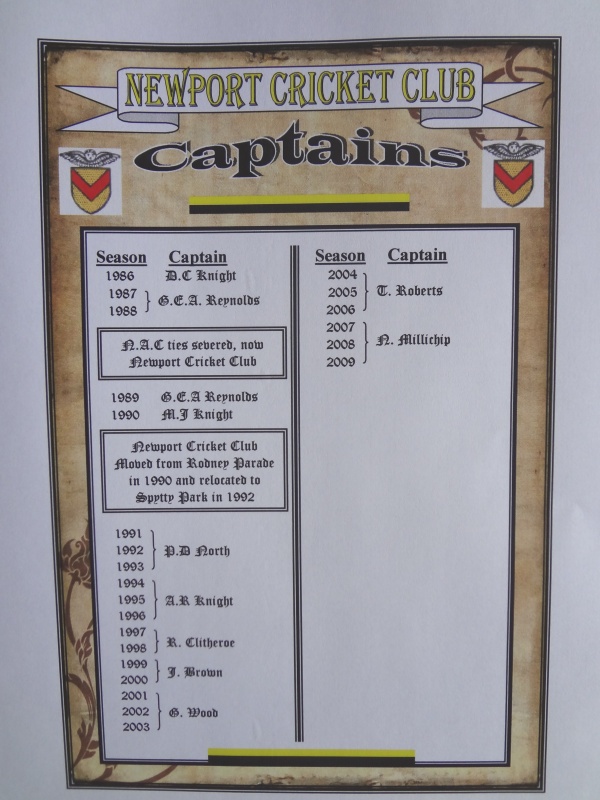 Sports Village
However, playing wise the Club was probably at its strongest for a very long time. A strong youth section and a strong team meant the future was worth fighting for. From the depths of despair, a band of dedicated workers began to assess their options (which weren't many!!) With great help from the Newport Borough Council, The Foundation For Sport and Arts, along with SPORTLOT, the current ground at Spytty Park was born. As the 'last rites' were being proclaimed at Rodney Parade a new vision was appearing at Spytty Park.
A 'Sports Village' was the vision, with the Cricket Club being the first club to locate. Newport County soon followed moving to the Newport Stadium while other facilities have snowballed. An Astro Turf Pitch, an Indoor Tennis and Cricket Centre, a Swimming Pool, not to mention the Velodrome have all been built to see the 'Sports Village' Dream come to reality.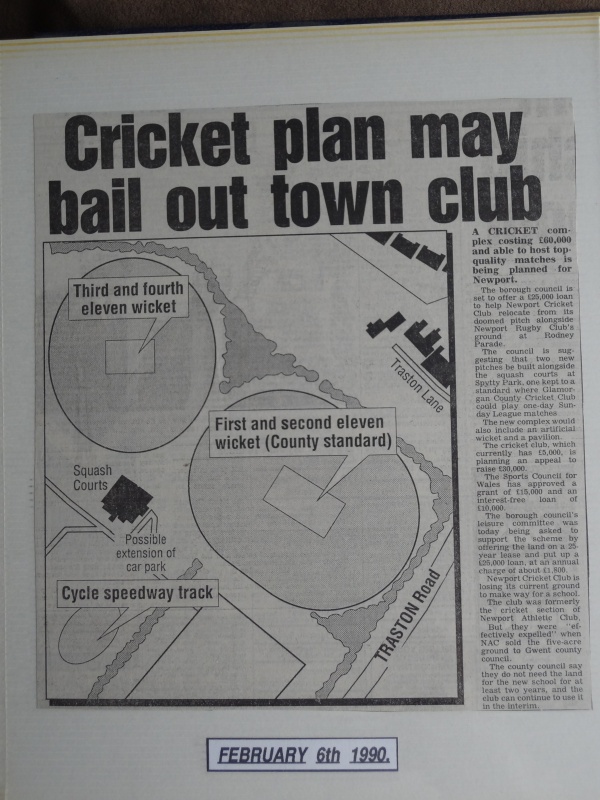 While developments were taking shape off the field, events on the field were progressing even better.
During 1990 & 91, for two seasons the First team had to play all of its games away in the strong Famous Grouse Western League, but this setback gelled the players into a really strong unit and it was not long before success followed.
Spytty Park (Newport International Sports Village)
'Fortune favours the brave'. Many a true word said in jest, but in the late 1980's, gloom and despondency were the words threatening the very existence of Newport Cricket Club. The historic Rodney Parade ground was to be sold. Without a penny, the club had no where to go!
Chairman of the Club at that time, Eddie Mogford and a group of dedicated members were determined that there would be a future for Newport Cricket Club. Negotiations with officers of Newport Council, saw the club relocate to Spytty Park, which at that time was no more than a park, containing football and rugby pitches. Eyebrows were raised when it was first mooted that this would be the new home of Newport Cricket Club.
But, with a determined group of workers, led by Eddie and lots of support through the Council, a variety of Grants and major fundraising schemes, the ground has developed into what you see now….. One of the best facilities in the country! Who would have thought!!
Time Line of Ground Development at Spytty Park
October 1987     :  Sale of Rodney Parade announced
May 1989           :  First thoughts of a move to Spytty Park
Feb. 6th, 1990    :  Plans for the new ground unveiled
April 1990          :  Newport County to relocate to Spytty Park along with the new Athletics Stadium
Sept. 16th 1990  ;  Final 'Ashes Match' at Rodney Parade. The Club has to play all matches for the 
                                  next two seasons away from home, while the new ground is developed.
Oct. 3rd , 1990   :  Work begins on the new Cricket Ground at Spytty Park
Feb. 7th, 1991    :  Plans for a new Sports Pavilion unveiled
April 3rd, 1991   :  Newport Sports Association launched Cricket, Hockey (Mens & Ladies), Netball 
                                  & Cycle Speedway become founder members running the Sports Association.
May, 1991          :  First Team square excavated, drained and levelled.
May 26th 1991   :  Royal Mail 'U.K Club of the Year'
Jan, 1992           :  Work begins on the Sports Pavilion
July 12th 1992    :  Opening Game at Spytty Park South Wales Argus Centenary X1 v Lord's Taverners
Sept. 1992          :  Sports Pavilion Completed
Mar. 10th, 1993  :  Official opening of the Sports Pavilion by Newport Mayor, Cncllr Alan Perry
May 1993           :  The Club plays its first Home League match for two years. Newport CC v Keynsham 
                                  at Spytty Park
The Golden Era
The late 80's through to 2000 saw somewhat of a Golden Era on the playing front. With the ground issues being put in the background, a strong, experienced Newport team took on all comers with an unprecedented run of success. Two Western League Runners -up seasons in 1987 & 88, were followed by five successive Welsh Sunday League Championship Titles, two Macey Cup wins and three Touche Ross / Classic Bat (60 over) wins in four years, set the club up for what was probably their greatest ever season in 1995.
Famous Grouse Western League Winners
It was a season never to forget, as the team won the prestigious Famous Grouse Western League for its only time. Captain, Andrew Knight led a very strong team, which included his twin brothers Mike scoring 511, and Dave, 631 league runs (Ave 57.4) recording arguably their best ever seasons. When available, County stars, Gareth Rees and Gareth Edwards of Glamorgan and Tim Hancock of Gloucestershire, added strength to the team which also included youngsters, Ian Thomas, Gary Wood and James Brown. Future Club Chairman, Paul Morris, along with near ever presents, Roger and Peter Clitheroe, Kai Carlson and Damian Worrad made up a formidable team. The omens were good right from the very first game, with Newport defeating a very good Clifton, side who went on to become National Knockout Finalists at Lords, later in the season. In a tense and exciting season, two games stand out above all the others :-
Malmesbury (A)
(Top of the Table Decider) As Newport arrived on a boiling hot day they were rather surprised 
to see Thilo Wallace, the West Indies Test Player, in the Malmesbury side. Newport batted 
first and scored 267 off  50 overs (Dave Knight scoring a superb 111n.o). In reply, after 31 overs 
Malmesbury had scored 181-0. (19 overs to get 86 with 10 wickets in hand and Thilo Wallace 
101 n.o !) Gareth Edwards and off spin partner, Peter Clitheroe bowled in tandem and Newport 
claimed 3 quick wickets including Wallace for 101. Wickets begin to fall regularly as Edwards 
claimed 5-74. The game eventually going down to the last ball....Clitheroe to bowl ..... Number 
11 to bat ..... and 3 runs to win! A high full toss was bowled, the batsman swung and missed, 
with the ball going on to hit middle stump half way up..... What a win! Plus ..... Newport's 
closest challengers Bath, who we play in three weeks time, are involved in a tense tie.
Bath (A)
(Last year's Champions, now 2nd in the league - Newport are top) With the end of the season approaching, it's a League decider. Newport are put in on a green wicket, Mike Knight and Gareth Rees (53) bat really well to see off the new ball and Newport eventually score a very useful 235-7. Bath, with an array of strong batting talent, are blown away by young quick bowler, Damian Worrad who bowls a devastating spell to claim the first 5 Bath wickets, as they slumped to just 24-5. Game over! Damian eventually finishing with 5-51.
Further success that season saw the team again clinch the Welsh Sunday League, before completing a remarkable treble by lifting the Classic Bat Trophy.
Return To Wales
The club suffered a massive blow at the end of the1998 season, when they were told that they would have to pull out of the Famous Grouse Western League, to be brought back to Wales to play in the East Wales League. Assurances that a South Wales League would be up and running by the following year was scant consolation, but we still wait for that to happen (maybe in 2010?).
In its first season out of the Western League the team narrowly failed to win the East Wales League in its first season, while the 2000 season proved to be a major success with the Club again claiming a hat trick of trophies, winning the East Wales League along with the Welsh Intermediate Cup and the Classic Bat Trophy, in a season that had earlier seen life time supporter, and servant of the club, Bill Jones pass away.
Centre of Excellence
The coaching set up at the Club has always been one of the real strengths of the club. Newport has always prided itself on producing its own young talent, but since the relocation to Spytty Park the focus on the Junior Section has taken on a new dimension. There is no doubt that the Junior Section has laid the foundations of the Club's current success. Way back in 1991, when our very existence was threatened, the club was awarded the prestigious title of 'UK Club of the Year' for the work done with our young players, while in 2004 we were the first Club in Wales to achieve 'CLUBMARK' accreditation. At the presentation, which also encorporated the opening of the new four lane CBW Outdoor Net Facility, the club was officially recognised as a 'Centre of Cricketing Excellence'.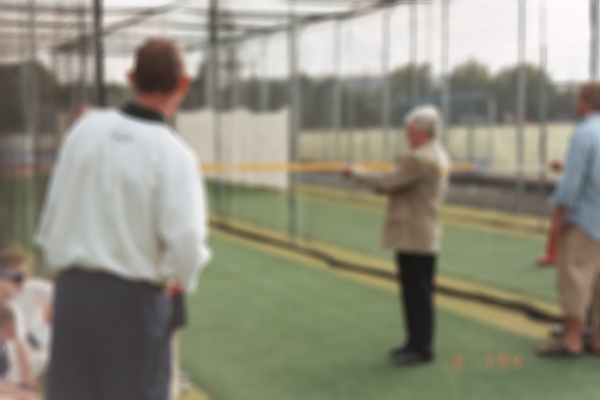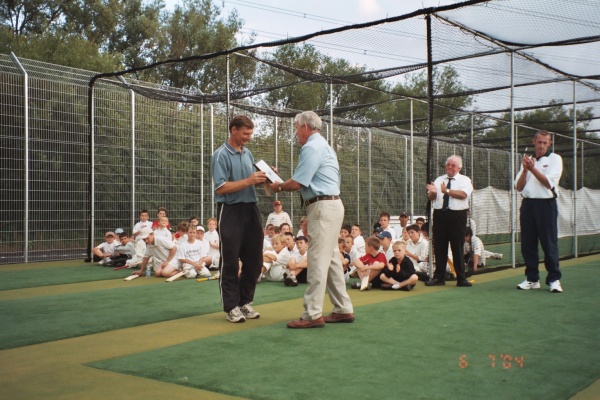 CBW Chairman at the time, Huw Davies quoted:-
'Newport have set the standard. It's no surprise to me, for as long as I can remember, Newport 
has always been a big status club. They have shown the vision to help safeguard the future 
of cricket in Wales'.


New Kids On The Block
The Junior Section of the club under the guidance of Mike and Dave Knight along with several other dedicated coaches has been thriving for a long time providing a steady stream of outstanding young players into the senior sides.
The early part of the Millennium saw an exciting young side of very talented players taking their bow in the first team.
Junior's U.K Success
The Junior teams have experienced great success for many years, regularly winning Gwent League and Cups, however the Under 13 team of 2005 surpassed all others.
A very talented group of dedicated young players, led by the Club's outstanding coaches, had been together for several seasons, honing their skills, waiting for their opportunity to strike. As Under 12's they were looked upon as something special, winning the U/13 Welsh Cup. (The first of four consecutive Welsh Cup wins as they moved through the age groups upto u/15's).
Repeating their Welsh Cup success in 2005 was just the starting point, in what proved to be an unforgettable year. The team went on to win the South West of England Regional Finals before progressing through to the U/13 'Spirit of Cricket' U.K National Finals which was held at Oakham Public School. Eight teams, who had won their regions from all over the U.K, battled it out to become the best team in the U.K, over the course of a week of cricket. The team triumphed, winning all seven of its matches to rightly claim their place as U.K Champions.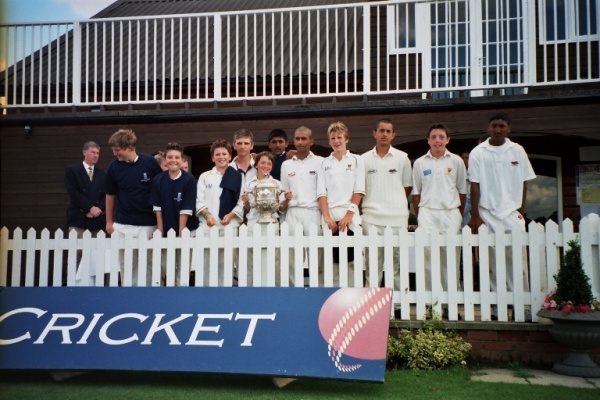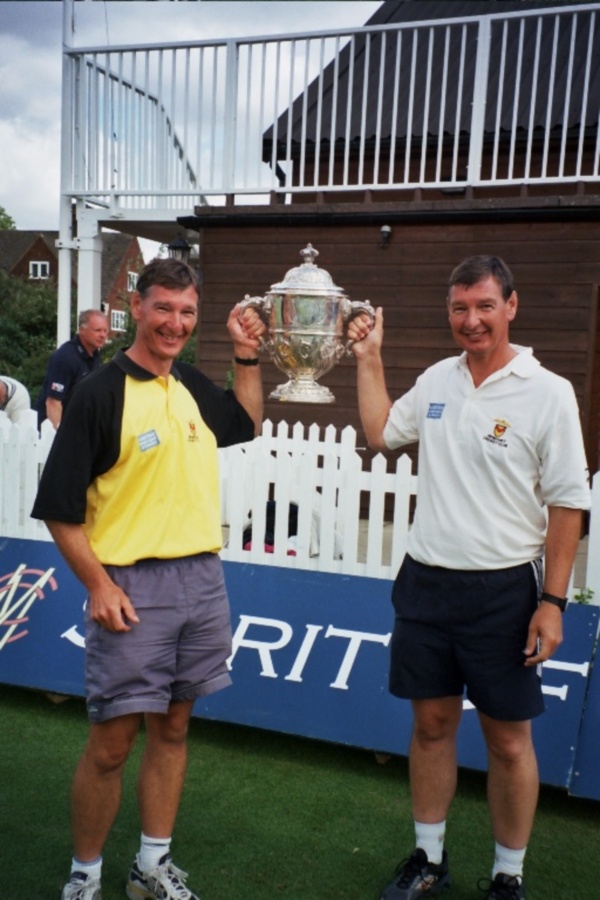 U13 - 'Spirit of Cricket' UK National Champions 2005
Further Junior Success
As U/14's the team again won the U/15 Welsh Cup, before narrowly losing a close game in the Regional Final of the U.K Portman Cup to Parley, who went on to win the trophy. Representative honours were being well earned, with three players Max Scarr, Najaf Iqbal and Imran Hassan being selected to play for the West of England U/14 team.
In 2007, the team now U/15 won the Welsh Cup for the fourth consecutive time, before embarking on a run which saw them get to the Final of the U/15 U.K National 'Portman Cup' at Bournemouth. A tense battle eventually saw the Newport team beaten by Tonbridge Wells of Kent.
During 2007 Imran Hassan had the distinction of representing England U/16's against Australia, where his performances earned him the award of 'John Hobbs 'Young Player of the Year'
This exceptional group of young players have continued to flourish in senior cricket. Six of them gaining Welsh recognition in the Wales U/16 team, while four of them took their place in our Gwalia, Welsh Cup Winning team of 2008. Two players
Imran Hassan and Max Scarr being selected to join the Glamorgan CCC Academy.
The Vision Becomes Reality
Long term plans were beginning to fall into place, the ground and its facilities were beginning to draw envious eyes, as was the performances of the young players breaking into the first team. The team had been transformed, into what was probably the youngest team to ever represent Newport. A couple of seasons of consolidation has led to the team's current success. 2007 under the captaincy of young Nathan Millichip, saw the club win the 20 over Gwent Macey Shield, as well as clinching the Runners-Up spot in the Thomas Carroll South Wales Premier League, while in 2008 the team won the Gwalia Welsh Cup.
Gwalia Welsh Cup Winners 2008
'Ahead of its time!' The well chosen words of many a shrewd judge about the team who completed the historic 'Gwalia' Welsh Cup success of 2008. The young team winning the trophy for the first time in the club's history.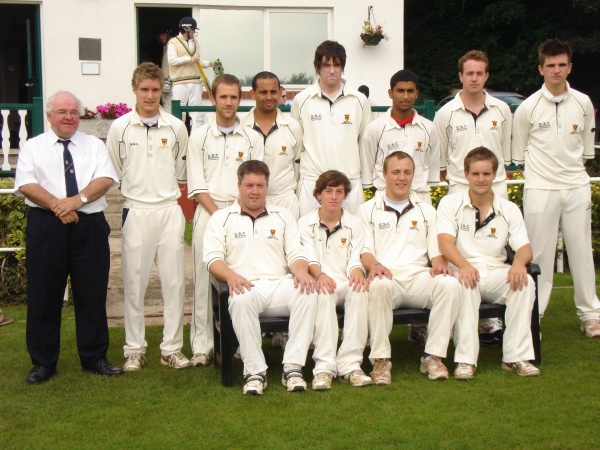 Newport Cricket Club - Welsh Cup Winners 2008
175th Anniversary Celebrations

To conclude the 175 Anniversary Celebrations, Club Officials, members and players were invited 
to Lords to play a commerative, End of Season match against 'The Cross Arrows' who play 
throughout September and October.
A guided tour around the Lords cricket pavilion, including Long Room and Dressing Rooms 
capped a superb day. For the record the team won as well!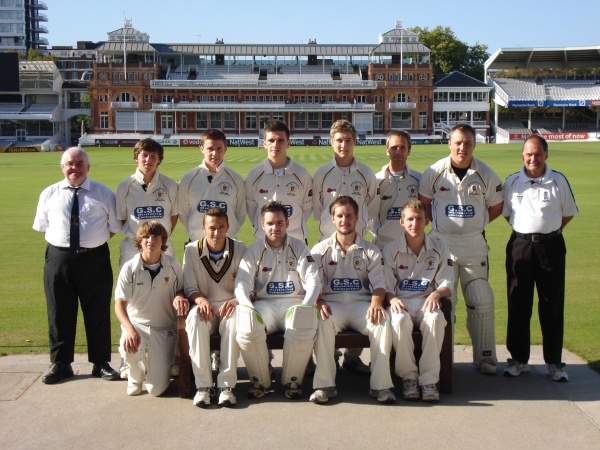 Newport Legends
Graham Reynolds
Graham was a talented footballer and cricketer in the 1970`s. He played football for Newport County making his debut for the Welsh Amateur Team in the 1958/59 season. He played cricket for Newport and Glamorgan. A left-handed batsman and right-arm seam bowler, he played in 11 one day games for Glamorgan between 1969 and 1971, as well as making two first-class appearances, against the Jamaican tourists at Swansea in 1970, and Northamptonshire at Northampton in 1971.
He taught for many years in the Newport area, and was a talent scout for Football league clubs including Cardiff City and Tottenham Hotspur, as well as acting as Glamorgan`s School Liason Officer, when he retired from teaching.
In between his times at Glamorgan and football he was a major influence at Newport Cricket Club, captaining the club for many seasons and topping both the club's batting and bowling averages on numerous occasions throughout his career.
Unfortunately, Graham died in 2008, and never saw the club's Welsh Cup success - That would have gone down well !
A legend of Newport Cricket Club.
W.C Jones (Bill)
Bill was a staunch opening batsman and featured strongly in the Newport sides of the 1950's and 60's. He topped the batting averages in 1954, 1956, 1957 and 1958 and played a crucial role in the club's invincible season of 1960 with a top score of 126n.o against Usk.
Bill remained in love with the club when he finished his playing career, becoming Club Chairman and President. Bill never missed a game, Senior or Junior matches, he was a lifelong supporter and played an integral part in helping others to lay the foundations of our club when in its infancy.
Bill had a wealth of knowledge about the game and talked passionately about Newport Cricket Club and the game in general. He made the junior players feel as important as the established first team players and always had a word of advice and encouragement for everyone.
A legend of Newport Cricket Club.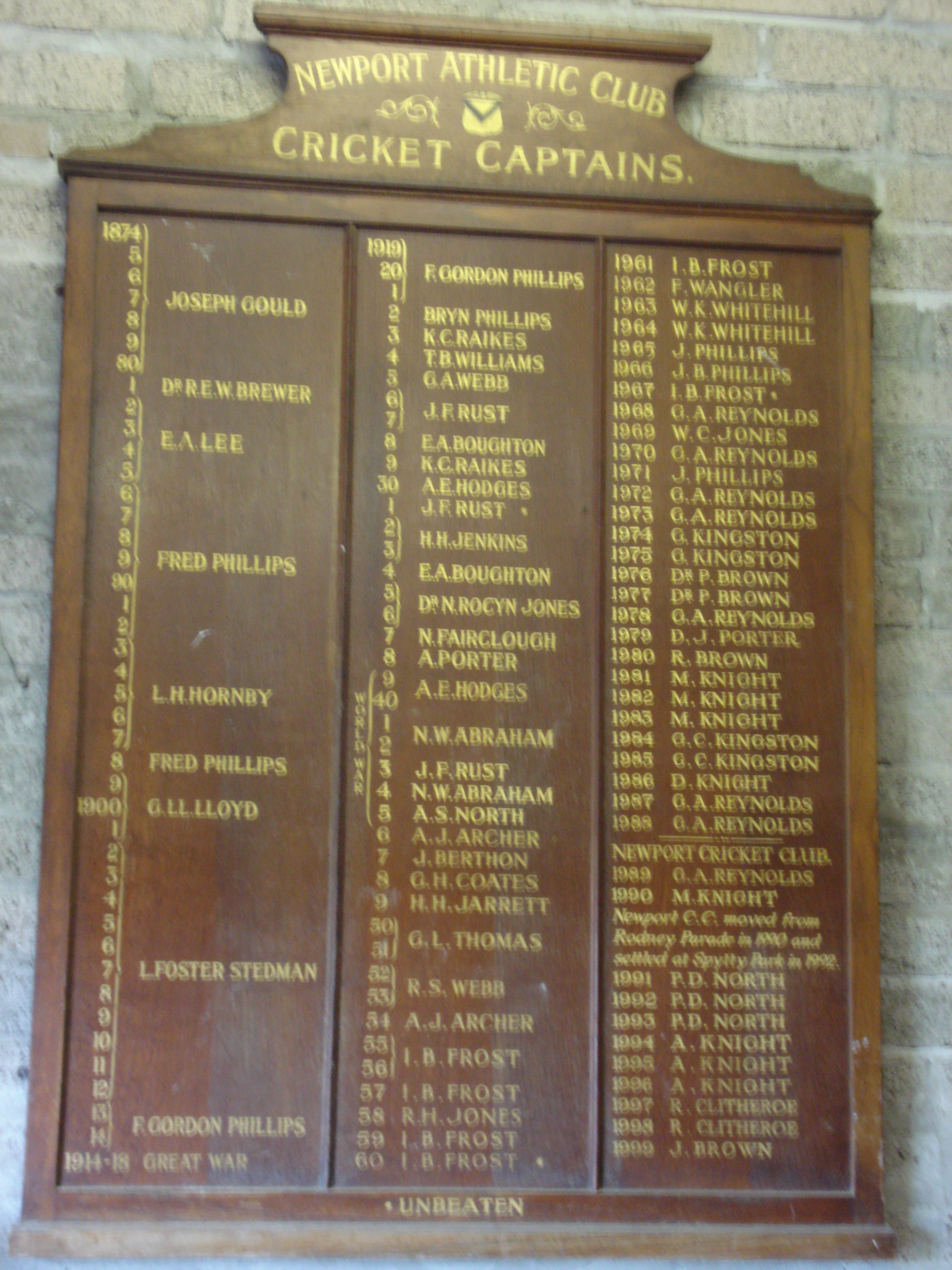 Newport Cricket Club, Captain's Board
The Future
As the years have progressed the club has prospered. The dark days of losing Rodney Parade are well behind us now. An already strong Junior Section from the Athletic Club days has flourished even more, and the club has been developed into a 'Cricket Centre of Excellence' for the area. With two cricket grounds, side by side and a Sports Pavilion ideally placed, scoreboard and magnificent nets, the Club can now proudly boast to have one of the best grounds and facilities in the country.
With many of our top junior players breaking into the Senior teams, and the continued strength of the Junior Section, Newport Cricket Club has a future many clubs would envy!
Who knows what the future may bring, A new South Wales Premier League, maybe?
The Club's 175th Anniversary will bring its own celebrations and challenges and we urge all cricket lovers to share our celebrations with us, but one 
thing is certain Newport Cricket Club can look to the future with great anticipation, and hold its head up high and rightly claim to be one of Wales' 
Big Premier League Cricket Clubs.

Please raise a glass to celebrate175 years of cricket at Newport Cricket Club.
And raise another one, for the next 175 years of Newport Cricket Club!
175th Anniversary

(The History of Newport Cricket Club was taken from the Club's Official 175 Anniversary Booklet (1834 - 2009)
2009 marked Newport Cricket Club's 175th Anniversary. A whole host of events were organised to celebrate the anniversary, and the club produced an Anniversay Brochure to mark the occasion. The 40 page brochure is a great read and follows Newport CC's history from the early days of 1834 through to the current time.